Sean Gilmartin pounded in return in 51s' loss to Nashville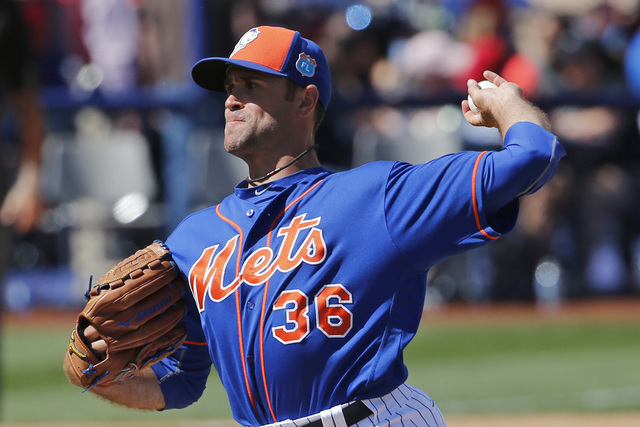 Baseball, as players often say, is a game of routine.
But 51s starter Sean Gilmartin's past two weeks have knocked him out of his routine, and it affected him Tuesday night.
Pitching for the first time since May 14, Gilmartin gave up nine runs in Las Vegas' 10-4 Pacific Coast League loss to the Nashville Sounds at Cashman Field.
He was called up to the Mets on May 12, made two scoreless relief appearances, sent down May 17 and then summoned to New York for a roster move that never materialized.
Gilmartin said he got to Colorado Springs, Colorado, where the team was playing on May 19, and left the 51s for New York later that day.
"It's something that you have to kind of get used to when you're in the situation that I'm in where you've potentially got to go back and forth a couple times, so obviously I think it showed tonight that it took a toll," he said.
After Gilmartin (4-2) surrendered a run in the second, the 51s took a 2-1 lead in the bottom half of the inning on a Kyle Johnson single and Dilson Herrera sacrifice fly.
They added a run on a Gavin Cecchini double in the third, but the 3-1 lead vanished in the fourth when Nashville scored four runs on four straight two-out hits, capped by Josh Rodriguez's two-run homer, to take a 5-3 lead.
The Sounds scored four more runs off Gilmartin in the fifth to take a 10-3 lead.
Las Vegas manager Wally Backman pulled Gilmartin after 4 1/3 innings and 73 pitches in hopes that leaving him in a little bit longer would pay off in the future. He allowed two homers among 10 hits.
"He's pitched very well here, but he's been totally out of his routine, and tonight was a night where of course I didn't want him to give up those last runs that he gave up, but I wanted him to get his pitch count to a normal high so he would be back in normal routine," Backman said.
Backman said Gilmartin wasn't spotting his fastball well, and the left-hander said he was leaving the ball up.
"That's because I wasn't staying back with my back side. I think that was a symptom of not having been out there in a couple days," Gilmartin said. "(But) that's not an excuse for me, so I've got to be able to work on that … and be better."
Like Gilmartin, 51s shortstop Gavin Cecchini also hasn't played in some time, coming off the disabled list Tuesday after dealing with a sore back for most of the month.
Cecchini made his first start since May 6 and picked up right where he left off, going 3-for-4. He had been on a hot streak early in the month, going 15-for-30 in nine games before his injury.
"Gavin played great tonight," Backman said. "His first three balls he hit right on the screws for two doubles and a single. He swung the bat, made a nice play in the hole. Gavin did everything and more than we can expect coming back after 14 days or whatever it was."
Cecchini said his back felt fine and that it would continue to loosen up as he keeps playing.
"Every now and then there's a little tightness, but that's just part of not playing for two and a half weeks, and that's normal," Cecchini said. "If anyone didn't play for that amount of time and had the same thing — a muscle strain — it'd feel the same for them, too."
The injury kept him out much longer than originally expected. In the beginning, the 51s were thinking he would miss seven days, the minimum for a DL stint.
But though Cecchini was sidelined longer than anticipated, he said he thought his mental approach helped him upon his return.
"I was out for two, two and a half weeks," he said, "and even though I wasn't playing … I was mentally preparing to get back onto the field and just seeing myself out there taking at-bats and being at shortstop and making the play, and that's what it's all about, so I went out here in my first game … and I didn't miss a beat."
Betsy Helfand can be reached at bhelfand@reviewjournal.com. Follow on Twitter: @BetsyHelfand