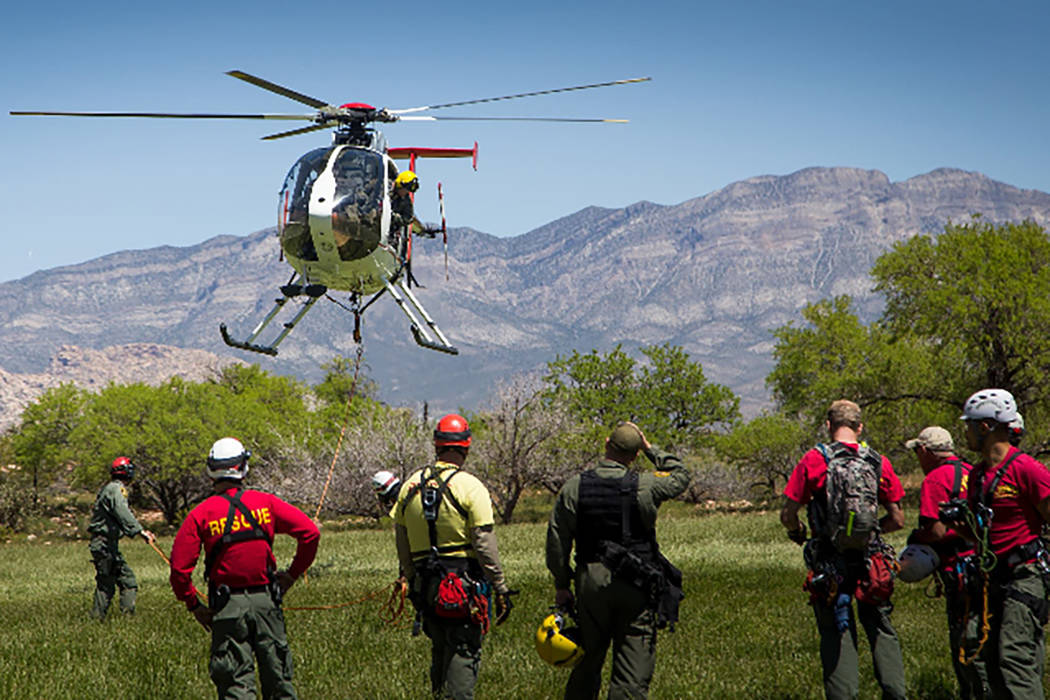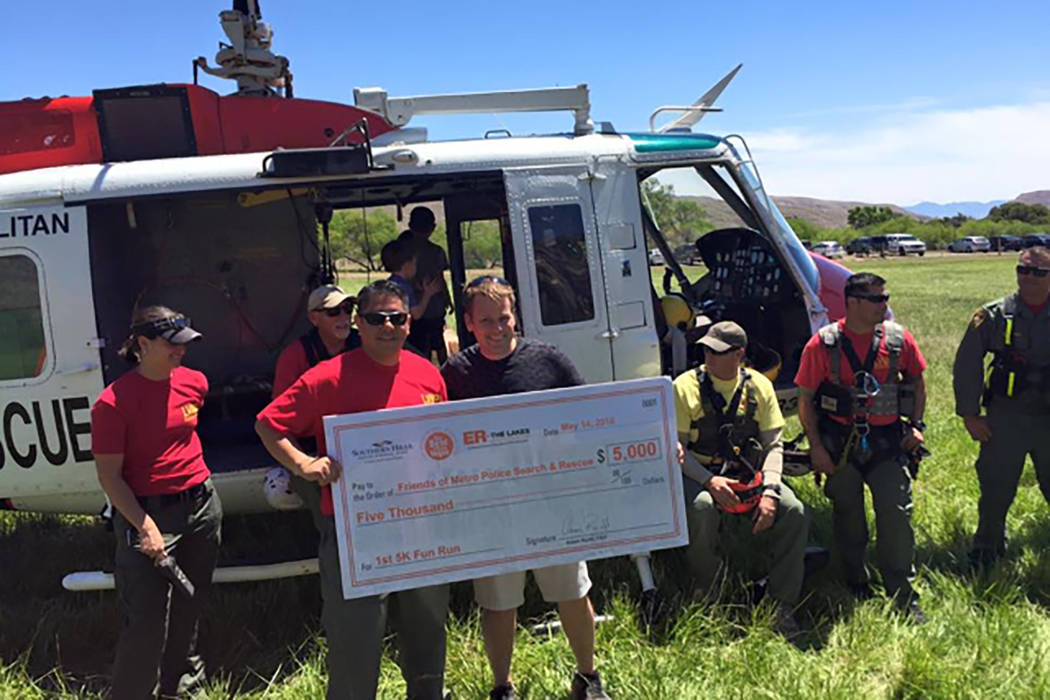 On Saturday morning, members of the Metropolitan Police Department's Search and Rescue team are going to be called into action at Spring Mountain Ranch State Park.
As a rescue helicopter roars, officers and volunteers will attach themselves before being carried toward one person on the mountain rocks. After being lowered to the ground, the rescuers will grab the person and take him away safely. Unlike a normal extraction, though, the volunteer never will be in any danger.
Officers and volunteers will perform a rescue demonstration at the park as part of the Friends of Metro Search and Rescue 5K. Proceeds for the event, which costs $25 to $45, will go to Metro Search and Rescue to support its more than 40 volunteers with training, education and equipment. The event begins at 7 a.m. Saturday.
"It's very rewarding, to not only put on an event that supports our volunteers, but it's also cool to give the community a chance to see what we do," officer Chris Bunting said.
Officers and volunteers will use a helicopter to perform a short haul rescue after the race, when they will hook up about 500 feet underneath the helicopter. The helicopter then will lift them off the ground, carry them to an extraction point and lower them back down to collect a volunteer.
"It's pretty much a real rescue," Metro Search and Rescue volunteer Manuel Lemus said. "We'll load the volunteers onto our helicopter, we'll do a fly around to locate the victim and we'll lower the rescuer down to the victim, package them up and raise them up into the helicopter."
Bunting said volunteers and officers also will take part in a mock rescue during which they get in a helicopter and are flown to where a volunteer will be on the rocks. The helicopters then will be available for participants in the race to climb in for pictures.
This is the race's second year, and last time Bunting said the helicopters were popular with the estimated 250 people who attended.
"I think anytime you bring a helicopter into an event and fly around hanging from it, you're going to get a pretty good response," Bunting said.
Lemus, who has been volunteering with Metro Search and Rescue since 2005, said the event will educate hikers in case of an emergency. One of the goals is to raise awareness for the Metro Search and Rescue unit.
"This is a totally different realm, and it's surprising to people that we're involved in those types of incidents," Bunting said.
The recreation notebook appears Wednesdays. Contact Ben Gotz at bgotz@reviewjournal.com. Follow@BenSGotz on Twitter.
Calendar
Saturday: Friends of Metro Search and Rescue 5K, Spring Mountain Ranch State Park