Seo storms to one-shot lead at Open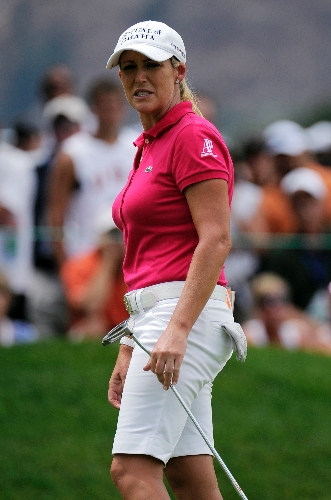 COLORADO SPRINGS, Colo. — Hee Kyung Seo has a chance to carve her own special place in history. Not simply as a U.S. Open winner — but as a U.S. Open winner who won it without hitting a single shot on the final day.
In a strange, storm-infested tournament that doesn't want to end, Seo did just about everything she could to win her first major except control the weather. She shot a pair of 3-under 68s on Sunday to finish at 3-under 281 for a one-shot lead over her South Korean rival, So Yeon Ryu, who had three holes left when darkness halted play.
Cristie Kerr was another shot back with two holes left.
Seo will sleep on the lead — though not as comfortably as she could have after missing a 3-foot par putt on No. 17 — and then has a chance to wake up today, come to the course, never touch a club and walk away with the trophy and a check for $585,000.
"I can sleep very well, so I don't worry about that," she said.
But she couldn't celebrate quite yet.
Rain delayed play for the fourth time in four days — this time for 2 hours, 37 minutes — and left 28 players still on the course, three of whom still have a shot at the title.
There's Ryu, who shot 69 on her first trip around the course Sunday morning and has at least one decent birdie opportunity — the par-5 17th — awaiting when play resumes today.
"Right now, it's kind of breezy out there," she said when she walked off. "(Today), it might be good weather and the greens might be soft. So, it's good for me, yeah."
There's Kerr, a two-time major winner who isn't conceding anything. She was getting ready to do an interview after darkness fell when she saw Seo hugging friends and family.
"The tournament is not decided yet," Kerr said. "I think she's over there celebrating. We all have a chance. I'm going to go out and swing for the fences and hopefully tie it up."
Also with an outside chance is Angela Stanford, who is at even par, three shots behind with four holes to play.
If the tournament ends in a tie, they'll decide the championship with a three-hole playoff.
On Sunday, Seo played better than anyone over 36 grueling holes of golf — at altitude on a 7,000-yard course, longest in U.S. Women's Open history. The highlights included four straight birdies on the front nine in her final round that boosted her from 1-under par into the lead — a lead she never lost.
She scrambled through the back nine, saving par with a tricky 5-foot putt on 11, again from an awkward stance above a greenside bunker on No. 13, then again after a drive into the deep rough on 15.
"I just trusted myself and just let it go, and I made lots of birdies," Seo said.
Stanford briefly pulled into a tie with Seo, but missed a three-foot putt for bogey on No. 11 to start a free fall — 4-over par on holes 11 through 15.
By the time Seo reached No. 17, she was ahead by two, pointing and staring at a rainbow overhead.
But the moment didn't last long. First, after being asked by tournament officials to close the gap with the group in front, she started jogging up the fairway — not the traditional gait from someone trying to close out a major.
A few moments later, Seo missed a 3-footer for bogey that let Ryu creep to within one shot.
Pars for the course on a difficult day were hard to find. There were only 10 completed rounds under par and nobody posted a better score than Seo's duplicate 68s.
Yani Tseng had no luck. The world No. 1 never figured out the breaks that run away from the mountains on the Broadmoor's greens and finished 6 over after four exhausting days.
"It's tough to play on and off," Tseng said. "Sometimes you just want to try to get rhythm, and it's really tough."