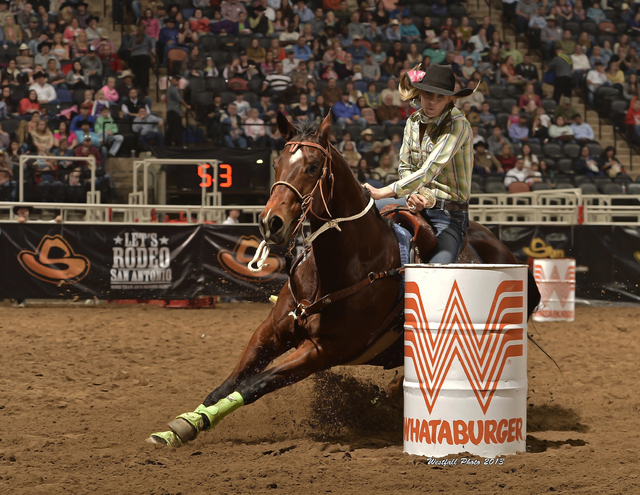 The National Finals Rodeo has been a way of life for Shari Rivera and Shada Brazile. The mother and daughter have been coming to Las Vegas for years.
In fact, Rivera has been at every NFR since the event moved to the Thomas &Mack Center in 1985.
"I've never missed one. Someone in the family has always been competing there," said Rivera, whose trips to the NFR actually began long before the event came to Las Vegas. Her father, Clifton Smith, 80, was a two-time NFR qualifier in tie-down roping in the 1960s.
Rivera went on to support her former husband, superstar roper Roy Cooper, who won seven world titles in tie-down roping and the 1983 all-around crown, and her brother, Stran Smith, who won the tie-down world title in 2008. Then it was to root on her son-in-law, Trevor Brazile — Shada's husband, who owns 18 world titles, including 10 all-around crowns. He'll begin pursuit of his 11th all-around championship starting tonight.
Then it was to cheer on her two sons, Clif Cooper (a four-time NFR qualifier) and Tuf Cooper (the two-time reigning world tie-down champ and six-time NFR qualifier), both competing in tie-down roping at this year's NFR. Those two will be joined this year by Rivera's nephew, Stetson Vest — if that name doesn't just drip rodeo, then what does? — who just qualified for his first NFR.
Shada, meanwhile, has been the rock behind Trevor's rodeo dominance over the past decade or so, and of course she's supported brothers Clif and Tuf, and cousin Stetson, and all the other family connections over the years.
But there's something different this year. Something new. Rather than rooting from the stands, Shada will be atop a horse and in the throes of competition herself. And a proud mother will have her cowgirl joining all those cowboys vying for more than $6 million in prize money over the course of the 10-day event.
Before 2013, Shada had never spent a season rodeoing. But the stars aligned this year, and she decided to make a go of it in barrel racing. It's paid off, as she finished 13th in season money winnings to qualify for the NFR, which takes the top 15 in earnings in each of seven events.
"For her to get this opportunity, to find a horse that had the potential, then pursue and achieve it, it's indescribable," Rivera said. "To go from where she started and make it to the NFR in one year is amazing. It's just incredible. Sort of like 'Mission Impossible.' "
It certainly seemed impossible after a five-week stretch from early June to mid-July. Some of the season's biggest events occur during that time, capped by the Cheyenne Frontier Days. It's often called Cowboy Christmas, because that stretch is what sets riders and ropers up for a chance to qualify for the NFR.
Shada entered that period having already won about $30,000 and was seventh in the world standings. Then the wheels came off.
"I won like $100 in the biggest month of rodeo. So I had a decision to make," said Shada, who dropped to 21st during the cold streak. "It was either take that as a learning experience, take the horse back home, and kick back and go on the road with Trevor, or dig in my heels and say, 'I've got $30,000, and I'm gonna go get about $40,000 more.'
"I dug my heels in, that's for sure."
Indeed. Since Shada fell short at the big-money rodeos, making the NFR meant she'd have to ride like crazy in smaller events and gather up as many small paychecks as possible to get back into NFR contention. With her mom and two kids — 5-year-old son Treston and 3-year-old daughter Style — along for the ride, she nearly got that $40,000, finishing the regular season with $68,379, about $2,000 above the cutoff to qualify.
"I didn't know I could rodeo that hard in September. I got a lot of firsts, seconds and thirds, but the checks weren't as big at those rodeos."
Months later, mom was still beaming at daughter's true grit.
"We went on this journey and learned so much from somebody who had such desire to accomplish that goal," Rivera said. "After five weeks making just $100, she really hit rock bottom, and most people would've given up. Shada dug deep inside, regrouped, started winning and just wouldn't give up. She's as tough or tougher than the boys."
Shada did all that with a full plate all year long — constantly on the road, raising two kids, handling her horse, helping care for Trevor's two horses, since the couple competed in many of the same rodeos. And just for good measure, continuing work on the line of infant and kids clothing she created and designs for Wrangler — All-Around Baby.
It's a balancing act few, if any, NFR participants could rival.
"I don't know if I do it very well or not, but I get it done," Shada humbly said. "Every day is madness, and no two days are the same. Sometimes it does get hard, but I know I'll miss all this when it's over. So you've gotta ride the wave. I see how hard Trevor works at it, and the whole family works hard. It's the most humbling sport out there. Nothing is given to you."
Least of all an NFR berth, to which great credit goes to her 7-year-old horse, Dial It.
"I guess it all boils down to horsepower," said Shada, who has trained horses but never gone out and competed until this year. "I've had about eight horses throughout the last 10 years that were good horses. But there's a difference between a good horse and a great horse. The horse I'm on now has just got a lot of speed, and he's a great one. When you get a horse like that, you've got to go for it."
Now it's on to the Super Bowl of rodeo. Rivera can hardly contain her motherly joy, but the whole family has a competitive streak a mile wide and wants the same kind of success for Shada that's been enjoyed by all the cowboys in the clan.
"We're so excited she's even there, and of course so completely not satisfied with her just being there. We want her to win," Rivera said before turning a little softer. "It absolutely has been just crazy, unbelievable. It's kind of surreal. I'm not sure how I'm gonna react at the Finals with Shada. I'm just gonna enjoy living this blessing. I probably will tear up just a touch."
Shada, like her husband and brothers and cousin and more, is eager to compete. But that's not even what she's looking forward to most come tonight.
"For some reason, I'm looking most forward to the Grand Entry," she said. "I'm excited for that, riding behind Trevor and the Texas flag, that will be a lot of fun. Up until that point, the NFR is just talk and just imagination. For everybody who competes in rodeo, the Grand Entry is when imagination meets reality."
SHADA BRAZILE
Event: Barrel racing
2013 world standing/earnings: 13th, $68,379
Residence: Decatur, Texas
National Finals Rodeo qualifications: 1 (2013)
Noteworthy: This is the first year the 34-year-old has truly competed, allowing her to ride in enough events to qualify for the NFR. She's the wife of 10-time all-around champion cowboy Trevor Brazile. And she also designs her own line of infant/toddler clothing for Wrangler, appropriately called All-Around Baby.