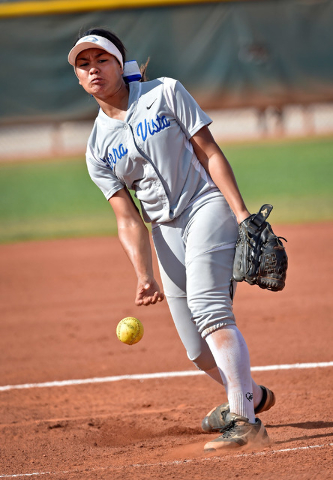 Sierra Vista's softball team was something of a regular at the state softball tournament in the mid-2000s.
Three trips to the showcase event in four years put the program among the state's elite before it fell on leaner times and had a dizzying carousel of coaches.
The pieces finally seem to have fallen back into place for the Mountain Lions.
Sierra Vista (17-9) will make its first state tournament appearance since 2006 when it faces Northern Region champion Fernley (27-5) in the Division I-A tourney at 4 p.m. today at Bishop Gorman. Southern Region champion Faith Lutheran (31-9) meets defending state champion Churchill County (24-9) at 2 p.m. The final is at 10 a.m. Saturday at Gorman.
The state tournaments in Division I, III and IV also begin today.
"I feel like we've accomplished something," first-year head coach Keith Ulrich said. "With the group we had and where we were when we started the season, I don't want to say we have overachieved, but I definitely feel we have reached our potential.
"It feels great. We have a young group, and we have a chance to hopefully maintain where we are at in terms of competing for I-A titles."
Sierra Vista was the Class 4A state runner-up in 2005 and returned to state in 2006. The Mountain Lions qualified for the postseason each of the next two years before coach Jerome Streets left to take over Desert Oasis' program.
The Mountain Lions fell off quickly, compiling a 22-102 record over the next six seasons under five coaches, but the team showed signs of life last year, qualifying for the Division I Sunset Region playoffs and winning a game before bowing out.
A move to Division I-A combined with the jolt of confidence the team got last year had the Mountain Lions expecting success this year.
"It definitely helped us that we had some success last year," sophomore pitcher Kalei Watkins said. "We knew we could make it again this year and go further."
Watkins has been one of the biggest reasons Sierra Vista is still playing. She is 16-7 with a 2.12 ERA and 219 strikeouts in 135 1/3 innings. She has allowed only 16 walks.
"She has matured as a pitcher, mentally," Ulrich said. "She has really learned this year to place her pitches and understand hitters and what their strengths and weaknesses are. The talent was there, but now she's adding to that with her softball IQ."
Watkins also is the team's leading hitter with a .590 average, 19 doubles and six home runs. Adrianna Somerville (.391), Harmony Dominguez (.389) and Taylor DeGuzman (.386) also are among the best hitters on a team that has a .371 batting average.
Sierra Vista's offense faltered Saturday when it lost twice to Faith Lutheran for the Southern Region title and scored only four runs in 16 innings, but the Mountain Lions hope it was just a bad day.
"Our hitting needs to be a little better," Watkins said. "We had a good hitting experience in the playoffs until Saturday. Now it just needs to come back."
Sierra Vista's three potential opponents all have more recent state tournament experience. Fernley and Churchill County played each other in the title game each of the last two years, and Faith Lutheran competed in the 2013 state tournament.
"Saturday was a great teaching tool, to get them to focus on just playing one play at a time," Ulrich said. "Instead of worrying about having less experience because we're a young team, we're trying to get the girls to just focus on one play at a time. That's all they can control. We can't control who has more experience, but we can control how we play."
Contact reporter Bartt Davis at bdavis@reviewjournal.com or 702-387-5230.