Sierra Vista's Hager well-rounded star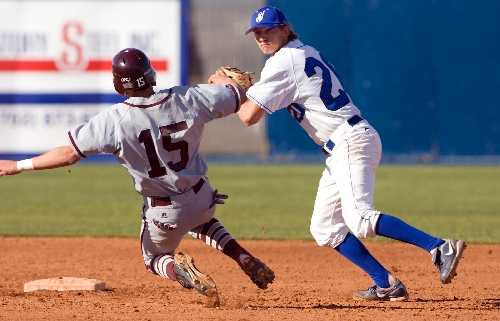 Jake Hager might not be the most powerful hitter, the fastest runner or the slickest fielder.
But the whole package is pretty good.
"He does a lot of things well," Sierra Vista baseball coach Nate Selby said of his star shortstop. "I don't know how many things he does exceptional."
The sum of Hager's talents led area Class 4A coaches to name him the Southern Nevada Player of the Year.
Hager hit .547 with 11 homers and 57 RBIs this spring to help the Mountain Lions to a 34-5 record and a second-place finish in the Sunset Region tournament.
"He's done everything we've asked, and he's got some pretty good skills," Selby said. "He hits for a little power. I think he's improved his speed, which I think is a unique thing.
"He does a little bit of everything."
Hager scored 75 runs as the team's leadoff hitter. Along with the 11 homers, he had 22 doubles and three triples for a 1.023 slugging percentage.
He also contributed on the mound, where he was 3-2 with a 2.43 ERA.
Hager was a four-year starter at Sierra Vista, and the biggest thing that stands out to Selby is how hard his star worked to improve.
"I don't know that I've coached a lot of kids who are as athletically gifted as Jake, but there haven't been a lot of kids that I've known that have worked as hard as him, either," Selby said. "He showed up most every day with a lunch pail and worked. He's got a bunch of talent, but he's worked hard to develop it, so he deserves it."
Hager, who has signed to play at Arizona State, highlighted the Class 4A All-Southern Nevada team picked by the coaches.
Sierra Vista was well-represented with pitcher Blair Goldsack, catcher Scott Tomassetti and outfielder Alex Estrella joining Hager on the first team.
The other infielders were Green Valley's Evan Van Hoosier, Las Vegas High's Tanner Chauncey and Bishop Gorman's Joey Gallo.
Along with Goldsack, Gorman's Cody Roper, Las Vegas' Erick Fedde, Green Valley's Jake DiDonato and Rancho's Zak Qualls were selected as pitchers.
Durango's Cameron Coombs was picked at first base, and Qualls, Cimarron-Memorial's Nathan Hale, Coronado's Dillon Fahr and Liberty's Danny Topps were the other outfielders.
Del Sol's Justin Chronister was selected at designated hitter, and Eldorado's Eric Larsen was the utility player.
The coaches also selected all-league teams, and Hager was the Southwest League Player of the Year.
Qualls, who batted .496 with nine homers and 48 RBIs and also went 5-2 with a 3.35 ERA, was the Northeast League Player of the Year.
Cimarron-Memorial's Hale, who hit .561 with five homers and 28 RBIs, was the Northwest Player of the Year.
Green Valley's Van Hoosier, who hit .521 with 15 homers and 53 RBIs, took the Southeast Player of the Year honor.
Contact prep sports editor Damon Seiters at dseiters@reviewjournal.com or 702-380-4587.
In-depth high school sports coverage