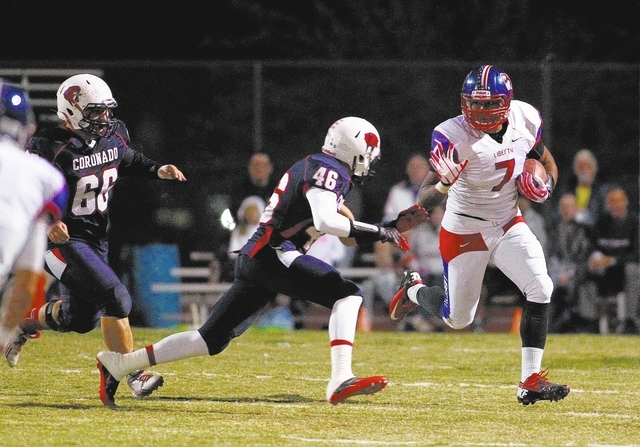 Jarvis Polu was one of the first football players in the area to make an oral commitment for the 2014 recruiting class. The Liberty standout also was one of the last to decide where he was playing in college.
Polu, who made a nonbinding commitment to Army in June, had a late change of heart and signed with Navy on Wednesday, the first day football players can sign a letter of intent.
"I came to the decision just meeting the people there, and two of the coaches there are obviously of Polynesian and Samoan descent," Polu said. "Coach (Ken) Niumatalolo just kind of showed me it was a family atmosphere up there, and I just felt comfortable."
Polu's flip was the only twist in an otherwise drama-free National Signing Day in Southern Nevada. Polu is one of at least 13 local players set to sign with Football Bowl Subdivision schools before the signing period ends April 1.
Service academies do not release recruits' names, and Niumatalolo did not comment on Navy's signing class.
The 6-foot-3-inch, 245-pound Polu, who also considered UNLV, is ranked the No. 4 player in the state by Rivals.com and is a three-star recruit by Rivals, Scout.com and 247sports.com.
Polu had 21 scholarship offers and chose Army the summer before his senior season. However, fifth-year Black Knights coach Rich Ellerson was fired Dec. 15 after a 34-7 setback to Navy — Army's 12th straight loss to its rival — and Polu opened up his recruitment soon after.
"To be honest, I was completely focused on Army until the coaching staff rearrangement," said Polu, whose father is retired from the Army. "That just came out of the blue."
Polu made an official visit to UNLV the same weekend Ellerson was dismissed and visited the Naval Academy in Annapolis, Md., last weekend. He eliminated the Rebels from contention Tuesday night.
"The home visit with coach Niumatalolo, it was kind of the turning point for me because it showed me the kind of man he was and what Navy has to offer," Polu said. "It was definitely stressful after the Navy trip, feeling all those emotions in my head about which school I should go to."
Polu led the Patriots (10-4) with seven sacks to go with 56 tackles and was a first-team all-state selection on defense. He had eight receptions for 106 yards and two touchdowns as a tight end. Polu is expected to play a hybrid defensive end/outside linebacker position for the Midshipmen.
"He's really making the decision based on what he feels will set him up for the rest of his life, not just football," Liberty football coach Rich Muraco said. "I'm so proud of him. I think it's a great move for him."
Muraco said Patriots quarterback Tyler Newman, the Review-Journal's state Player of the Year, spurned a late offer from Army to sign with Division II Dixie State (Utah). Newman also drew interest from Air Force but was not offered a scholarship.
"It was a very difficult decision for Tyler," Muraco said. "The military degree carries such weight. But for him, he just felt like Dixie was a better fit."
The local signing class was headed by two offensive linemen. Green Valley tackle Tyrell Crosby (6-5, 290), who helped the Gators reach the Sunrise Region final, signed with Oregon. And Bishop Gorman tackle Nick Gates (6-5, 270) signed his letter of intent with Nebraska.
Gates was joined by safety Armand Perry (Arizona State) and center Zack Singer (Kent State), giving Gorman three FBS signees, the most of any school in the valley.
Contact reporter David Schoen at dschoen@reviewjournal.com or 702-387-5203. Follow him on Twitter: @DavidSchoenLVRJ.