Silverado's Washington perfects craft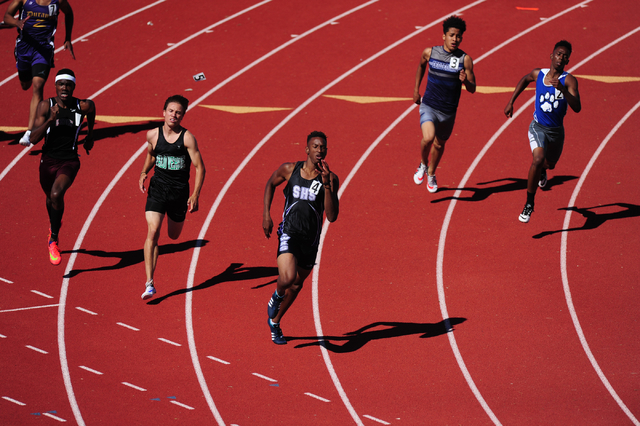 Zakee Washington never had a strategy for running the 400-meter dash.
"He kind of just stood up and started running," Silverado track and field coach Jerry Oliver said. "Just used his natural ability."
Washington's reliance on talent over technique worked up to a certain point. But after developing a plan with Oliver this season for his specialty race, the Skyhawks' senior has seen a dramatic improvement.
Washington, a transfer from Palo Verde, is the top-ranked boys 400 runner in the state and has enjoyed a record-breaking stretch over the past few weeks.
And with the start of the Division I Sunrise Region meet about a week away, Washington appears to be peaking at the right time.
"I've always been a natural at it, but I've been getting a little wiser at the race and improving on places where I need to improve. The little things," Washington said. "I feel like it's been working a lot."
Washington finished fourth in the 400 at the state meet as a freshman for Palo Verde, and big things were expected of him for the rest of his high school career. But during tryouts for the 400 his sophomore year, Washington fell in the final 200 meters, injuring his hamstring, groin and hip flexor. As a result, he missed the entire season.
"That devastated me," he said.
The injury left Washington's confidence shaken, and he said he spent much of his junior season worrying whether he would reinjure himself.
Despite his fears, Washington won the Sunset Region titles in the 200 (21.86 seconds) and 400 (48.30). He went on to finish sixth in the 200 and fourth in the 400 at the Division I state meet.
"Coming back off of injury isn't really easy for anybody," Washington said. "Last year was more like trying to understand I can do what I did my freshman year. … I finally realized I could push the limits again, give it my all without hesitation."
After transferring to Silverado last summer, Washington has been a bright spot for the Skyhawks. He set a meet record in the 400 at the Covina (California) Invitational on April 2 with a time of 47.93 and followed that up by running a personal-best 47.50 to win the 400 at the prestigious Mt. SAC Relays in California on April 15.
Last week at the Skyhawk Invitational, the 6-foot-3-inch Washington set a meet record of 48.64 to win the 400.
"He's got the ideal body for somebody who you would think would be a great 400 runner," Oliver said. "He's got some natural speed and quickness in his muscles, so it's just a matter of making sure that he's got the endurance and a good plan."
Washington, who is drawing recruiting interest from a handful of schools, including Arizona and Southern Utah, has his sights set on two more records in the 400. The Sunrise Region mark of 47.54 was set in 2011 by former Silverado athlete Ladale Jackson, and the state-meet record is 47.03 by Green Valley's Ian Mack last year.
The Sunrise Region meet takes place May 7 and 14 at Del Sol, with the state meet set for May 20 and 21 at Carson High in Carson City.
"I'm confident in the race, and I'm confident in myself," Washington said. "Every time I step on the track, it's an opportunity for me to get faster, and that's how I see it. An opportunity to improve and be better at my craft."
Contact reporter David Schoen at dschoen@reviewjournal.com or 702-387-5203. Follow him on Twitter: @DavidSchoenLVRJ