Siva takes control for No. 6 Louisville
December 3, 2011 - 2:03 am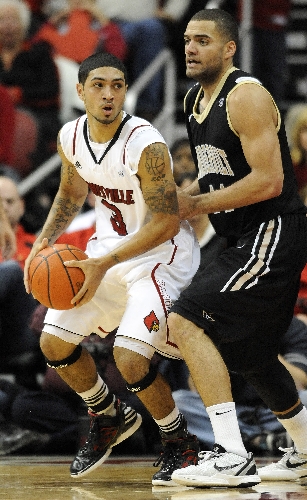 LOUISVILLE, Ky. — Peyton Siva's teammates wondered why he didn't end the game in regulation when he had a chance and deferred to a freshman. Given a second chance, the junior guard finished with a flourish.
Siva drove through the middle of Vanderbilt's defense for a layup with 1.4 seconds left and No. 6 Louisville rallied to beat the 20th-ranked Commodores 62-60 in overtime on Friday.
"In the overtime, I was just like, 'I've got to make this layup and get these guys out of here because they're making it too close,' " said Siva, who had 14 points, seven rebounds and five assists. "I just got the layup."
The Cardinals (7-0) came back from two big deficits — nine in the second half and five in overtime — to continue their theme from last year when they rallied from seven or more points down nine different times. Kyle Kuric's 16-footer gave Louisville a 60-58 lead with 34 seconds left in overtime.
"It's a treat to coach these guys because you see great comebacks," Louisville coach Rick Pitino said. "There are times you think you're dead and then you just look up and you win the game."
John Jenkins, who finished with 27 points, hit two free throws for the Commodores (5-3) to tie it with 12.2 seconds to play, but Siva broke down the Vanderbilt defense on a high pick-and-roll and got to the hoop for the game-winning basket.
"He's a really fast guard," Jenkins said. "He got in the lane at will. He's a good player."
Siva, who has been hobbled recently by a sprained left ankle, smiled watching his big layup on replay following Louisville's 15th straight home win.
Louisville freshman Chane Behanan finished with 14 points, but Behanan blew a chance to win it in regulation when he missed a short shot at the buzzer. He'd make amends in overtime.
"I was just speechless. I couldn't believe I blew a wide-open layup. A wide-open layup," Behanan said. "I literally cried. Tears came out and coach Pitino saw that and got on me."
Jenkins gave Vanderbilt a 55-50 lead when he opened overtime with a 3-pointer and added two free throws with 2:29 left. Behanan answered with a three-point play. After the two teams traded a pair of free throws, Kuric, who finished with 15 points, hit a 3-pointer that gave Louisville a 58-57 lead.
Brad Tinsley tied it with a free throw before Kuric's jumper set up the final sequence when Jenkins hit two free throws and Siva easily passed Lance Goulbourne down the lane, hitting a finger-roll layup with 1.4 seconds left.
"It was two teams really, really getting after each other," Vanderbilt coach Kevin Stallings said. "They just made one more play than we did."
Behanan deflected Tinsley's full-court desperation pass as time expired. Goulbourne and Jeffery Taylor finished with 11 points apiece.
It was the first true road game for a Vanderbilt team that had been ranked seventh in the preseason poll — ahead of Louisville at the time — and while the Cardinals have weathered injuries, the Commodores have struggled.
Vanderbilt is still without Festus Ezeli (right knee) for two more weeks and also lost Josh Henderson (left foot). Henderson is scheduled to have surgery Monday to put a screw in his foot and will miss eight to 12 weeks.
Louisville was missing Rakeem Buckles (right knee), Stephan Van Treese (left knee), Mike Marra (left knee), Wayne Blackshear (right shoulder) and Elisha Justice (broken nose).
AROUND THE NATION
TOP 25
■ ORANGE ROLL ON — At Syracuse, N.Y., Brandon Triche had 20 points and Scoop Jardine finished with 16 and seven assists as No. 4 Syracuse remained unbeaten with a 72-68 win over No. 10 Florida. Jardine hit a 3-pointer that gave the Orange (8-0) a 61-53 lead with 3:52 left, and the Gators were unable to rally. Kenny Boynton led the Gators (5-2) with 22 points and Erving Walker had 17.
■ TIGERS STAY HOT — At Columbia, Mo., Marcus Denmon scored a career-high 31 points and No. 13 Missouri went on a pair of big runs in a 90-56 rout of Northwestern State. The Tigers (7-0) are off to their best start since the 2006-07 season.
REGIONAL
■ UNR TOPS HUSKIES IN OT — At Reno, Deonte Burton scored 31 points, including a game-tying 3-pointer late in regulation and eight of UNR's 10 points in overtime, as the Wolf Pack defeated Washington, 76-73. UNR (5-3) trailed 65-60 with 34 seconds remaining in regulation before Malik Story hit a 3-pointer with 16.4 seconds left and Burton made his 3-pointer. Terrance Ross led the Huskies (4-2) with 18 points.