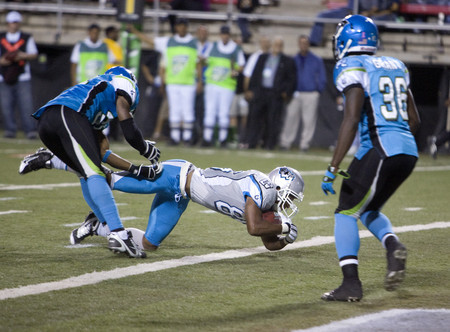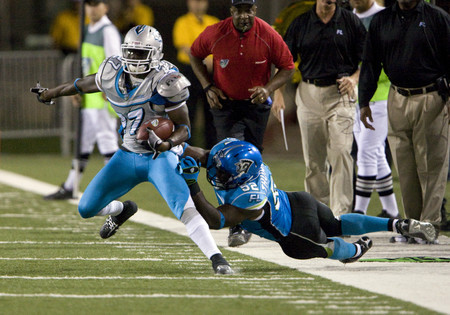 The Locomotives' offense started slowly again Wednesday night.
By the time it got going this week, the game long had been decided.
Las Vegas lost to the Florida Tuskers 29-15 at Sam Boyd Stadium in a game that wasn't nearly as close as the final score indicated.
The Locomotives (1-1) also fell behind last week but came back to win in the United Football League's debut. This week, the rally began much too late.
"I think both the first and second game we came out pretty flat," said receiver Samie Parker, who caught two late touchdown passes. "We got into a lot of third-and-long situations, and that pretty much hurt us. I think we need to tune it up and come out from the gate playing the way we played toward the end of the game."
Las Vegas coach Jim Fassel couldn't explain the slow start but gave the opponent credit.
"I don't know, I've got to figure it out and get it right. That's two games in a row," he said. "One of them we settled down, one of them we didn't settle down. I think we were playing a better team tonight that was playing better (than us)."
The Locomotives trailed 22-0 in the third quarter in front of an estimated 7,000 fans (attendance was announced as 12,160) largely on the efforts of Florida quarterback Brooks Bollinger.
The former sixth-round NFL Draft pick had his second straight standout game, throwing for 310 yards and three touchdowns.
Like Las Vegas quarterback J.P. Losman, Bollinger is an NFL veteran trying to work his way back into the league.
But Losman, who was 19-for-35 for 239 yards and two touchdowns, downplayed the head-to-head battle to get an NFL contract.
"I think teams are going to pick the quarterback that is not just the best but is the best fit for them. We as quarterbacks don't really have a say in that. They look at many things," Losman said, before acknowledging a bit of a rivalry. "It's more of a fit type of thing, but either way, it's all competition."
Losman was haunted by some of the same problems that plagued him during his ill-fated stint with the Buffalo Bills, as he was sacked six times and threw a costly interception.
The Tuskers took the lead on their opening 80-yard drive, when Bollinger was 4-for-4 for 64 yards, including a 5-yard TD pass to Frank Murphy.
Bollinger was 10-for-10 for 119 yards in the first quarter, and the Tuskers led 10-0 after a 22-yard field goal by Matt Bryant midway through the second quarter as Las Vegas' offense struggled to stay on the field.
Bryant added two more field goals before halftime, and Bollinger tacked on a TD pass to Chas Gessner in the third quarter.
DeDe Dorsey blocked a punt through the end zone for a safety on the second play of the fourth quarter for the Locomotives' first points.
But the Las Vegas offense couldn't take advantage of the momentum. The Locomotives failed to gain a yard in four plays and gave the ball back, essentially sealing the outcome.
Losman capped two late drives with TD passes of 11 and 2 yards to Parker, but Las Vegas failed to recover onside kicks after both touchdowns.
• NOTE — The Locomotives announced their final regular-season game against the New York Sentinels on Nov. 20, previously scheduled for Los Angeles, will be played at Sam Boyd Stadium.
Contact reporter Adam Hill at ahill@reviewjournal.com or 702-224-5509.
Slideshow
FLORIDA – 29
LAS VEGAS – 15
KEY: Brooks Bollinger passed for 310 yards and three touchdowns.
NEXT: Locomotives at Tuskers, 4•p.m. Oct. 30, Tropicana Field, St.•Petersburg, Fla.