Smiths help Rebels to tourney title
December 23, 2013 - 11:57 pm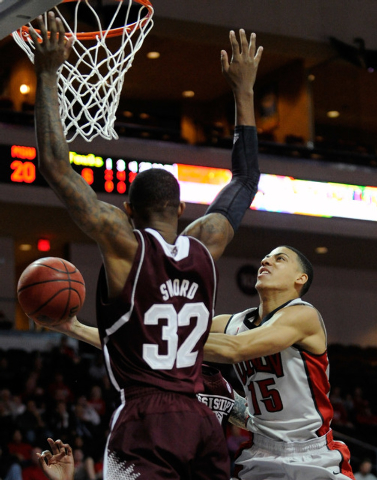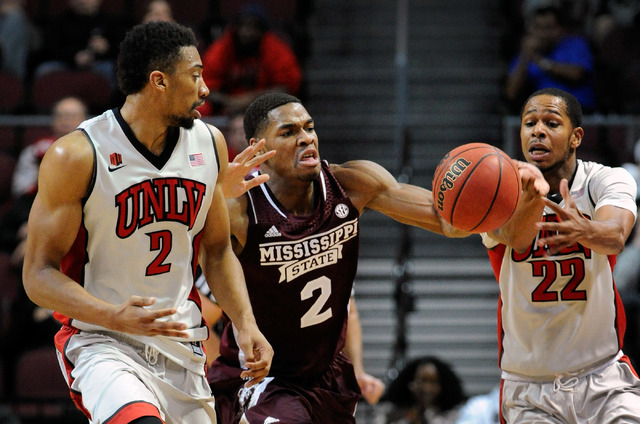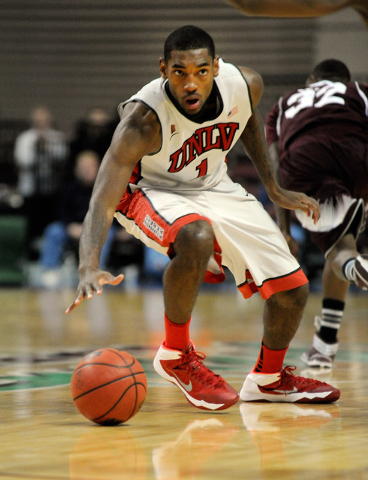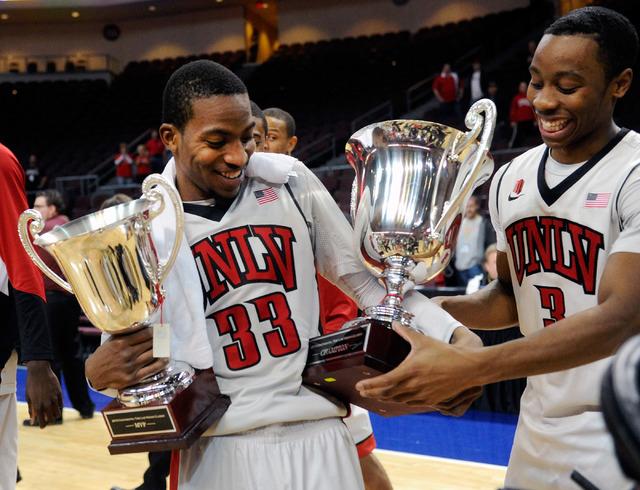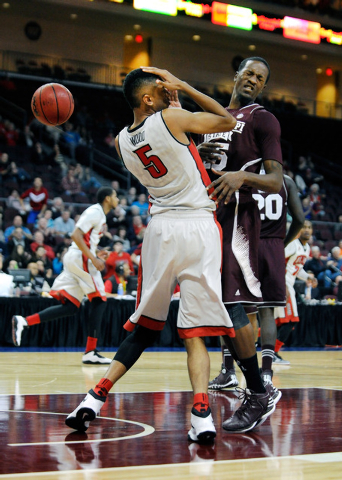 Not only was Roscoe Smith dressed in red, white and black, he was ready to play the role of Santa Claus.
UNLV's junior forward said if he was named tournament Most Valuable Player, he planned to hand the trophy to Deville Smith, the team's backup point guard.
"He did a hell of a job. He deserved it," Roscoe Smith said. "He was hungry. This was a big week for him, knowing he had an opportunity to play against his old team. We had to help him out. That was our early Christmas present to Deville."
Standing nearby, Deville Smith held the MVP trophy that he earned after playing his best two games of the season on back-to-back nights.
Senior guard Kevin Olekaibe scored 17 points and Deville Smith had 15 to lift the Rebels to an 82-66 victory over Mississippi State in the Las Vegas Classic championship on Monday at Orleans Arena.
Deville Smith, a junior-college transfer who played his freshman year at Mississippi State, totaled 36 points in the final two games. He said he had the Bulldogs circled on the schedule since the summer.
"I've been looking forward to it. I couldn't wait to play them," he said. "I feel like the whole team needs this trophy. Without them, I would not have this thing."
UNLV (8-4) won its four tournament games by an average of 22 points.
Roscoe Smith, the nation's leading rebounder, was honored earlier Monday as Mountain West Player of the Week. He averaged 14.3 points and 10.7 rebounds in the first three games of tournament and finished with 12 points and 12 rebounds against Mississippi State (9-3).
"We're definitely getting better and putting the pieces together. We're getting confident with one another," Roscoe Smith said. "Yeah, the competition might not be that high. But it gives us confidence coming into conference play."
Junior forward Khem Birch recorded 11 points and eight rebounds for the Rebels, who led 42-24 at halftime and cruised the rest of the way against an outmanned Southeastern Conference opponent.
The Bulldogs got free for three early dunks and led by five, but Olekaibe hit a deep 3-pointer to put UNLV up 21-14, and Deville Smith's third 3 extended the margin to 26-16.
Mississippi State made a minor charge in the second half, trimming its deficit to 13. A 3-pointer by Olekaibe, a layup by Deville Smith and Birch's dunk and three-point play — off an assist by Deville Smith — sent the Rebels in front 65-44 with 8:43 remaining.
Deville Smith, who came off the bench to score 21 points in a 92-71 victory over Santa Clara in Sunday's semifinals, had five assists and operated the offense smoothly in half-court sets and on fast breaks.
"If he keeps this up, we'll definitely be scary," Roscoe Smith said. "I've got confidence in him. He's a great player, that's why the coaching staff recruited him. It was just a matter of time."
The Rebels shot 44 percent from the field (26 of 59), including 11 of 26 from 3-point range. Olekaibe made 4 of 8 3s, and Deville Smith hit 3 of 6.
"We shot the ball extremely well for the last four or five games," coach Dave Rice said. "Deville can be a big part of our attack moving forward.
"We're on a good run. There's no doubt we're a different team than we were when the season started, and we're a different team in a positive way."
Craig Sword had 18 points for the Bulldogs, who made 1 of 11 3-point attempts.
The Rebels won their second holiday tournament title in Rice's three seasons.
"It's a big deal," Rice said.
The first one for Rice was a little bigger. UNLV stunned No. 1 North Carolina 90-80 to win the Las Vegas Invitational at Orleans Arena in November 2011.
Contact reporter Matt Youmans at myoumans@reviewjournal.com or 702-387-2907. Follow him on Twitter: @mattyoumans247.