Soap box racing no longer just for kids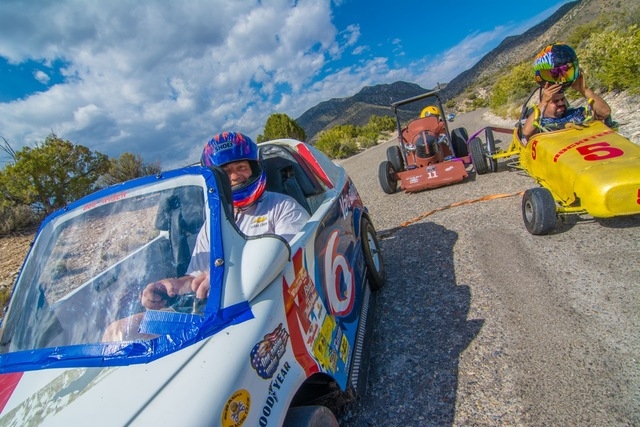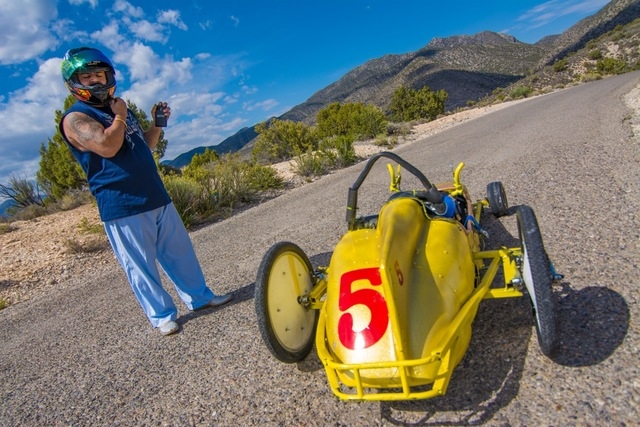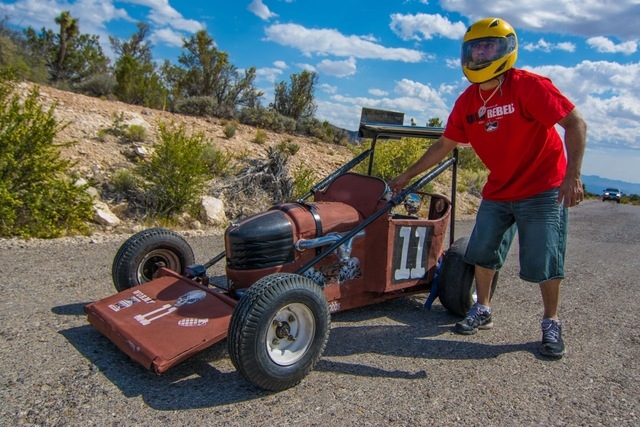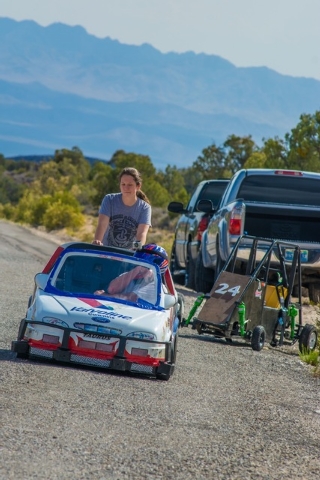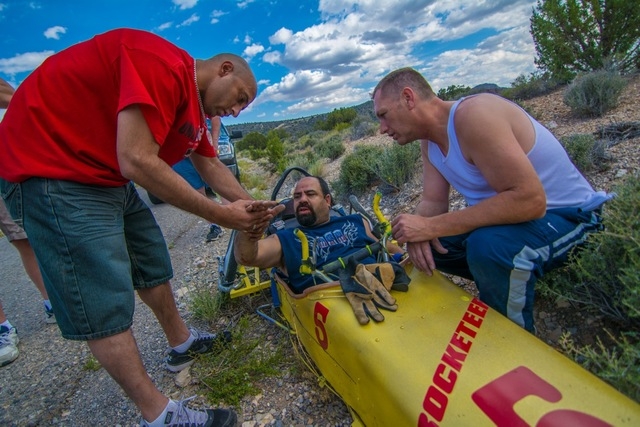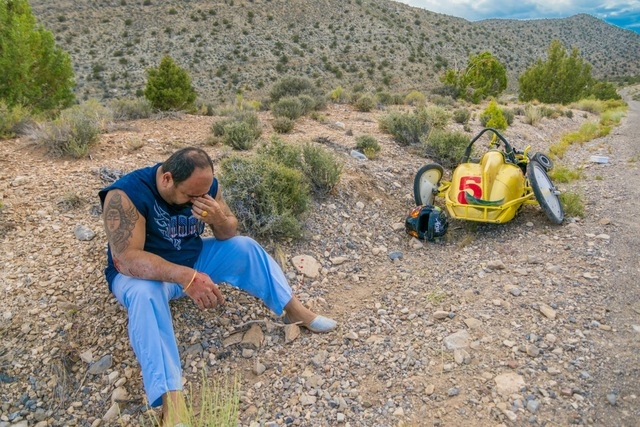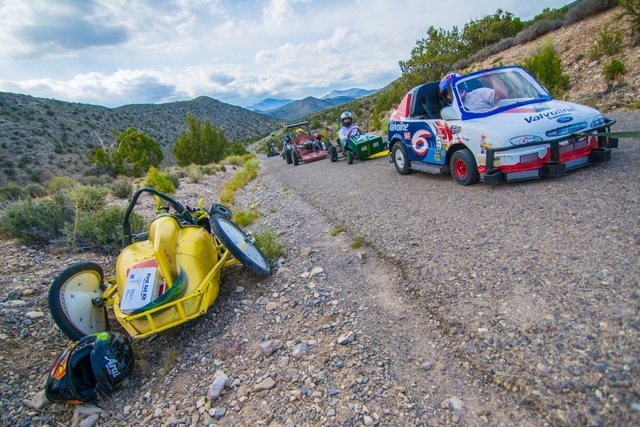 Attention, speed junkies! The Soap Box Derby is no longer a child-only activity as a group of full-grown kids have embraced the gravity-powered sport. Now, the do-it-yourself event has come to Southern Nevada as members of the club design, build and race their cars twice a month on public roads.
Formed over the past two years, the group, DRAGG — Downhill Racers Association of Gravity Gear Heads — speed down the streets up to 15 at a time at speeds approaching 65 mph.
The origins of the sport began in California over a decade ago by a group known as the San Fernando Valley Illegal Soapbox Federation, according to Christopher Crews, a fellow soap box enthusiast and photographer. Crews attended a race on May 23 on Lovell Canyon Road, 30 minutes west of Las Vegas, and gave insight into the unorthodox sport and its simple beginnings.
"At the time, the focus was on creativity of the cars and repurposing of used materials," Crews said. "The speeds and competitiveness quickly increased and a driver was eventually killed in a crash five years ago. After the crash, only a handful of drivers stuck around, but the car engineering was greatly improved and the speeds continued to go up.
"Just last week the speed record for this type of racing was set at 88 mph, but that is not common. Most races hit speeds between 45 and 60 mph. Most of the racing is not exactly 'legal.' All racers take on a 'Race Name' to protect their identity, and race locations are only given to very few people to avoid run-ins with the police. Think 'Fight Club.'"
"The racers come from wildly varied backgrounds. Teachers and mechanics, to police officers, firefighters and even a U.S. soldier."
However, due to the dangerous nature of the high-speed sport, riders must be at least 18 years old in most, if not all, Soap Box events. During this particular race, Crews reported that two racers sustained injuries. One racer suffered a skull fracture, broken nose and hand, while the other "broke his arm and several ribs after colliding at an estimated 50 mph."
The races aren't for the faint of heart, but Crews isn't afraid to dive right in, when he's not taking photographs.
"I have been racing for the past three years with a group out of Baltimore, Md., known as the MISFITS or Maryland Independent Soapbox Federation & Incline Trials Society," Crews said. "We have been around for the last five years and have been working on taking things in a different direction here. All of our races are permitted, the police come out to shut roads down for us, and we are currently in the process of becoming a non-profit organization. We still got our start watching the race videos from California though."
The MISFITS' motto on their Facebook page reads, "The most fun is usually had on the outskirts of sanity, somewhere between brilliance and mayhem."
So, whether speeding down the winding hills of Baltimore or tearing up the streets right outside of Las Vegas, racers are guaranteed an adrenaline rush in this rising community of Soap Box racers.
For additional racing information, contact Christopher Crews at 410-599-8318 or by email at cdcrews01@hotmail.com.
Contact Ashley Casper at acasper@reviewjournal.com. Find her on Twitter: @TheCasperA.