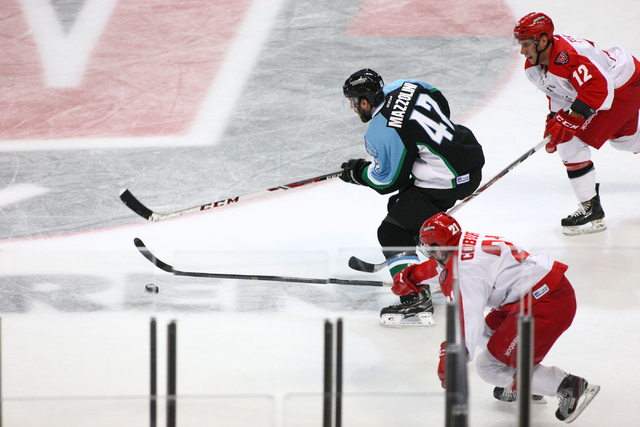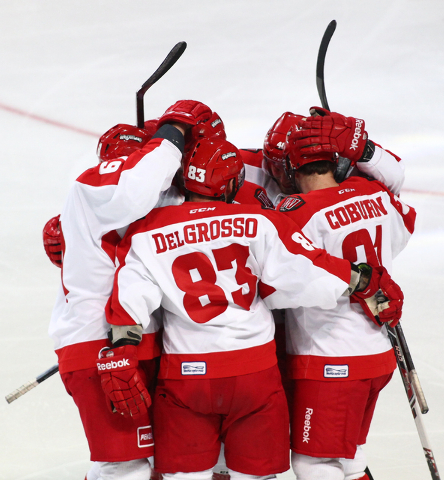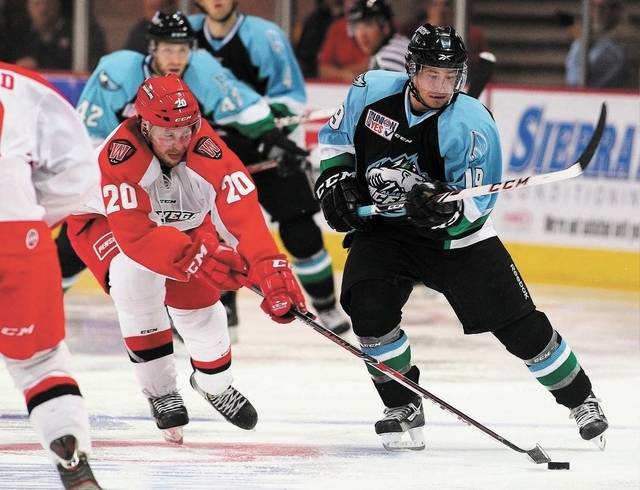 For the second straight home game, Wranglers tough guy Adam Huxley tried to set the tone for his team by fighting Alaska defenseman B.J. Crum in the opening minute Friday night at Orleans Arena.
Las Vegas took the lead 5:12 into the game on a power-play goal by Greg Coburn, but the Aces bounced back to win 3-2, dealing the Wranglers their first loss, before a crowd of 4,147 — many of whom were cowbell-clanging Alaska fans.
Andy Taranto was credited with the winning goal on a two-on-one with 4:46 left, but the puck actually deflected into the net off a Las Vegas defenseman's skate.
Alaska (2-1-0) was in control for much of the game, holding a 45-17 edge in shots.
"It was a bit of a bad bounce, but they had too many scoring chances to begin with," Wranglers coach Mike Madill said. "You can't give up 50 shots and only take 15."
Madill said the early brawl was in keeping with superstition to start the season.
"We had the same group (starting) out there that won the first two games. It's superstition, so you stick with it," Madill said. "Not that we're asking for those guys (to fight)."
A silver lining to the loss is the fact that Madill and other superstitious Wranglers finally can change their clothes.
"I've been wearing the same tie for three games now," he said. "I've got a bunch I've been waiting to break in, so at least now I get to change (today)."
Mitch O'Keefe made 42 saves in his first start of the season for Las Vegas (2-1-0). He was beaten twice in the second period by Brendan Connolly, who is O'Keefe's former college roommate and teammate at Ferris State. Connolly also assisted on the winning goal.
"He's a very skilled player," O'Keefe said. "I guess I'll have to buy him dinner."
Connolly punched the puck inside the post after several attempts to tie it 1-1 at 6:16 and then beat O'Keefe with a shot under his right arm at 14:06.
Chris Francis beat Joni Ortio on the power play with seven minutes left in the third, but the Aces answered a little more than two minutes later.
"Our goalie stood on his head tonight, and we can't expect that every game," Francis said. "We've got to do better at getting in their zone and creating havoc. At times, we didn't do the things we did the first two games."
Contact Todd Dewey at tdewey@reviewjournal.com or 702-383-0354. Follow him on Twitter: @tdewey33.