Solomon swings momentum, takes Gaels to 4A final
November 28, 2010 - 12:00 am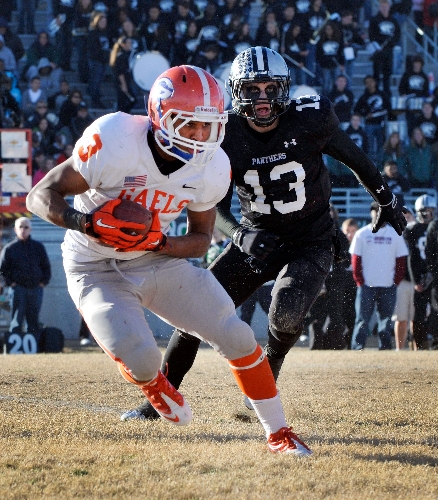 Bishop Gorman quarterback Jarrett Solomon was having a forgettable game, completing only 3 of his first 10 passes and throwing a costly interception.
Then came the final half-minute of the first half.
After a 33-yard field goal by Garrett Dunlap that gave Palo Verde a 3-0 lead, Solomon needed only five plays and 26 seconds to guide the Gaels 66 yards for the go-ahead touchdown. Gorman (12-2) wouldn't trail again and defeated the host Panthers 28-10 for the Sunset Region title Saturday.
"That was big momentum," junior running back Shaquille Powell said of the scoring drive. "They had just scored, and a lot of our players were down. For (Solomon) to step up like that, that's a big thing. I give him big props."
The defending Class 4A champions will play McQueen (12-1) for the state championship at 12:07 p.m. Saturday at Sam Boyd Stadium. McQueen advanced with a 7-6 victory over Sunrise champion Liberty.
Solomon completed 3 of 4 passes on the key scoring drive, including a 49-yard strike to Ryan Smith to move the ball to the Palo Verde 4.
After Gorman spiked the ball to stop the clock, Solomon lofted a fade pass to Jamir Tillman for the touchdown with 1.4 seconds left in the half, and Collin Ditsworth's extra point made the score 7-3.
"We were lucky that we made a big play at the end of the first half that put us in a great situation," Gorman coach Tony Sanchez said. "Smith just made a great play. We were real fortunate he was able to do that. To go in with the lead at the half, we were very, very fortunate."
A miscue by Solomon led to the field-goal drive by Palo Verde (12-1), as defensive end Doug Stultz intercepted Solomon's screen pass and returned it to the Gorman 42.
Palo Verde drove to the Gorman 12, but Brandon Wright was stopped for a 4-yard loss on third-and-7, setting up Dunlap's field goal.
After gaining the momentum, the Gaels made sure to keep it. Gorman forced a fumble on the third play of the second half, with Mark Philippi recovering at the Palo Verde 39. Eight plays later, Jordan Welte scored on a 2-yard run, and the Gaels led 14-3.
On Gorman's next possession, Powell blew through a huge hole on the right side and ran 50 yards for a touchdown. Powell also completed a 33-yard halfback pass to Solomon on the drive.
"We started off a little slow, but we finished," Powell said. "And that's the big thing we've been working on all year."
Solomon hit Smith with a 75-yard touchdown pass to make the score 28-3 with 1:06 left in the third quarter. Solomon eluded the Palo Verde pressure before heaving the ball downfield to Smith.
Solomon completed 9 of 17 passes for 173 yards. Powell, who had only 16 carries since Oct. 1 because of a hamstring injury, ran for 157 yards on 20 rushes.
"It's been awhile since he's had to carry a bunch of balls," Sanchez said. "As soon as he started cutting the ball back, he started getting big plays."
Powell said, "I'm just glad I could pull it off in a big game and help our team get to the state championship (game)."
Gorman did a good job of containing Palo Verde's running game, allowing just one run of more than 10 yards. That play was an 80-yard touchdown by Wright with 7:13 to play. Wright finished with 133 yards on 19 carries.
"The defense did a tremendous job," Powell said. "It's the most physical game I've ever seen them play."
Defensive end Jalen Grimble said it was easy to get fired up to play the Panthers.
"This is our biggest rival," he said. "A lot of animosity came into this game, but as you can see, the best team proved themselves and we came out with the (win)."
Contact Prep Sports Editor Damon Seiters at dseiters@reviewjournal.com or 702-380-4587.
In-depth high school sports coverage