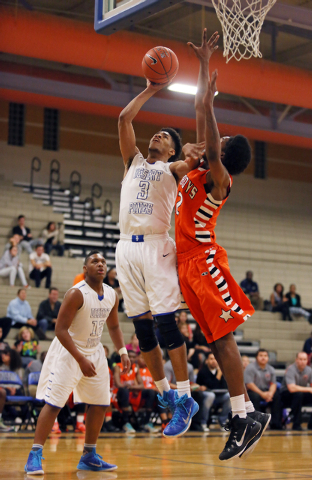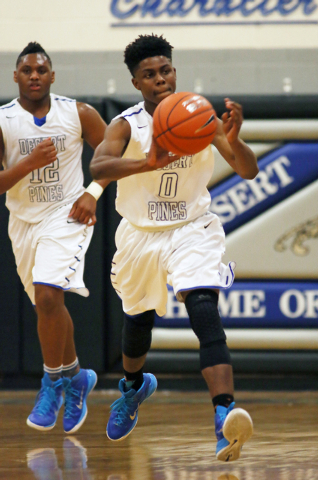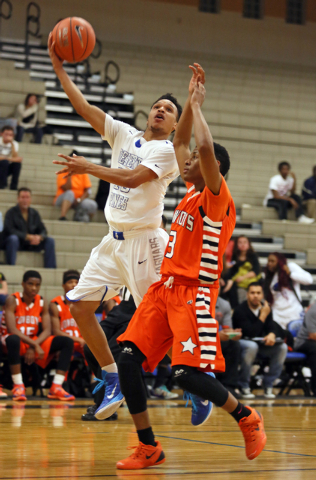 Trevon Abdullah was alone underneath the basket midway through the fourth quarter when he went up for a one-handed dunk and clanked it off the front of the rim.
Considering everything else Abdullah did for the Desert Pines boys basketball team Wednesday, the 6-foot-5-inch sophomore was allowed one miscue.
Abdullah finished with 25 points and 17 rebounds, and the host Jaguars beat Chaparral 67-59 in a battle for first place in the Division I-A Sunrise League.
"I told him he's got to finish," Jaguars coach Mike Uzan said with a laugh. "He can. I just think I left him in there too long and he was a little tired."
Capri Uzan added 12 points and six assists for No. 10 Desert Pines (12-6, 6-0 Sunrise League), which led by as many as 22 points in the fourth quarter before the Cowboys went on a late 10-2 run to get within single digits.
Marc Silas had 21 points to pace Chaparral (9-9, 4-2), and his 3-pointer with 45 seconds remaining cut the Jaguars' lead to 64-56. Coby Myles (10 points, six rebounds, five assists) made two free throws for Desert Pines with 28 seconds left to put away the game.
The Jaguars seemingly had an answer for every run Chaparral made in the second half. The Cowboys trailed 37-30 early in the third after scoring the first five points of the quarter, and they were down 47-38 with 1:12 remaining in the third when Maharie Trotter scored inside.
But Abdullah's tip-in gave Desert Pines an 11-point lead at the end of the quarter, and the Jaguars opened the fourth on an 11-0 run to take control. Uzan made a 3-pointer to put Desert Pines ahead 60-40, and Jalen Graves capped the spurt with two of his 10 points.
"For young kids like that, just being able to withstand runs and being able to respond to runs, that's big for us, especially moving forward," Mike Uzan said.
Abdullah had 16 of his points in the first quarter, scoring down low and also showing off his range from the outside. He had the Jaguars' final 10 points of the quarter, including a three-point play and a 3-pointer, and finished 7-for-13 from the field in the first eight minutes.
"We got him going early," Mike Uzan said. "I'm glad he had a good game. We needed it, and he deserved one."
Silas battled foul trouble in the first half, but Trotter picked up the scoring slack for Chaparral with nine second-quarter points. Trotter finished with 15 points, eight rebounds and two blocked shots.
Samuel Porras added 12 points, and teammate Richard Nelson pulled down 12 rebounds for the Cowboys.
Contact reporter David Schoen at dschoen@reviewjournal.com or 702-387-5203. Follow him on Twitter: @DavidSchoenLVRJ.