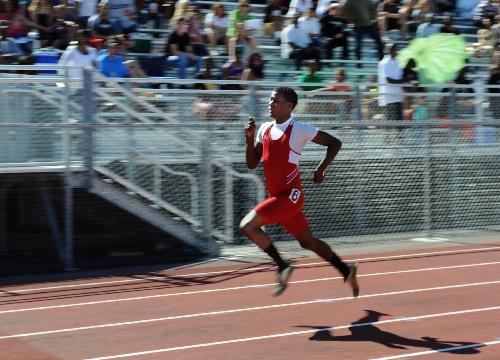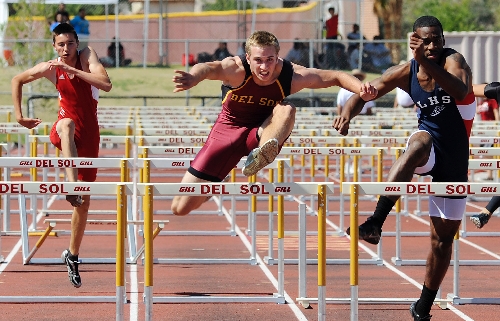 Garic Wharton woke up Thursday feeling a mysterious strain of his right quadriceps.
It didn't stop Valley's senior sprinter from authoring another historic performance Friday on the final day of the Sunrise Region track meet at Del Sol.
Wharton set a regional record by winning the 200-meter dash in 21.05 seconds and took the 100 in 10.61. His time in the 200 is the third fastest in the nation this season, according to track and field website DyeStat.com.
"My quad was hurting real bad, and I didn't know how it was going to hold up, but it held up real well," Wharton said. "I was able to do what I do best."
Wharton said he couldn't remember suffering the injury but first felt it Thursday. He made it difficult for anyone in attendance to notice.
"That's one of the things that happens: You get an injury," said Wharton, who set the state 100 record in 10.39 as a junior. "You've got to deal with it and get through it. I'm a champion. That's what I do."
Wharton, who will compete in football and track at Arizona next year, clinched spots in both events at the Class 4A state meet next weekend at Damonte Ranch High in Reno. The top two runners in each event plus the No. 3 finisher from either region wrapped up state berths.
Canyon Springs swept Sunrise team titles in the boys and girls meets. The Pioneers scored 110 points on the boys side to top runner-up Foothill (100½), and the girls scored 100 points to finish well ahead of Green Valley (76), Coronado (74) and Valley (74).
Tony Stephens, Canyon Springs' boys and girls coach, said he was "speechless" before his athletes gave him a Gatorade shower during the trophy presentations.
"It's huge for the school," Stephens said. "It's something you coach for, and it's huge for the community. They believe in the training, and they're so motivated."
The best finish of the meet might have been in the Sunrise boys 400, in which Canyon Springs' Jovani Hernandez won in 48.12 seconds to edge Silverado's Ladale Jackson by one-hundredth of a second. Both eclipsed the previous region record of 48.99.
Hernandez, a senior, also won the 800, in 1:56.98.
A year after missing qualifying for any events at state, Del Sol senior Evan Weinstock will be going in four.
Weinstock won the 110 hurdles in 14.83 and the 300 hurdles in 38.96. He also clinched spots in the long jump (21 feet, 11 inches) and high jump (6-2) by finishing third in both events last week.
"It's very exciting coming from last year, when I wasn't really competitive in regionals," Weinstock said. "Coming in here, to put all my events together my senior year, it feels really good."
Rancho senior Aisha Momodu broke her Sunrise girls record in the 100 in 12.09 and won the 200 in 25.54. She also was part of 400 relay (48.53) and 1,600 relay (3:59.37) teams that set regional records.
"The thing that has always hurt me is my start coming out of the blocks," Momodu said. "Today, I came out really well."
Also in the Sunrise girls meet, Coronado's Lauren Lucas won the 1,600 in 5:22.56 and took third in the 800 in 2:24.94. She'll compete in three events at state after winning the 3,200 in 12:04.29 last week.
Contact reporter Tristan Aird at taird@reviewjournal.com or 702-387-5203.
In-depth high school sports coverage