Special teams key for BYU
September 24, 2011 - 1:00 am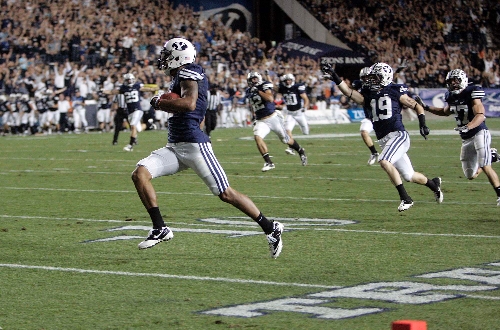 PROVO, Utah — Brigham Young football coach Bronco Mendenhall wasn't sure how his players would respond after a 44-point loss at home to state rival Utah.
They responded in a special way.
Cody Hoffman returned a kickoff 93 yards for a touchdown in the third quarter, and BYU's special teams set up another score in a 24-17 victory Friday night over Central Florida.
"I thought our special teams made a huge difference," Mendenhall said. "We have not arrived yet, but I am very happy with the victory. It was a gratifying, hard-fought win against a good team."
Bryan Kariya's 6-yard touchdown run with 10:29 left proved the game winner. It came three plays after UCF's J.J. Worton muffed a punt that carried 67 yards.
"We can't keep shooting ourselves in the foot on punt returns," Knights coach George O'Leary said. "It's ridiculous. That's 14 points in two weeks we've given up. It's the difference in the game."
Central Florida (2-2) has dropped two straight after outscoring its first two opponents 92-3.
"We had some bad decisions out there. But you've just got to move on. It's a long season for a reason," O'Leary said.
The victory was a much-needed boost for the Cougars (2-2), who committed seven turnovers last week.
They forced three turnovers Friday, but it was Hoffman's third-quarter score that turned the momentum.
It was BYU's first kickoff return for a touchdown in 13 years, a string of 160 games, and answered an 84-yard scoring drive directed by Central Florida quarterback Jeff Godfrey.
"Cody worked so hard, and to see him making plays and taking that next step … is really fun," BYU quarterback Jake Heaps said. "He's playing phenomenal."
BYU was looking for any help offensively and even moved coordinator Brandon Doman to the press box Friday after he called the first three games from the sideline.
Heaps still struggled, completing 16 of 34 passes for 133 yards against the nation's top-rated passing defense. He also threw his fifth interception of the season. It set up Central Florida's first touchdown, a 10-yard run around left end by Godfrey.
But Heaps said the move up to the booth might be permanent for Doman.
"Obviously things weren't working," Heaps said. "But this is huge, not for anybody outside but for our football team, to be able to have an experience like that where you get to grow closer as a team. It's going to be fun to see where our team decides to take it from here."
The same holds true for the Knights, who thought this might be a special season after the impressive start.
Now they have to regroup.
It will start with Godfrey.
The sophomore again showed his versatility. He completed 17 of 25 passes for 272 yards, including a 58-yarder, and rushed for two TDs to give him eight on the season. But he also threw his first interception and was sacked four times, one that knocked him out of the game for a series.
A.J. Guyton had nine catches for 163 yards for the Knights.