Speed thrills: BMX racers zip through course at South Point
Updated July 16, 2017 - 10:10 pm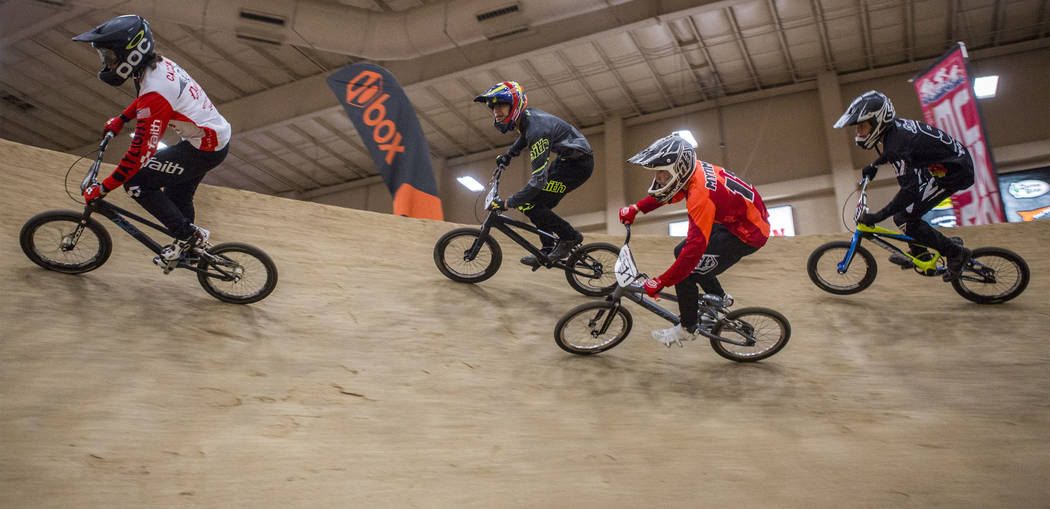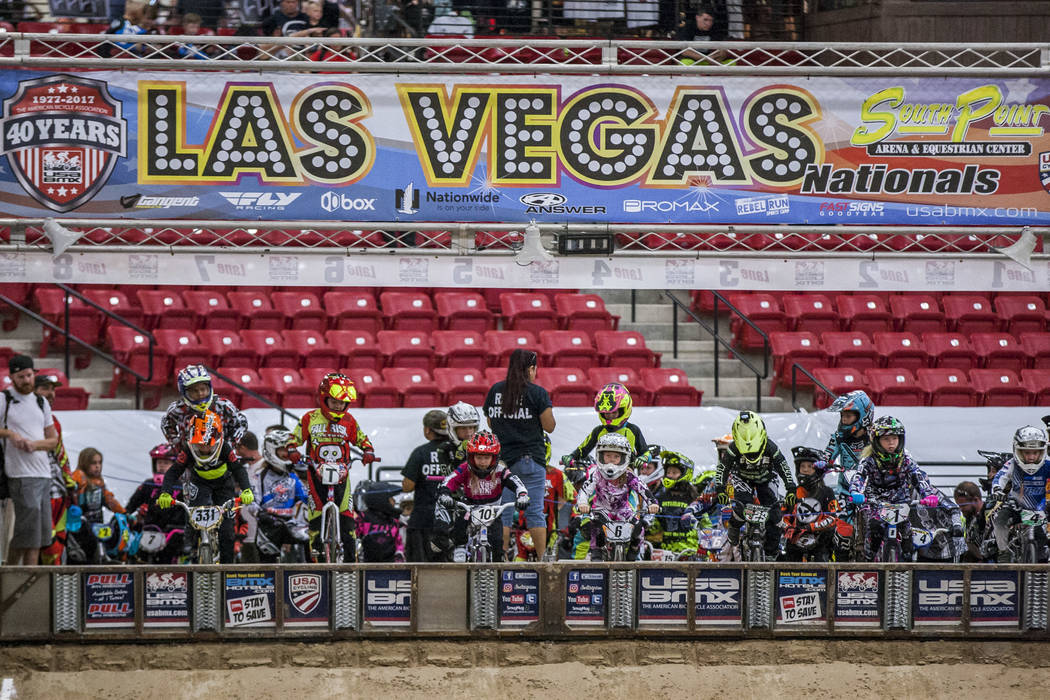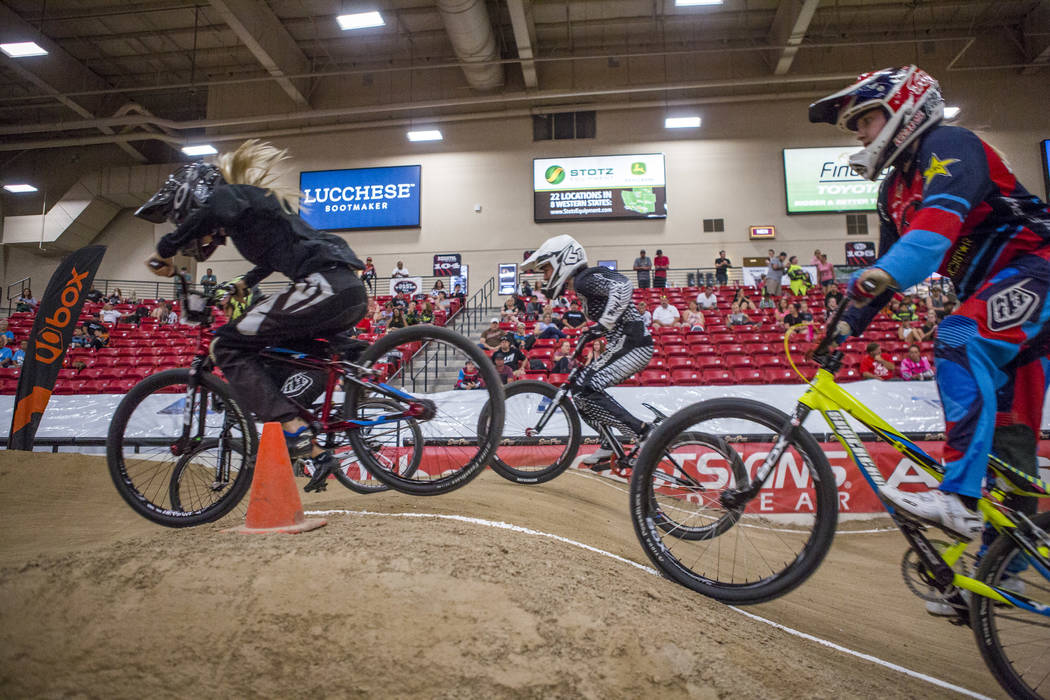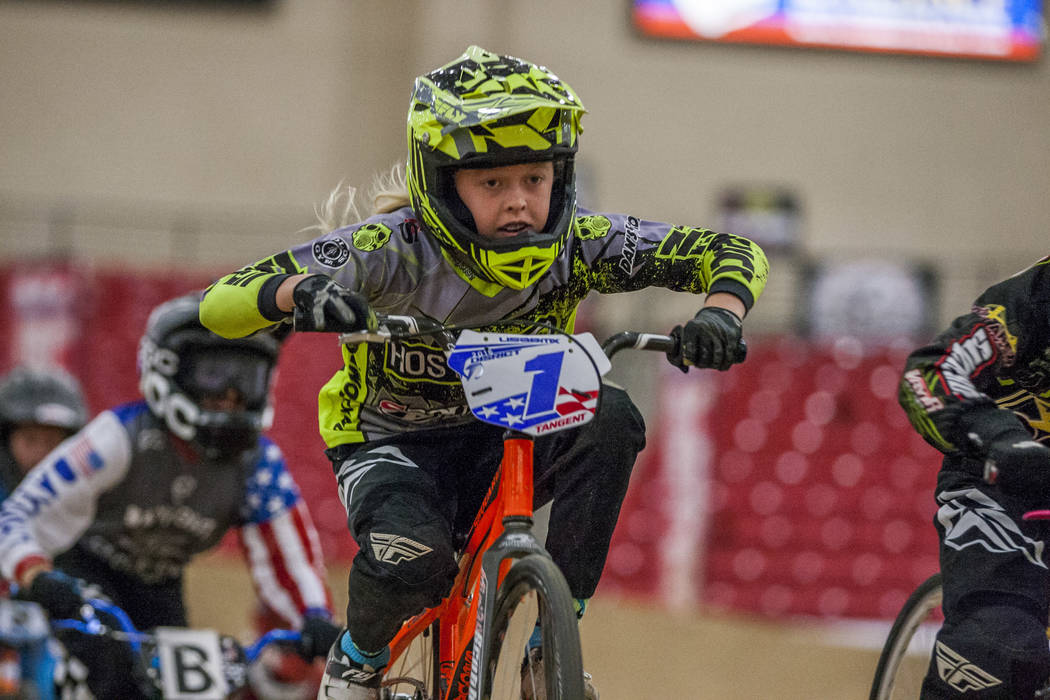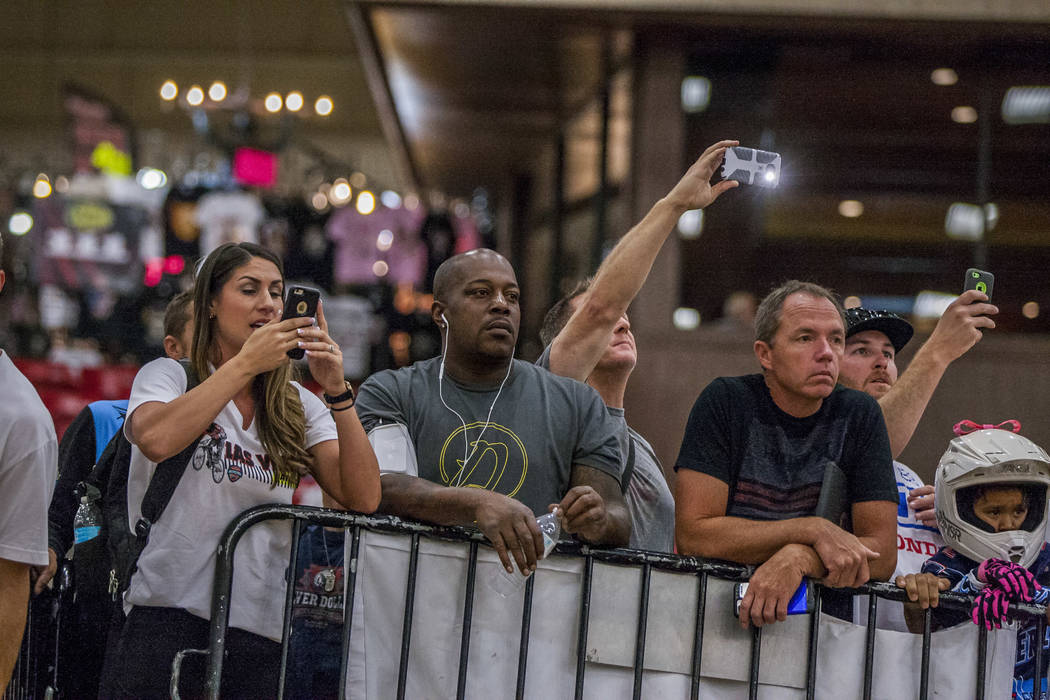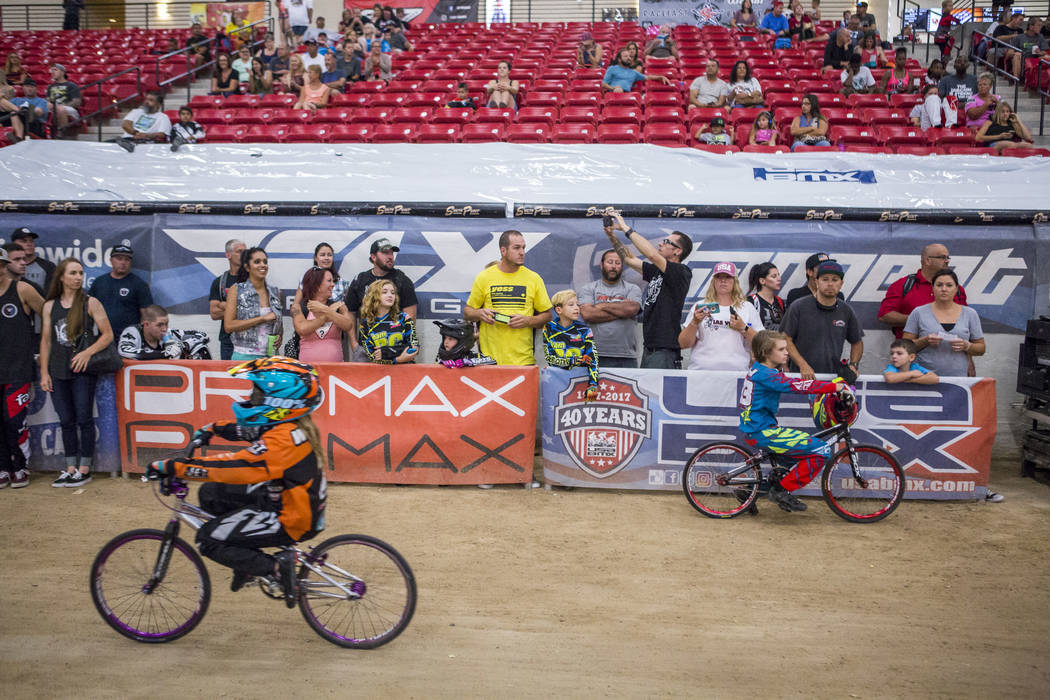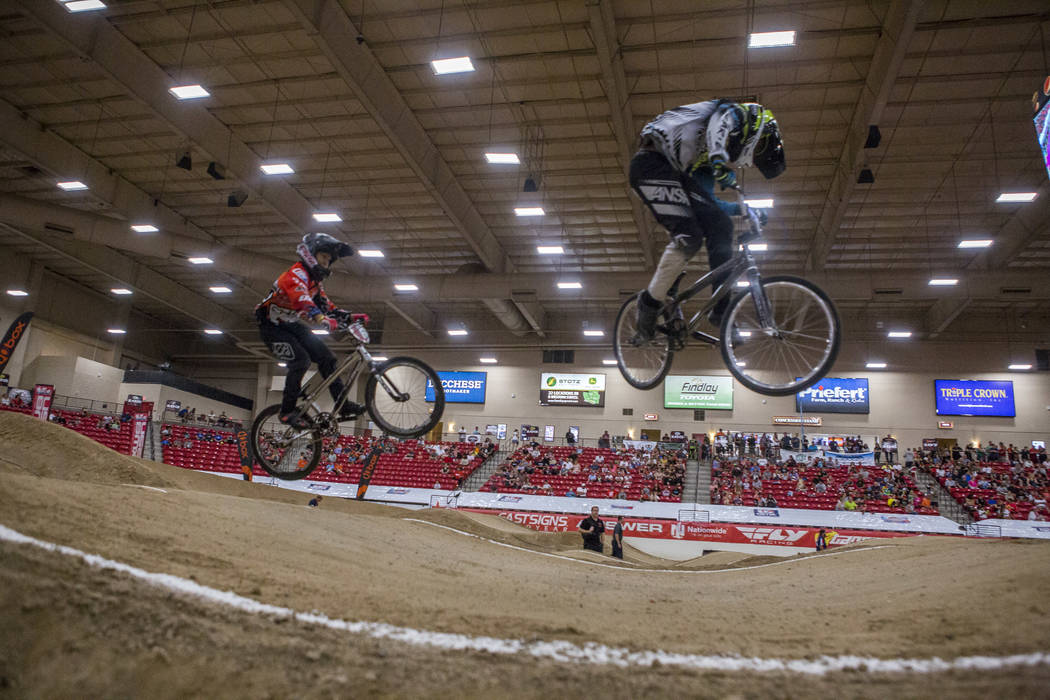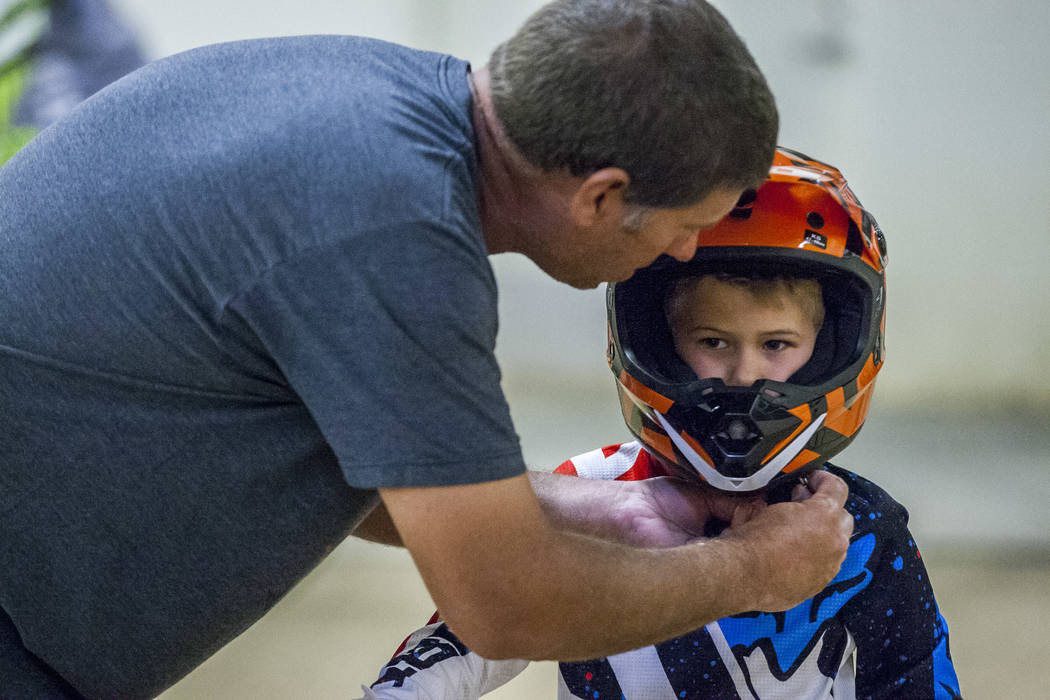 As the gates dropped and bicyclists leaned forward at the South Point Arena and Equestrian Center, contestants at Sunday's USA BMX Las Vegas Nationals focused on the need for speed.
The riders, who included children and adults of many ages, zoomed around the dirt racetrack with gleeful abandon, dashing through big jumps and fast turns for a chance at a title.
There were a few falls and minor injuries, but the crowd remained encouraging, cheering everyone toward the finish line.
"There's a certain freedom that you get from riding a bicycle," said Nick Adams, chief marketing officer for the USA BMX and BMX Canada. "For many children, bikes are their first means of transportation and the first time they get to venture out on their own. It's a special rush of adrenaline."
The action-packed three-day event, which started Friday and ended Sunday, had about 1,600 people registered from across the United States and around the world, including Canada, Australia, New Zealand, Colombia and China. There were 244 people competing from Nevada.
Each race featured different age groups divided into novice, intermediate and expert classes. Most races were co-ed except for expert level races, which separated females from males. It took Adams and his team six weeks and 3,000 cubic yards of dirt to prepare the track.
For many of Sunday's riders, BMX started as a family sport that was passed on from one generation to another.
"This is more of a family destination," Adams said of the event. "How many opportunities are there for families to be able to participate in with one another? Here you not only see parents acting as the coach or cheerleader, but competing with their children."
Chris Warnock of Arizona said he liked the event's tight-knit family feel.
"We see the same people at every competition and we're all friends on Facebook," Warnock said. "It's a great and welcoming sport. I personally love watching my kids (13-year-old daughter and 14-year-old son) compete because it gives me an adrenaline rush and I get pumped as if I were still racing."
Although Warnock's son, Chase, has had multiple injuries, including a broken arm and collarbone, he said his dad inspires him to keep going.
"I've never seen my dad ride, but between him cheering me on and the freedom of being on my bike I don't ever want to stop," Chase said.
Former BMX rider Anthony Sierra of California came with his 5-year-old daughter Aleena; she picked up the sport from her dad when she was about a year old.
"I like going fast and I don't get scared or nervous," Aleena said. "I just get really excited."
Contact Sandy Lopez at slopez@reviewjournal.com or 702-383-4686. Follow @JournalismSandy on Twitter.
More races
US BMX also hosts the Silver Dollar Nationals at South Point every January as well. In total, the organization hosts 27 national events in the US.
"This is a great environment," said expert BMX competitor Eric Baca, 36 of Arizona. "This is a fast track and it everyone is so inspiring to be around."
For more information, visit www.usabmx.com.