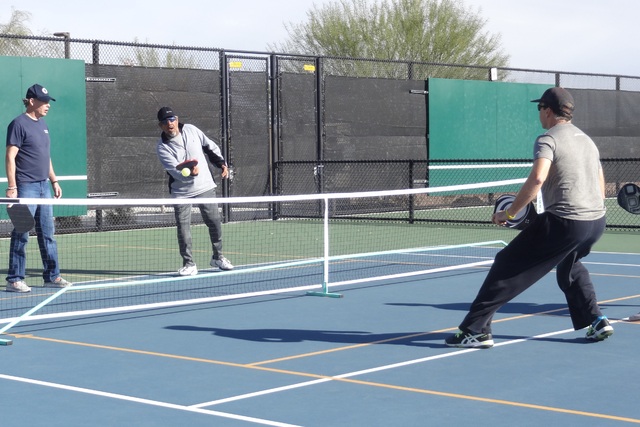 After competing in a pickleball league in Minnesota this summer, Rick Johnson returned to Las Vegas and started a website with a new league about two months ago.
There were six teams in his league in Minnesota, and he was hoping to maybe match that.
Johnson did way better than that.
The newly formed Las Vegas Pickleball League, which begins play in January, has 16 teams and more than 300 participants, making it the largest pickleball league in the country. It gives pickleball enthusiasts around the area a new way to compete as the sport continues to grow.
"The pickleball league opens up a whole new social outlet for pickleball to mix people together," said Johnson, who estimated that about 200 of the league's members had played pickleball in the past, with about 100 new members.
Pickleball is a paddle sport with similarities to tennis, badminton and pingpong. While it has been popular with seniors around the Las Vegas Valley, the league is helping expand its reach to a younger crowd, too.
"It's kind of a cool sport that the grandson can play with grandpa and be competitive, and they can both have a good time," Johnson said. "It's a really unusual sport that way that everyone in the family can play and have a good time."
The league is almost an equal mix of men and women, and Johnson said the youngest players are probably about 14 and the oldest in their 80s or 90s.
League adviser John Sloan said he was delightfully surprised by the amount of interest in the league.
"When people get into pickleball, they really get hooked and they love it, and they just seek opportunities to play the sport," Sloan said. "It's a very socially positive environment to be around other pickleball players because they have a lot of fun, it's competitive and exhilarating."
Sloan was a pickleball ambassador for seven years before recently relinquishing the role. When he started it, he said there was one community in the area that was starting to play the sport.
Now, he said they have pickleball at all of the active adult communities around the valley.
"Retired people, for the most part, have been the ones promoting the sport the most vigorously," Sloan said.
But he's out to change that, working with the Clark County School District to get pickleball into all 60 of the middle schools.
Onix, which makes pickleball paddles and balls, has donated 1,500 paddles to help the cause, and Sloan has been leading clinics with physical education coaches around the area.
He said about 15 schools were involved and the project has started to pick up momentum.
The hope is that possibly translates into a lifelong activity.
"This is a sport that can be played by all ages and well into retirement years, and so that's why it's so important to get exposure to as many people as we can," Sloan said.
Contact Betsy Helfand at bhelfand@reviewjournal.com. Follow @BetsyHelfand on Twitter.
CALENDAR
Saturday: Color Me Kind 5K, Henderson
Saturday: Fast and the Furriest, 5K, 1M run, Las Vegas
Saturday: Lightin' It Up For Linemen, 5K
Saturday: Mount Charleston Marathon, marathon, half marathon, Las Vegas
Saturday: Pray for Snow Party at Skye Canyon, Las Vegas
Sunday: PJ 5K, Las Vegas