Hill: Spare me your outrage and maybe spare Bills reporter's job
Updated September 17, 2023 - 5:36 am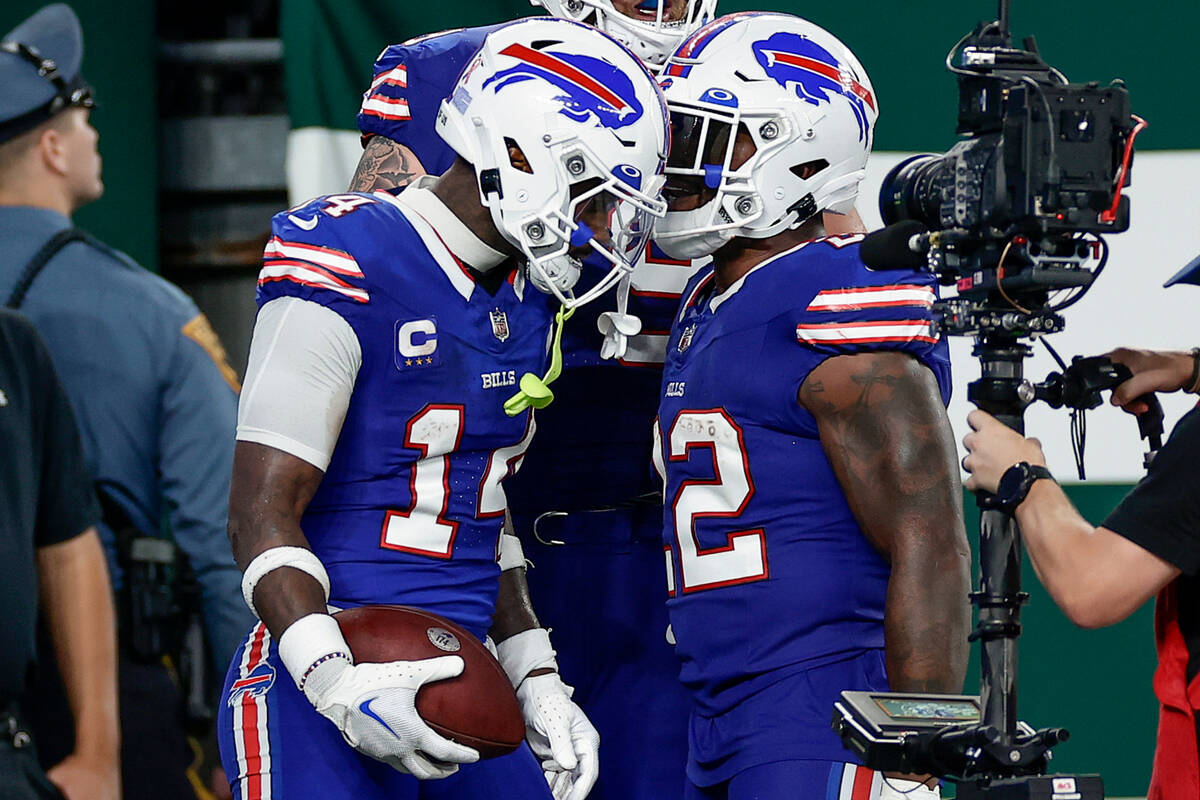 ORCHARD PARK, N.Y. — I should probably be fired.
Based on the standard so many people are expressing online this week, I can give you a list of pretty much everyone I've ever known or worked with who should be following me to the unemployment line.
The world's human resources department that is better known as social media has almost universally made the swift and decisive ruling that Maddy Glab needs to be sent packing from her job as a team employee of the Buffalo Bills.
For those who aren't caught up in the daily whirlwind of NFL news and haven't heard the story, Glab is the team reporter for the Bills who was caught on a hot mic having what she believed to be a private conversation with colleagues in which she basically said that star wide receiver Stefon Diggs is a bit of a jerk.
When Diggs was running late for a news conference, another media member asked Glab to track him down and tell him to come to the media room because Glab works for the team. She said that wouldn't work because he doesn't view her as any different from any other media member.
"There's no control over Stefon Diggs. Dude's gonna do what he wants to do. He'll look in my face and say, '(abbreviation for an expletive) you.' How he treats everybody."
Oops.
Hypocrites or boring
Yeah, that's not good. It's incredibly unfortunate for her that those comments became public. It also sucks for Diggs, who didn't need to hear it.
What apparently happened was one of the local television stations had the audio still rolling live as reporters were waiting for Diggs to begin his news conference while other outlets believed the mics had been muted.
Someone was recording and decided to put it out, leaving two people in a very uncomfortable situation. Diggs could have shut it down by saying they were friends and he knew she was joking, but he didn't. He said he was troubled by the situation, which is completely within his rights. Glab issued what seemed to be a genuine apology.
This is between them and the team. It may very well be impossible for her to continue serving in this capacity, and the team may have to fire her. It's also possible Diggs and Glab could work it out. Again, totally fine and reasonable that they could just move forward.
But the chorus of folks unconnected to the situation expressing outrage and demanding action from the team is preposterous.
Next time you and your colleagues are sitting around having what you believe to be a relaxed and private conversation, do me a favor and secretly record it.
Then play it for the whole world.
How many of you are getting fired?
If the answer isn't all of you, then you and your friends are probably very boring. Certainly not the kind of people I would ever want to hang around. Guess what? People say mean things about you when you're not around. They saw awful things about me when I'm not around. It's true.
But apparently not all these people who want Glab fired. They just keep to themselves and address mundane topics that aren't negative toward anyone else in private chats.
For everyone else, if you don't want to be judged on your most mean-spirited comments about someone when they're not around, maybe sit this one out.
Not a Falls guy
One of the cool things about covering a pro sports team is getting to see the country and do touristy things. While I have family in Buffalo and have been many times, it's still fun to get back.
Saturday's plan was a visit to Niagara Falls and the massive economic development it has launched on both sides of the border. It's seriously wild, though in the end, it really is just water falling over a cliff.
It's very cool for an hour. Maybe two.
But there's a whole tourist industry. People are staying there for days at a time? Really?
Going to see the water falling down at a high rate of speed from a ledge over and over? Then going back a few days in a row? You're making a whole vacation out of that?
Good for those businesses, I guess. I still can't believe it.
Also, anytime the Raiders play on the road, the local tourist trap is sure to be taken over by fans. Saturday was no exception. Looking around Niagara Falls, you'd have thought it was the parking lot at Allegiant Stadium on a game day.
Instead, it was just fans watching water fall down.
Contact Adam Hill at ahill@reviewjournal.com. Follow @AdamHillLVRJ on X.