Josh Jacobs shows NFL's running back pay dilemma must be addressed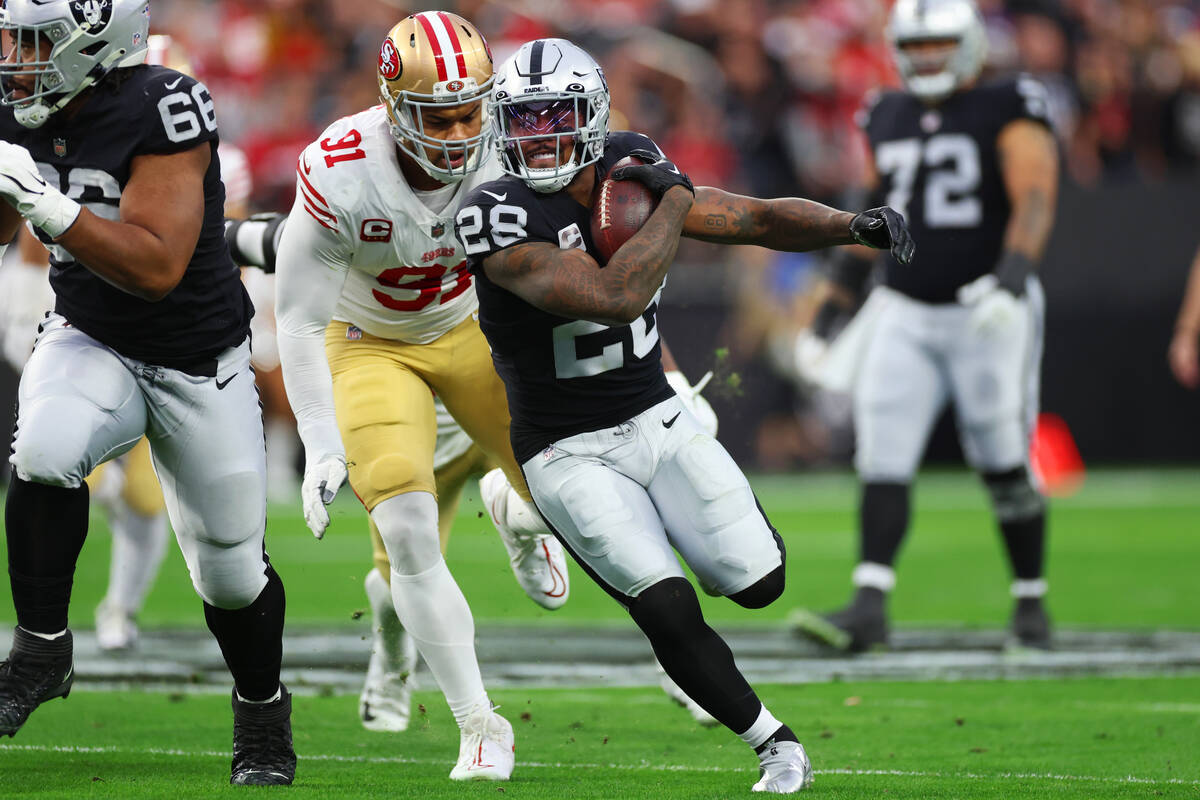 The Raiders are absolutely right to not want to guarantee a long-term contract to a running back.
That doesn't mean Josh Jacobs is wrong for wanting such a deal.
He's completely and totally justified in being upset that his sensational 2022 season, on top of all the work he has done to be a leader in the locker room, isn't enough to warrant a lucrative multiyear deal with the team with which he has spent his entire career.
The stalemate between the Raiders and one of their longest-tenured and most popular players represents a rare dispute in which there is really no right or wrong, no clear hero or villain, to use the terms Jacobs himself invoked at the beginning of this process.
The pay structure for NFL running backs has reached a point of inequity that needs to be addressed.
'Tough position to play'
Raiders general manager Dave Ziegler didn't want to dive too deep into the debate, which is fair.
"Those aren't the weeds that I want to get into right now," he said. "I would just say this, in terms of the running back position, obviously, it's a physical position to play, one of the more physical positions to play in football. Those guys take a lot of hits. They often carry the ball and touch the ball more than other skill players and things like that.
"And so, it's a tough position to play. And in terms of getting into the pay scale and what it could be or should be, I'll leave that one alone."
It has been a rapid descent for running backs, fueled by an analytics revolution that devalued the position and increased understanding of where to better allocate resources to optimize roster construction in the salary cap era.
Not so long ago, running backs were among the best-compensated players in the league. In 2005, the average salary of the top five players at the position was second only to quarterbacks. Now, that number is ahead of only kickers, punters, long snappers and fullbacks.
That's astonishing.
There are several reasons for the decline. Obviously, the NFL has become a passing league, with many teams seeing the running game as simply a way to keep the defense honest. Many teams also view success in the run game as far more a function of the system than the individual skills of the running back.
Even for the elite backs, the biggest problem is that the position is so demanding that the shelf life for a running back is incredibly short. While some NFL players are thriving well into their 30s and earning second and third long-term contracts, running backs tend to age more like milk.
So the ideal scenario for teams is to draft or sign running backs early in their careers, get as much production and usage as they can out of the players while they are cheap and under team control and then let them go.
Then when running backs hit the open market, they not only have to deal with the general hesitancy to pay the position but also questions about the wear and tear that has been placed on their bodies and how much tread they have left on their tires.
It's a vicious cycle that has become incredibly unfair for running backs, but it's not likely to change under the current system because teams around the league aren't wrong in adopting this thought process.
Let's get creative
So what can be done? The collective bargaining agreement runs for the rest of the decade, but alterations could be agreed to. Ideas are welcome.
One that has been thrown out would be to have running backs operate on one-year deals to the highest bidder each season with their money not counting against the salary cap. It's interesting and would get running backs paid based on performance while not penalizing teams for cutting those checks.
Of course, there could be a potential classification issue as far as trying to circumvent the cap by categorizing players as running backs.
Could a lesser percentage of a running back deal count against a team's cap, allowing them to pay more without sacrificing cap space?
How about a wild idea like paying uncapped bonuses for yards or touchdowns? A supplemental salary pool that could go just to running backs based on performance?
Nothing should be off the table.
Keep the ideas coming, because while running backs are still making a very nice living compared to the average human, the situation does seem to have become downright unfair in relation to their fellow NFL players.
Contact Adam Hill at ahill@reviewjournal.com. Follow @AdamHillLVRJ on Twitter.