Tear-filled ends to careers the other side of March Madness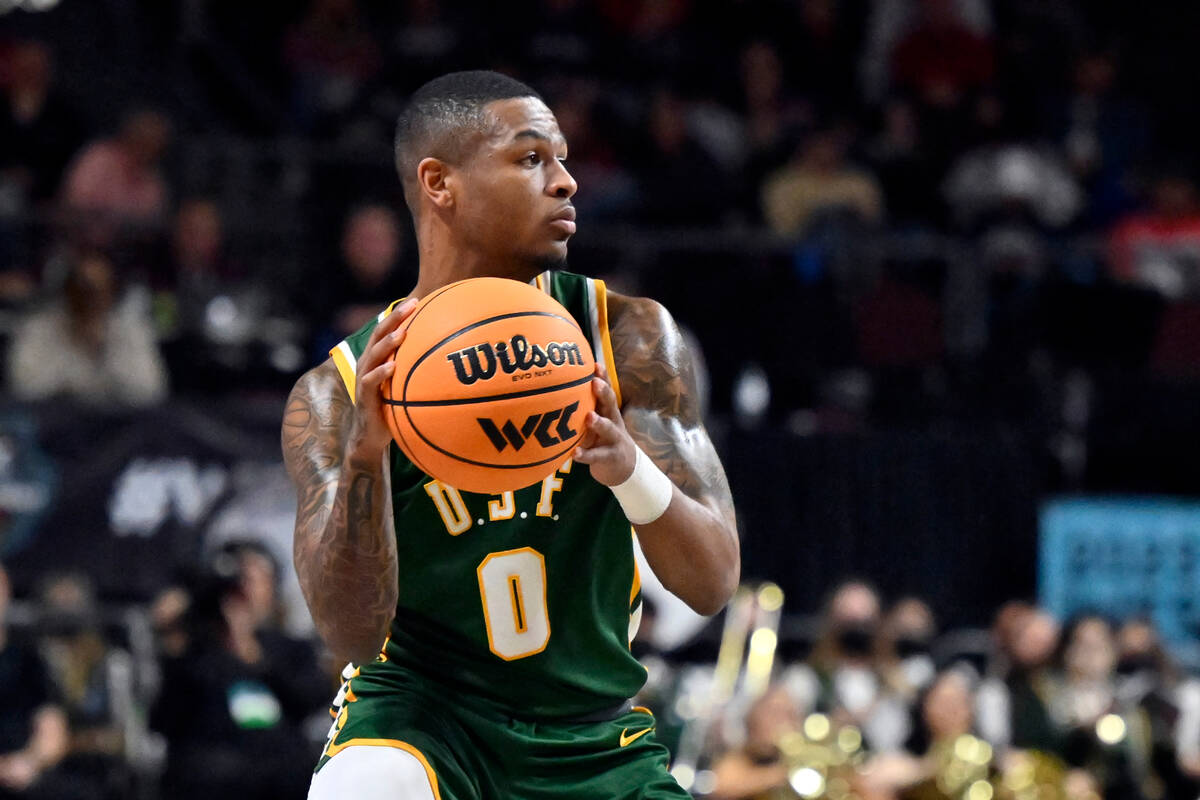 Khalil Shabazz sat on the stage, staring forward with the kind of blank expression on his hoodie-framed face that made it clear he was hoping nobody could actually see him.
A late Monday night had turned into the wee hours of Tuesday morning when the star San Francisco guard walked into the media room at Orleans Arena, flanked by coach Chris Gerlufsen and teammate Tyrell Roberts, and took his seat on the dais.
Much of the media contingent who had peppered nationally ranked Gonzaga coach Mark Few and his victorious players with questions just moments earlier had departed to work on their stories and videos.
That left the Dons' crew just a smattering of potential interrogators standing between this moment and a chance to get home to lick their wounds in private after a heartbreaking 84-73 loss to the Bulldogs in the semifinals of the West Coast Conference tournament.
Shabazz, who willed his team back into the game with six 3-pointers and 26 points only to fall short in what could have been his final collegiate game, knew he could keep it together as long as he didn't have to talk.
But the inevitable question came just after Gerlufsen's opening statement praising Shabazz for the impact he has had on the program. Someone asked Shabazz about Few stopping him for a brief conversation as he left the court.
March Sadness
The generously listed 6-foot Seattle native mumbled three words before his head sunk to the table and the tears started flowing. Gerlufsen placed his hand on Shabazz's shoulder until his star player collected himself.
"He was just saying how good of a basketball player I am and the legacy I left at the school," Shabazz said. "He told me it's always been a pleasure to play against me over these last four years. He just showed me a lot of love."
This is the other side of the madness. The March Sadness, if you will.
While social media and the highlight shows this time of year are flooded with images of triumphant tournament-bound teams cutting down nets or jubilantly dancing their way into the bracket, that's only the case for one team in many leagues.
The rest are left wondering what could have been and lamenting every turnover and missed shot for the rest of the offseason.
For some, it could be the rest of their life. Many careers come to an end with a conference tournament loss.
That shouldn't be the case for Shabazz, who helped the Dons build a resume that could get non-NCAA Tournament postseason consideration.
He's also an immensely skilled player who will have options to play professionally, and he's also a very talented rapper who performs under the name Lil Bazzy and will continue to pursue music as a creative and competitive outlet.
But none of that mattered in the moment.
'Long five years'
Shabazz, who didn't receive a single Division I offer out of high school and got just one after a great season at Division II Central Washington, had left every last drop of his blood and sweat on the floor trying to find a way to lift his teammates to a second straight NCAA Tournament berth.
He did have a few tears left, however.
"It's been a long five years," he said. "I gave my heart and soul to this school. Countless hours. It was the only school that wanted to give me a chance to play at the highest level.
"Nobody wanted me. Went Division II and put my work in there. Still nobody wanted me. And they gave me a chance. So it sucks. I hope this isn't the last game. I wanted to win so bad for our team and our school and everybody that came before me. I just wanted to get this program back to the winning program it should be and what it used to be. That's why this hurts so bad."
Gonzaga won the WCC title the next night. The players cut down the nets, and there was well-earned dancing, like there was for other conference champions around the valley this week.
But there were far more seasons and careers that came to unceremonious ends that also deserve to be celebrated.
Contact Adam Hill at ahill@reviewjournal.com. Follow @AdamHillLVRJ on Twitter.