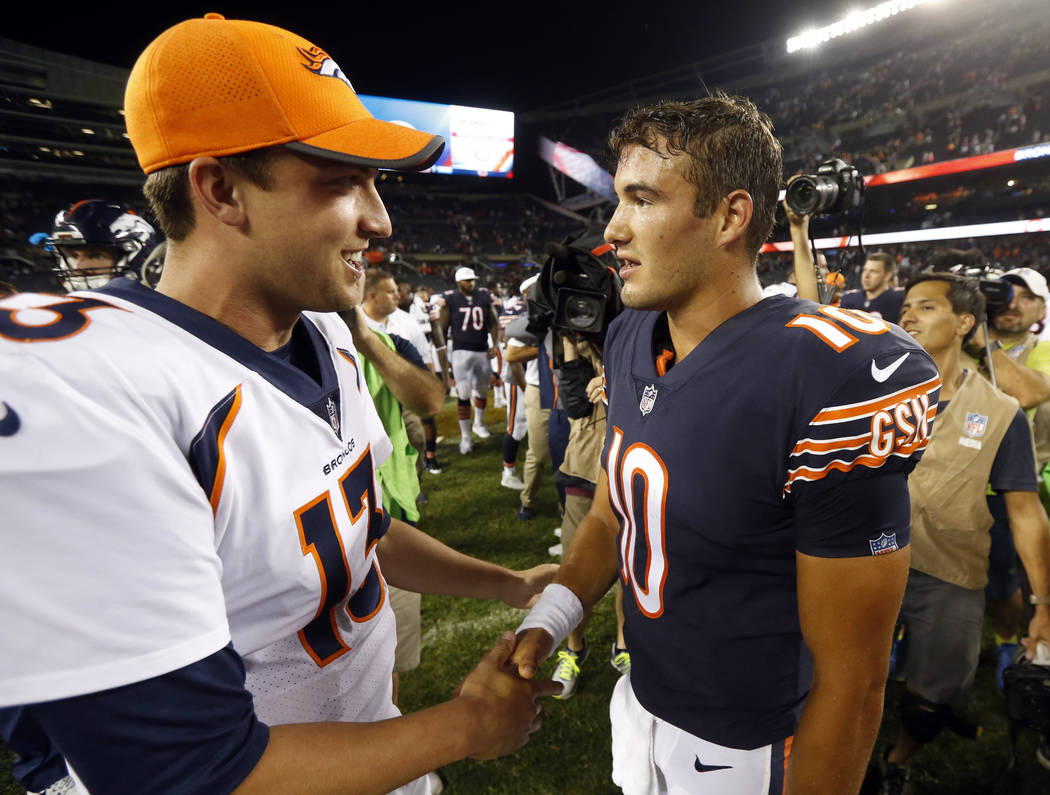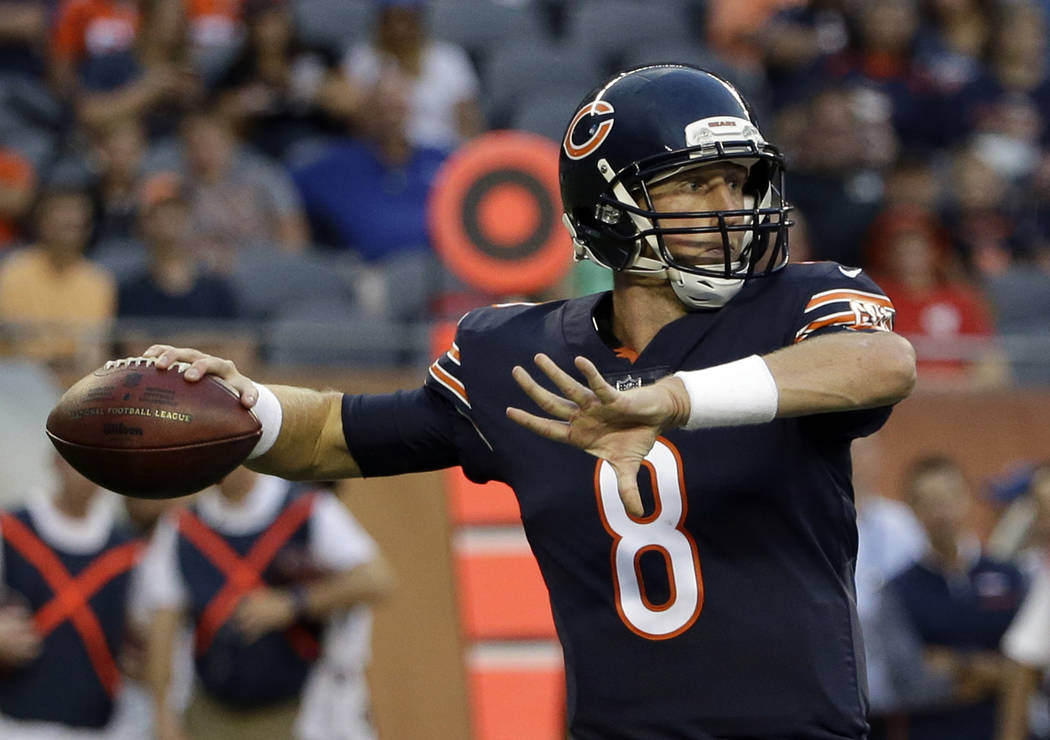 You know that football is back when you have quarterback controversies.
Let's begin in the Windy City, where anointed starter Mike Glennon opened his Chicago Bears career with a pick six — and opened the door for rookie Mitch Trubisky to come crashing through.
It is too early to say "I told you so," but Chicago general manager Ryan Pace should be polishing his delivery just three months after he astonished Bears fans by trading four draft picks to move up one spot to No. 2 to get Trubisky. The rookie from North Carolina rewarded that faith Thursday with an 18-for-25, 166-yard performance that included a touchdown pass and two other scoring drives against Denver.
Trubisky's passes were so on target that his receivers barely had to raise their hands as the ball arrived dependably. Two of his incomplete passes were throwaways, and one was a drop by Victor Cruz.
Accuracy might be the most important thing for a quarterback in the NFL, and not enough attention is paid to it. Throw in Trubisky's remarkable decisiveness, and his two-minute drills looked a lot more developed than they should for a guy who started only 13 games for the Tar Heels.
About the only glaring problem I could see was that he needs to work on his slide at the end of a run. That pirouette just won't cut it.
Pace and coach John Fox might insist that they will "not change the depth chart" and that Glennon is the Bears' starter. But you could just imagine the water-cooler conversation Friday morning in Chicago. It was all about Trubisky being under center when the Bears open their season against defending NFC champion Atlanta at Soldier Field.
The early money in Las Vegas has poured in on the Falcons. Trubisky's performance will cause everyone to pause — even before Fox gets around to the inevitability of making him the starter.
On Wednesday, Deshaun Watson looked just as good but in his own way for the quarterback-starved Texans. He completed 15 of 25 passes for 179 yards and ran for a touchdown against Carolina in the same stadium where he led Clemson to two Atlantic Coast Conference championships.
Watson demonstrated remarkable poise at the line of scrimmage — especially on one series during which he faced second-and-long. Instead of trying to bite off all the yardage at once, he calmly got the job done in two plays. It was how he operated the huddle and the offense that were so impressive. Even something as subtle as repositioning a running back to pick up the blitz showed that Watson was calmly confident and in charge.
Yes, starter Tom Savage led a touchdown drive before that, but that was only after the Panthers starters had left — and after they had held him to two three-and-outs to start the game. How Watson will do if he changes places with Savage is a good question, but in the brief sample of a preseason opener, he did nothing to show he can't do the job.
Again, it's early, but Texans general manager Rick Smith must have been pleased. He traded up to No. 12 to choose Watson.
A quarterback controversy also might be brewing in Cleveland. Notre Dame rookie DeShone Kizer threw a 45-yard touchdown pass to Jordan Payton with 1:52 left Thursday as the Browns beat New Orleans 20-14 and covered the 3-point spread.
Kizer entered the game after Brock Osweiler and Cody Kessler combined to go 11-for-24 for 89 yards. Kizer went 11 of 18 for 184 yards, and his quarterback rating was 50 points higher than Osweiler's and Kessler's.
One thing to watch with quarterbacks is when the offense starts to move with a little verve. That means those teammates like being on the field and playing with that quarterback. The Texans, Bears and Browns are responding to that kind of leadership from Watson, Trubisky and Kizer.
Tune in for Brent Musburger on "My Guys in the Desert" from noon to 2 p.m. Saturday and Sunday and from 3 to 5 p.m. Monday, Thursday and Friday on SiriusXM 204 or VSiN.com.