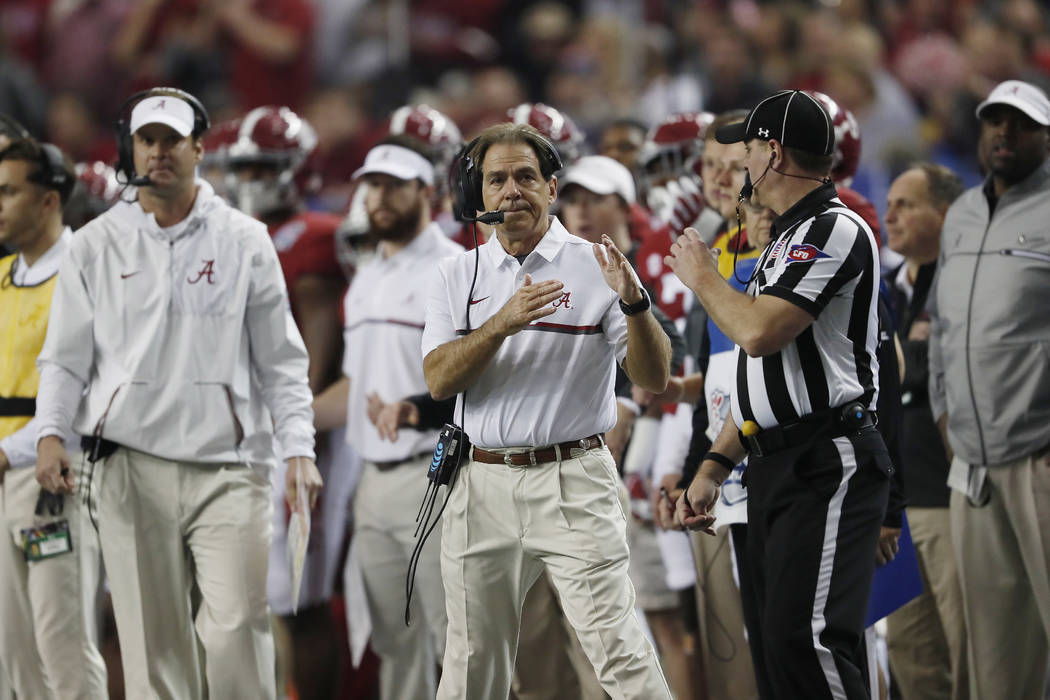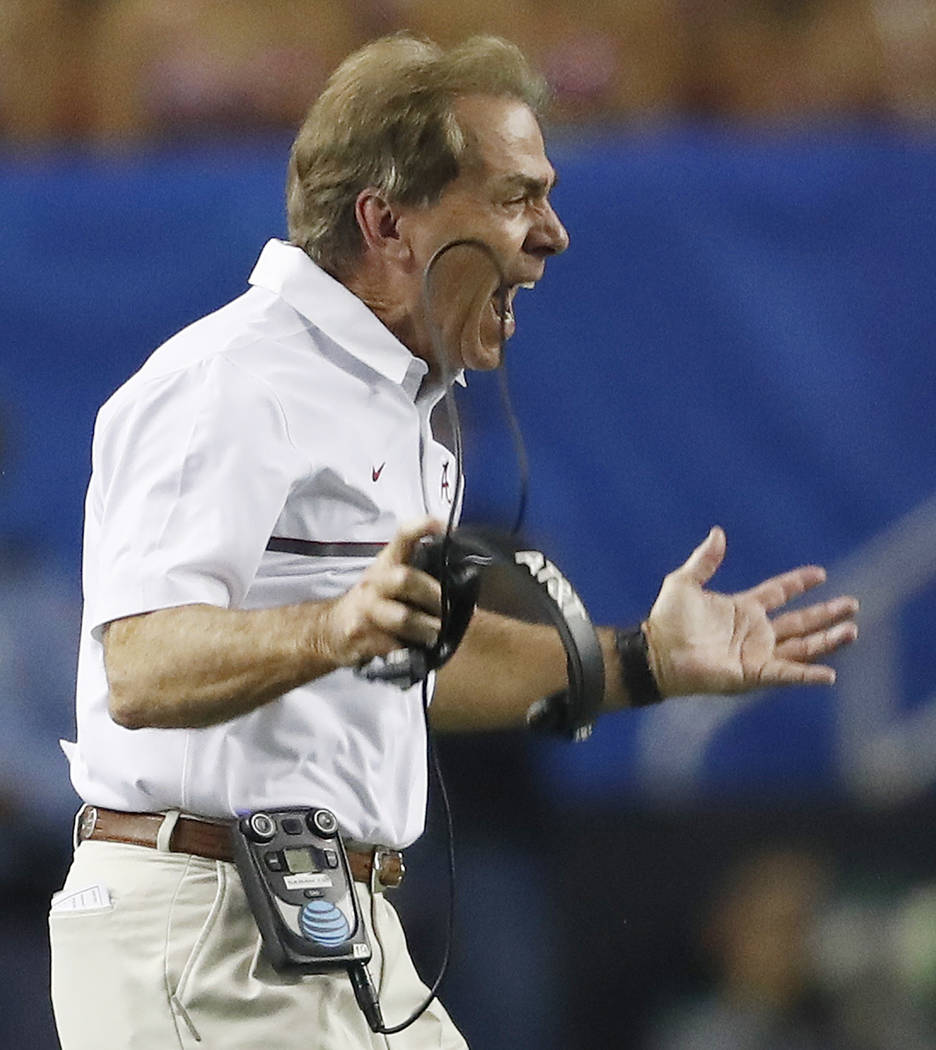 So much football. So little time. So let's not waste any of it. …
— There's a growing buzz about Florida State getting seven points against Alabama in the marquee game Saturday. Buyer beware: Taking a position against Tide coach Nick Saban in a season opener — and on a former Saban assistant — is a losing proposition. Saban is 10-0 in season openers, 9-1 against the spread and 10-0 versus former assistants. Seminoles coach Jimbo Fisher was his offensive coordinator at LSU. I'm not saying bet Alabama, but I am saying protect your wallet.
— Florida-Michigan at Jerry World lost its luster when the Gators suspended 10 players and counting, including No. 1 receiver Antonio Callaway and No. 1 running back Jordan Scarlett. Coach Khaki is licking his Wolverine chops at the prospect of taking down a Southeastern Conference opponent.
— Did you open the week by backing Ohio State? Coach Urban Meyer caught his talented team peeking ahead to Oklahoma next week. But never fear. The second half revealed the Buckeyes' talent to the tune of 36-7. So here's our lesson: Don't be afraid of betting an underdog in the first half while still holding the favorite for the game.
— We have two gold stars for Thursday night performers: Buckeyes freshman running back J.K. Dobbins: 29 carries, 181 yards. He dedicated the game to the victims of Hurricane Harvey. Dobbins is from La Grange, Texas, which is close to Houston.
— Do not overlook Oklahoma State's 59-24 drubbing of Tulsa. Our other gold star goes to quarterback Mason Rudolph: 20-for-24, 303 yards, three touchdowns. … When South Point's chief bookie, Chris Andrews, posted the first college football win totals this summer, he told us Oklahoma State was attacked on the over right away at 8½. It's up to 9 now, and Thursday showed us why.
— Two SEC teams are laying too many points: Mississippi minus-24 versus South Alabama, and Auburn laying 34½ against Georgia Southern.
Over on the mound
The folks in Houston need good news wherever they can find it, and the Astros jumped back into the World Series picture big time with the acquisition of pitcher Justin Verlander from the Tigers.
Since the All-Star break, he is 5-2 with a 2.41 ERA and 0.91 WHIP. He has a Cy Young Award. He's been to two World Series. And his career ERA is lower in September than any other month.
This should please ace Dallas Keuchel, who was openly critical of his team's lack of a move at the deadline a month ago. Verlander makes his Astros debut Tuesday at Seattle.
About that Elliott suspension
Memo to the NFL: When Columbus, Ohio, police decide not to press domestic-abuse charges because they find too many inconsistencies with an accuser's story, you might want to follow the lead. The six-game suspension of Ezekiel Elliott of the Cowboys after a yearlong investigation is proving to be another travesty. Somebody in the league office better look up "due process."
The revelation by the Fort Worth Star-Telegram was this: The only NFL investigator who interviewed Elliott's accuser, Tiffany Thompson, came away with the conclusion that no suspension should be handed down. Then we find out that she wasn't allowed in the meeting with NFL commissioner Roger Goodell when they decided the punishment. The players union used that to go after a court injunction to stop the suspension dead in its tracks.
The one member of the NFL quartet who led the push for Elliott's suspension is a longtime season-ticket holder for the New York Giants. This woman should have recused herself from any investigation involving a Giants game — like the Cowboys' opener.
More on the NFL
— It's beginning to look as if Indianapolis quarterback Andrew Luck is going to miss more than just the Colts' opener against the Rams. The way information is trickling out of Indy, his repaired shoulder might not be ready for the NFL until at least October.
— As for the NFL opener Thursday between New England and Kansas City, go back to the top of this column. See that part about Saban? Replace that with "Belichick." I love the points with the Chiefs, but there's no way I am going against the Patriots when they are giving out rings. I learned my lesson in February.
Listen to Brent Musburger's new show on the Vegas Stats & Information Network. "Point Spread Saturday" debuts Saturday from 8-10 a.m. on SiriusXM 204 and livestreamed at reviewjournal.com/vegas-stats-information-network.