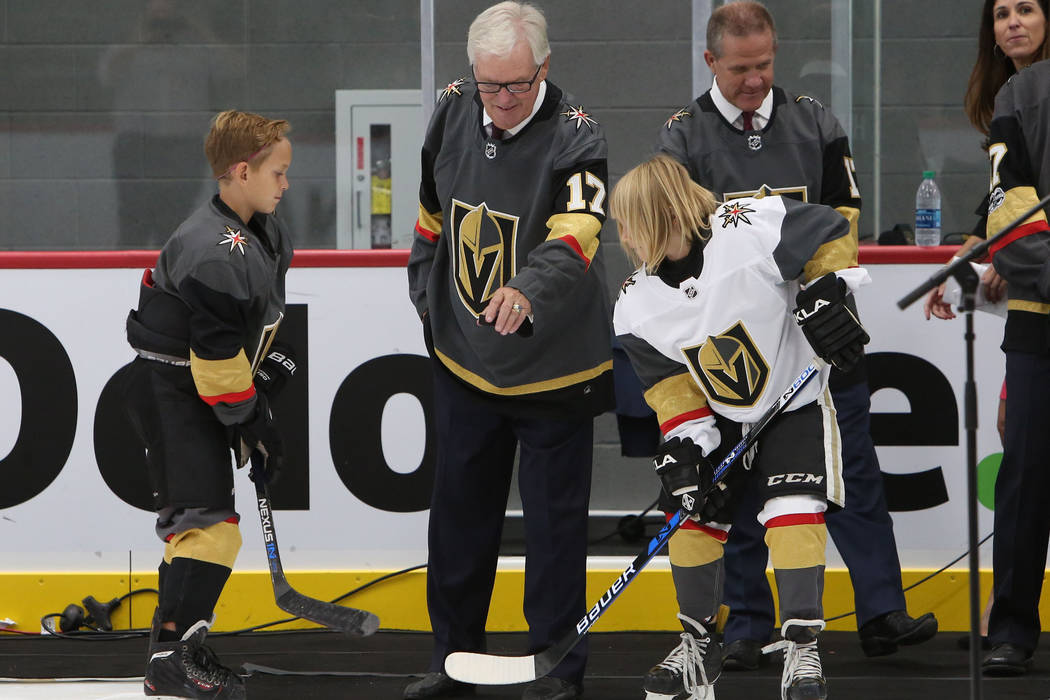 With Friday's dropping of the puck in Dallas, a dream came true for Las Vegas when the Golden Knights began play in the NHL.
Who would have believed even a decade ago that any of the professional leagues would land in Nevada for more than just an experiment in occasional scheduling? We know now that owner Bill Foley had that dream years ago and dared to make it happen.
The commendation for the Golden Knights comes from their reaction to Sunday night's tragedy on the Strip. Even as they were busy getting ready for their season, players visited the heroes at the Metropolitan Police Department, the families who were victimized in the shooting and the blood drives that drew thousands of donors.
So welcome, Golden Knights. You bring a much-needed bit of happiness to a place that can really use it right now.
Little man with a big stick
Inch for inch, 5-foot-5-inch Jose Altuve of the Houston Astros is one of the greatest players in baseball history.
On Thursday, Altuve became the ninth player in MLB history to hit three home runs in a playoff game, joining the likes of Reggie Jackson, Albert Pujols and Babe Ruth. All eight of his predecessors are just a little bigger than he is.
Hitting a career-high .346 this season, Altuve won his third American League batting title in the past four years, and his consecutive string of four 200-hit seasons puts him in elite company. He is one of four right-handed hitters to do that, joining Michael Young, Kirby Puckett and Al Simmons.
Altuve is poised to be the shortest MVP since Phil Rizzuto in 1950. Put your money on him someday making it to the Hall of Fame.
Bauer makes decision pay off
The Cleveland Indians have the look of a champion, so it's no wonder they are favored to win the World Series. This comes after some were second-guessing manager Terry Francona for skipping over the likely Cy Young winner, Corey Kluber, and going with Trevor Bauer in Game 1 against the New York Yankees.
But Bauer dominated the Yankees this season with a 1.38 ERA in two starts. He obviously paid off that confidence by taking a no-hitter into the sixth inning and a shutout in his 6 2/3 innings.
Don't overlook Alabama's Hurts
I get why Saquon Barkley of Penn State and Baker Mayfield of Oklahoma are the betting favorites for the Heisman Trophy. But my long shot is Alabama quarterback Jalen Hurts.
In five games, Hurts has completed 64 percent of his passes for 747 yards, six touchdowns and no interceptions. The sophomore also has rushed for 461 yards — 92.2 a game — and four touchdowns.
But the most important number is 5-0. If the Tide continues to win in impressive fashion, look for momentum to surround the often-overlooked Hurts.
Bad beat ranks among the worst
It was one of the worst beats I have seen in the NFL. Of course I am still thinking about what happened in the final seconds Monday when the Redskins' bounce-passed two laterals, only to have the Chiefs' Justin Houston scoop up the football and score a touchdown that meant nothing to the game and everything to gamblers.
As this game swung instantly from a Redskins cover and under to the Chiefs and over, it brought to mind one of the last bad beats I called. That was the famous Ohio State cover by Joey Bosa against Northwestern on the final play of their game four years ago this week.
Houston's TD caused a $7,500 turn in the Westgate SuperContest, which offered a $15,000 prize to the first-place team at the quarter pole of the NFL season. PHD Sports was leading at 17-3, with Schematic Advantage at 16-4.
But just as the lights were about to be turned off, a loss turned into a win for Schematic Advantage. Instead of $15,000 to itself, PHD Sports had to split it with Schematic Advantage.
Brent Musburger's betting column appears Saturday in the Las Vegas Review-Journal. His show on the Vegas Stats & Information Network can be heard on SiriusXM 204 and livestreamed at reviewjournal.com/vegas-stats-information-network.