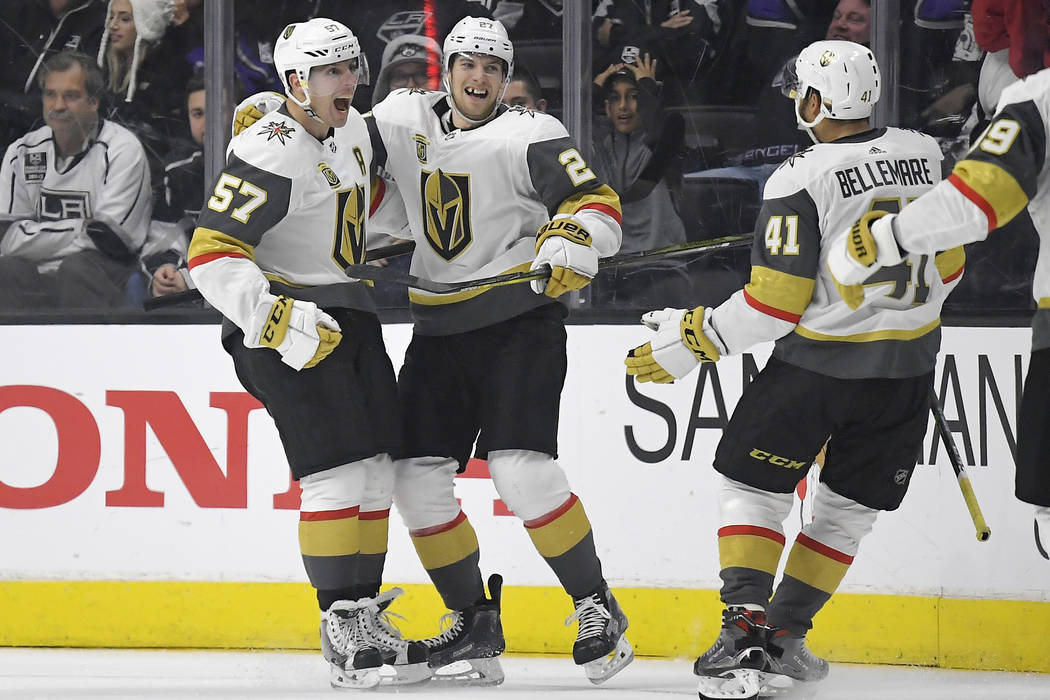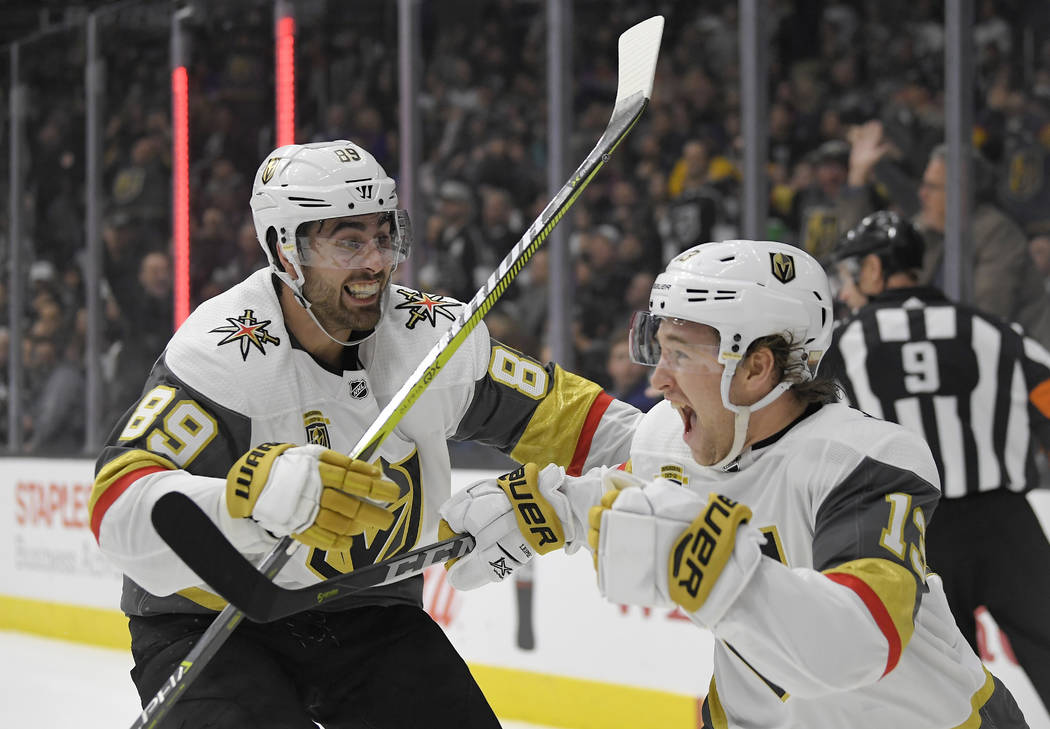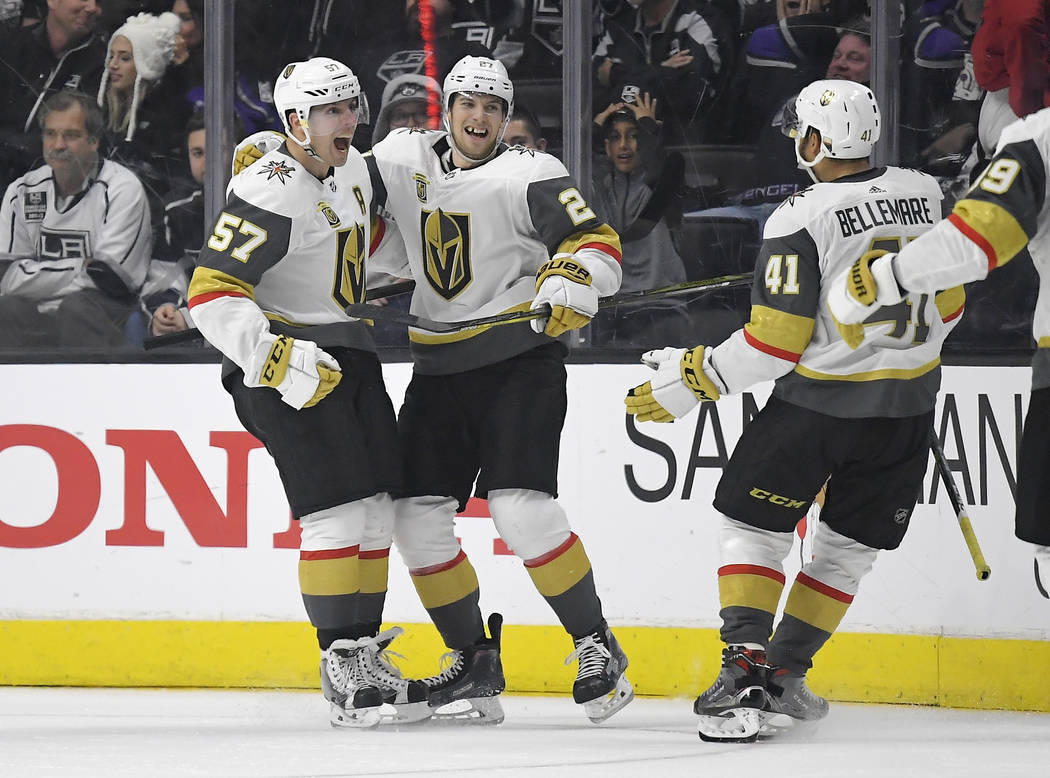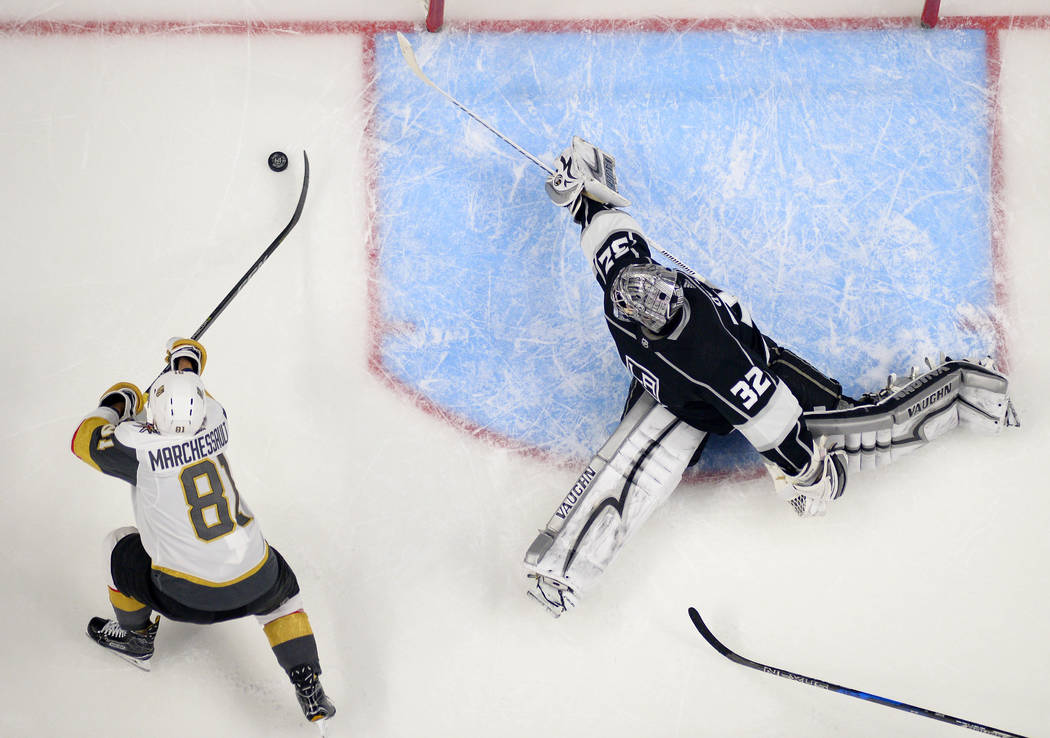 They're getting ready to throw parades, and the balloons are up. But here's a message to the Vegas Golden Knights. You haven't accomplished anything until you've had some boos to go with the cheers.
That doesn't come from me. Take it from someone like a coach who has been to the Stanley Cup Final. ESPN's Barry Melrose was on "My Guys in the Desert" Thursday on VSiN, and he told me, "The test will come when the Golden Knights lose five or six in a row. It will happen. It happens to every team in the National Hockey League."
But that probably wasn't the statement that will resonate the most this week for the Golden Knights. The loudest words came from Drew Doughty of the Los Angeles Kings after they lost at home to Vegas on Thursday. Doughty told The Los Angeles Times that the Knights "frustrate you with their forecheck. You make turnovers — they get chances that way, BUT there's no way they're going to be a better team than us at the end of the season."
The gauntlet is thrown down. The windows are open.
Let's say the Golden Knights shock Melrose and Doughty and the rest of the hockey world. What if they don't suffer a five-game losing streak? What if they keep frustrating teams with their forecheck through the Stanley Cup Final? If they pull that off, the books around here are going to take a bashing. It will make the bath that the Houston Astros gave the books on Nov. 1 look like a kiddy pool.
On Sunday afternoon the Golden Knights host the Toronto Maple Leafs, who beat them 4-3 in a November shootout north of the border. Auston Matthews had three shots and an assist that night, and that was it. You can't count on him being so quiet when he visits the T-Mobile Arena.
Matthews grew up in Scottsdale, Arizona, and that provides a lesson in another non-hockey part of the world. The story goes that before he could even remember, Matthews got hooked on hockey by watching the Zambonis clean the ice at Coyotes games. He grew up on a growing youth program in the Phoenix area, and that's exactly what's going to happen with the Golden Knights here in Las Vegas.
Youth programs in new markets have not only spread the word, they have provided a wealth of hockey talent. It happened in St. Louis, which was not a hockey town until the Blues arrived 50 years ago. Now it is sending players to the NFL the way Phoenix has with Matthews. It will also happen in Las Vegas.
The Vegas flu is also spreading, and even though the Maple Leafs have to play Friday night in Colorado, they'll have all day to catch the bug on Saturday. There's a reason that those T-shirts in the VSiN on-line store that say "Vegas Flu, Puck Yeah" are selling like crazy.
But it's not just here. When the Golden Knights beat the Ducks and the Kings on back-to-back nights on the road this week, coach Gerard Gallant showed that he has two viable goaltenders. Malcolm Subban made 27 saves in Wednesday's 4-1 win at Anaheim, and Marc-André Fleury had 26 in his 700th game, Thursday's 3-2 overtime win at L.A. Having those two makes back-to-back games much more manageable.
Whether or not Melrose and Doughty end up being right with their predictions, there's no doubting now that the Golden Knights just keep coming. They dig into the corners. They forecheck. No one player ever stands out. It's just a team effort.
Let's just say it, folks. The Golden Knights are really fun to watch.
Bowl game picks
The New Year's Six bowl games have arrived, meaning we are in for the best college football that winter has to offer. These are the games that will attract the most betting attention in Las Vegas and globally with five more stops on the road to Atlanta and Jan. 8 finale.
— Fiesta Bowl, Saturday at Glendale, Ariz.
Washington (o/u 55) vs. Penn State (–2½)
All eyes will be on Saquon Barkley, who went from being the Heisman favorite to not even getting an invite to New York. He is expected to be an early choice next spring in the NFL Draft. He is a very powerful young man with an impressive burst of speed. Not only must Barkley face a Husky defense that is the nation's best at stopping the run, but he and quarterback Trace McSorley will not have offensive coordinator Joe Moorhead. That's because he is the new head coach at Mississippi State. I like Washington and the over.
— Orange Bowl – Saturday at Miami Gardens, Fla.
Wisconsin (–5) at Miami-Fla. (o/u 45)
The question about this game has always been how interested will the Hurricanes be playing at home, where they've been there and done that? Meanwhile, the Badgers are celebrating another outstanding season under Paul Chryst, and they have one of the most overlooked running backs in the country in Jonathan Taylor. If quarterback Malik Rosier looks more like he did in the middle of the season than at the end, the Hurricanes will have a chance to at least cover. I picked Miami and the under.
— Peach Bowl – Monday at Atlanta
UCF (o/u 67) vs. Auburn (–9½)
New Nebraska coach Scott Frost will coach the Knights this last time. It says here that that presents an awkward situation, and so did Frost's running back Adrian Killins. He told the Orlando Sentinel that SEC players "don't have a lot of speed. Auburn hasn't seen any speed like we have here." Clearly this young man doesn't know a thing about the SEC. Just ask Alabama. If any of these games has blowout written on it, it's this one. Since Killins opened his mouth, I like Auburn to take care of business and the drive the score over.
That brings us to college football's final four.
— Rose Bowl – Monday at Pasadena, Calif.
Georgia (–2) vs. Oklahoma (o/u 60)
This game comes down to whether the Bulldogs secondary can stop under-the-weather Heisman winner Baker Mayfield. I broadcast the Sugar Bowl last January, when the Sooners carved up Auburn 35-19. The 'Dawgs haven't faced a downfield attack like that all year. Mayfield comes to play, and I love his moxie. On the other side Jake Fromm is an excellent, freshman quarterback for the Bulldogs. I picked Georgia and the under for this one, but I don't have a strong opinion. I think I'm just going to watch and enjoy this one.
— Sugar Bowl – Monday at New Orleans
Alabama (–3) vs. Clemson (47)
Beware of a Nick Saban team that has been disrespected by much of the nation and given five weeks to prepare. Conventional wisdom says that this Clemson team is as good as the one that beat 'Bama in last season's national championship game. I say prove it. If the Tide can cobble together its injured linebacking corps, the 'Bama defense will be fierce. It will be a fistfight all the way, but I'm leaning to the Tide and the under.
It looks like the betting public and the sharps are all-in on an all-SEC final. If only they could convince Adrian Killins.
Brent Musburger's betting column appears Saturday in the Las Vegas Review-Journal. His show on the Vegas Stats & Information Network can be heard on SiriusXM 204 and livestreamed at reviewjournal.com/vegas-stats-information-network.