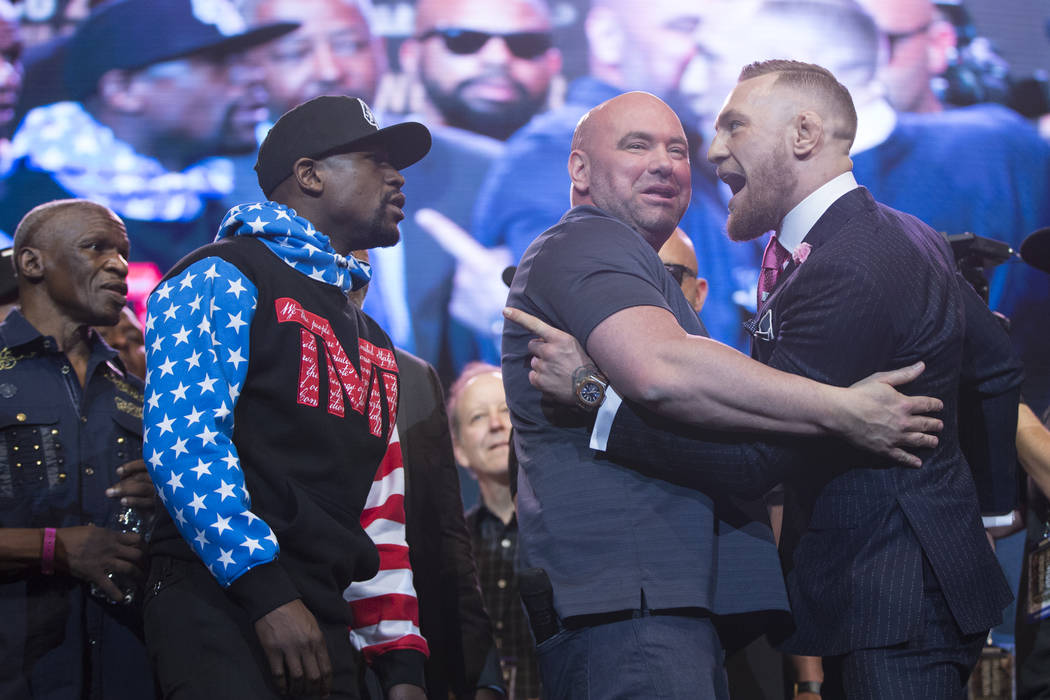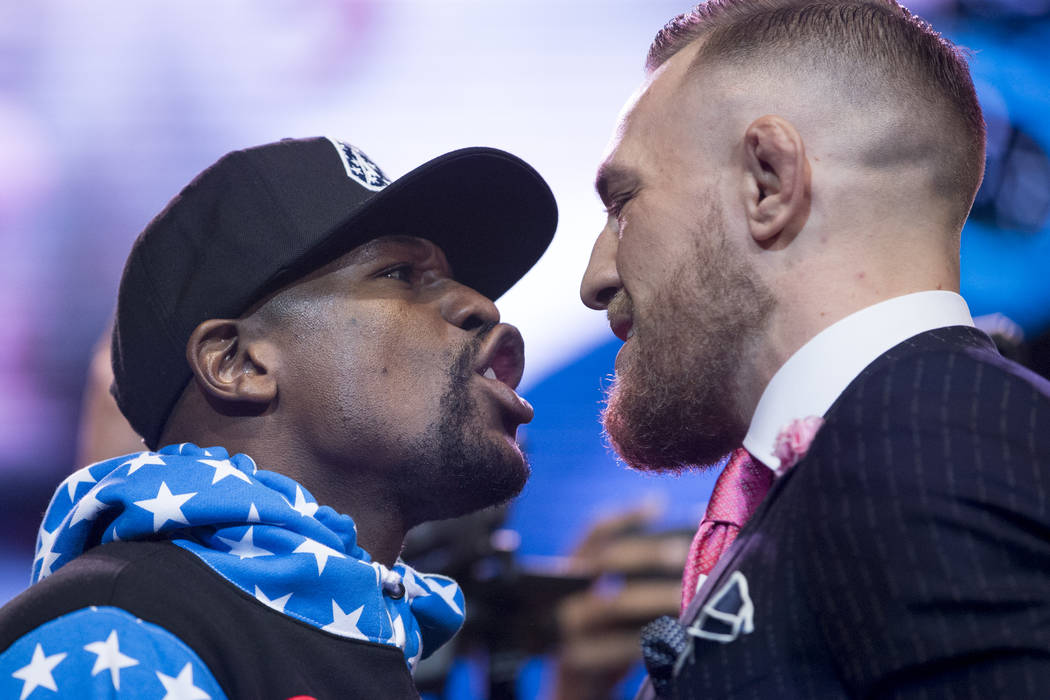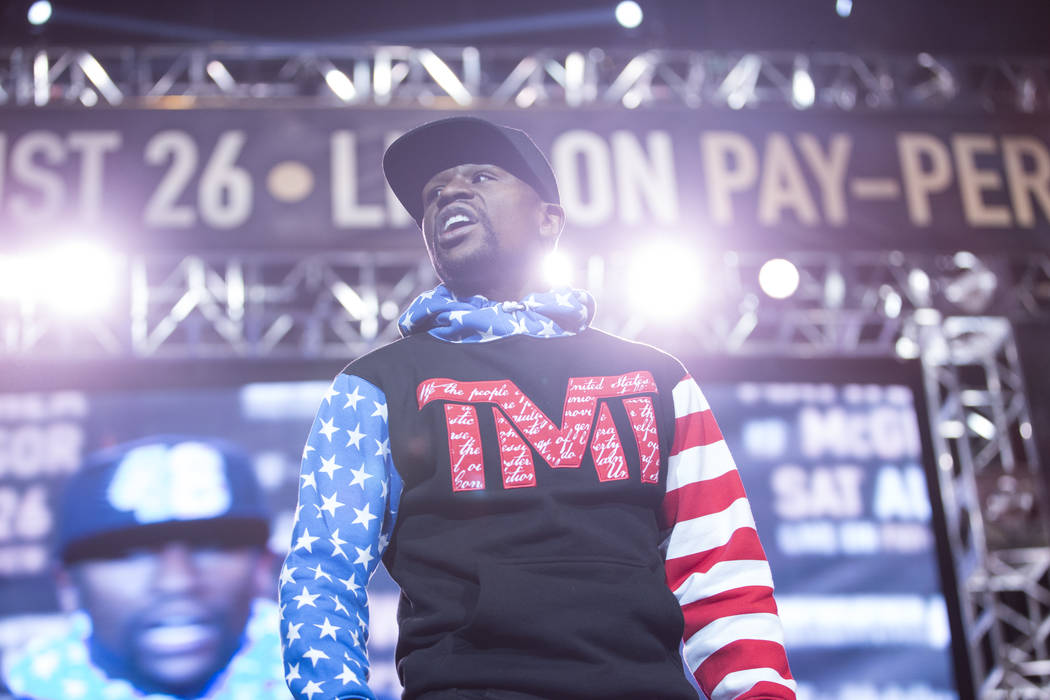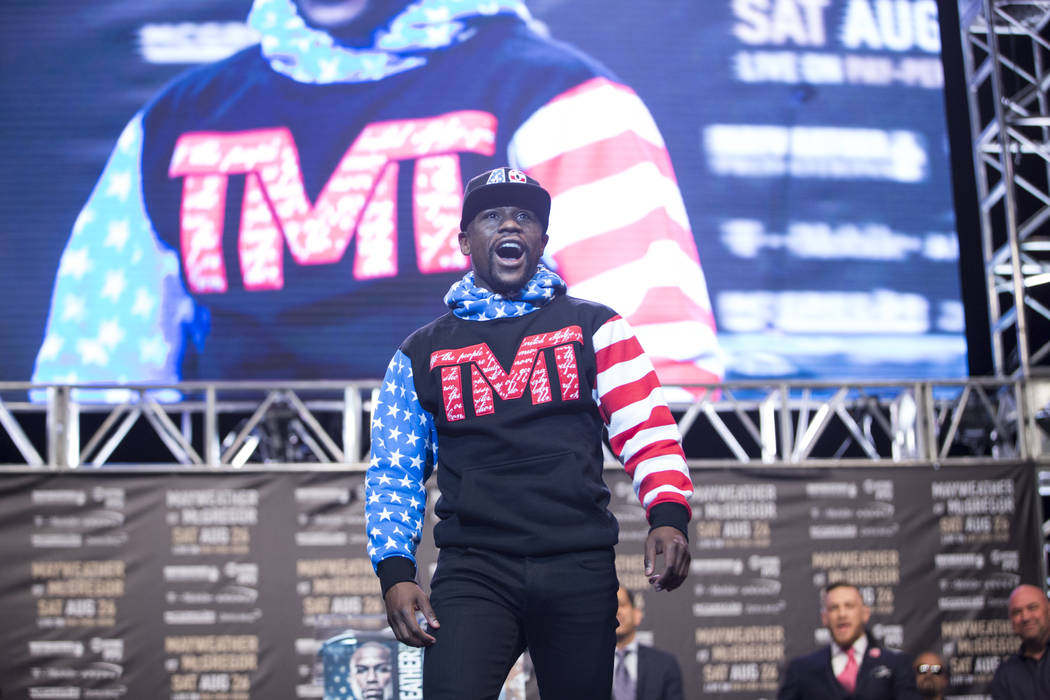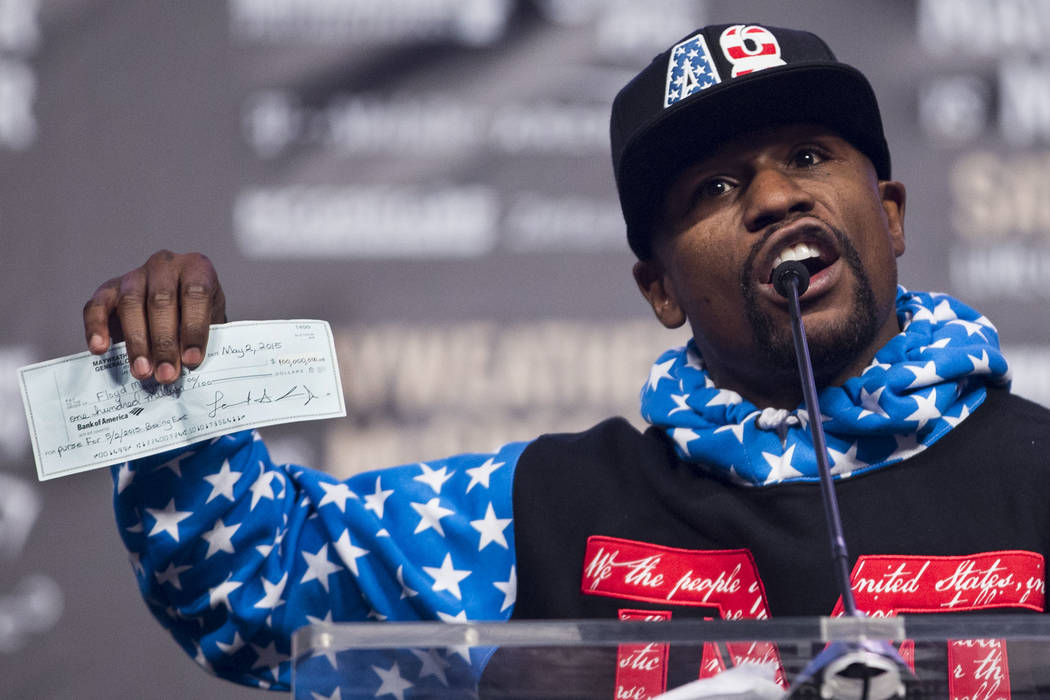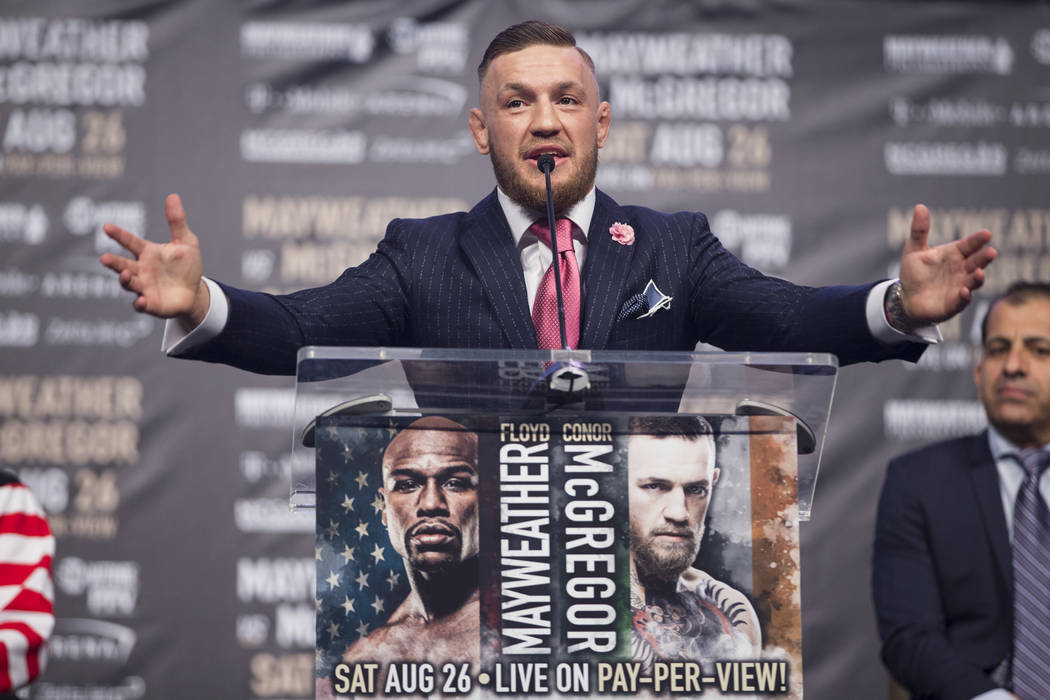 Las Vegas bookmakers were having some fun early this year when they posted a line for a fantasy fight between undefeated boxer Floyd Mayweather and UFC superstar Conor McGregor.
Now the fantasy that so many thought was a pipe dream is about to become a huge reality — and one of the biggest sporting spectacles of 2017 right here in Las Vegas. No city handles a big event quite like ours, and Aug. 26 will be remembered as one of its biggest ever.
Mayweather vs. McGregor has created a worldwide buildup that has even nonsports fans eager to see what transpires inside T-Mobile Arena. That also has translated into a bonanza for sports books, even though there has been a tidal wave of ticket sales on the underdog.
Mayweather is much less of a favorite than when Jimmy Vaccaro made that early line at the South Point. Five months before the fight was made formal, Mayweather was minus-2,700 and McGregor plus-1,200.
By Friday, Mayweather was a minus-550 favorite with McGregor at plus-425 at the South Point. Mayweather is a minus-500 favorite at the Westgate. More than 90 percent of the bets have come in on the pride of Dublin. During the next week, expect thousands of Irish tourists to flood into Las Vegas to enjoy themselves — and bet on their favorite son.
Several big bettors hoping to get Mayweather at a better price than minus-500 might be in luck. You can bet that they will wait until the final hours before the fight. Plenty of big money in fights tends to come late. Obviously the tourists are going to look for a price when they bet on McGregor. They just can't be sure it's going to get back above 5-1.
My opinion on the fight? Full disclosure: I had given up on following boxing closely years ago, and I had never become a UFC fan. I understood its appeal, even though I only know it from a distance. But while the UFC has been fueled by a younger generation, this cross-sport extravaganza has captured the imagination of us old-timers.
All the experts I listen to have said McGregor has no chance. The 8-ounce boxing gloves that were approved for the fight are closer to McGregor's 4-ounce MMA comfort zone, but Mayweather also wanted them because he has used them for a lot of his fights.
The one chance I give McGregor to hurt Mayweather is with his left hand. McGregor is going to push the action early. He is coming after Mayweather, one of the best defensive boxers of all time. Mayweather obviously hopes to dance and duck and deliver counterpunches. But McGregor's left can come without notice. The only question is whether he will connect.
It should be a great week in Las Vegas, and I cannot wait. And neither can the bookmakers, who could only dream of this fight happening a year ago.
Better to be lucky than good
The most underrated aspect of sports wagering is luck.
Let me walk you through a piece of good fortune that I enjoyed Thursday night. Earlier in the day at the Suncoast, I discovered a daily teaser card that featured baseball and preseason football. Ties lose, which is a distinct disadvantage to anybody who thinks they can beat parlays and teasers. But I took a shot anyway.
The Ravens were getting 8 points at Miami. Baltimore coach John Harbaugh pays attention to preseason games, so that was an easy win.
The St. Louis Cardinals were getting two runs at Pittsburgh, which was an easy victory when the Cardinals won outright.
The San Francisco Giants were teased down to a pick 'em with Jeff Samardzija on the mound, and that also was a winner.
Which takes me to the Yankees and the Mets. I had three runs and the Mets on the card, and that was a loser from the first inning on — until the bottom of the ninth. Trailing 7-1, the Mets loaded the bases, and former Yankee Curtis Granderson came to the plate. I had one lucky chance in a million, and you've got it. Granderson hit a grand slam. The Mets lost 7-5, but I cashed with the three runs. It was the opposite of a bad beat.
As I said, luck is the most unsung factor in gambling. Hope you have plenty of it this weekend.
Brent Musburger's betting column appears Saturday in the Las Vegas Review-Journal. Tune in to him on "My Guys in the Desert" from noon to 2 p.m. Saturday and Sunday and from 3 to 5 p.m. Monday, Thursday and Friday on SiriusXM 204 or VSiN.com.