Notre Dame's Brian Kelly has offense to defeat Stanford
September 28, 2018 - 7:05 pm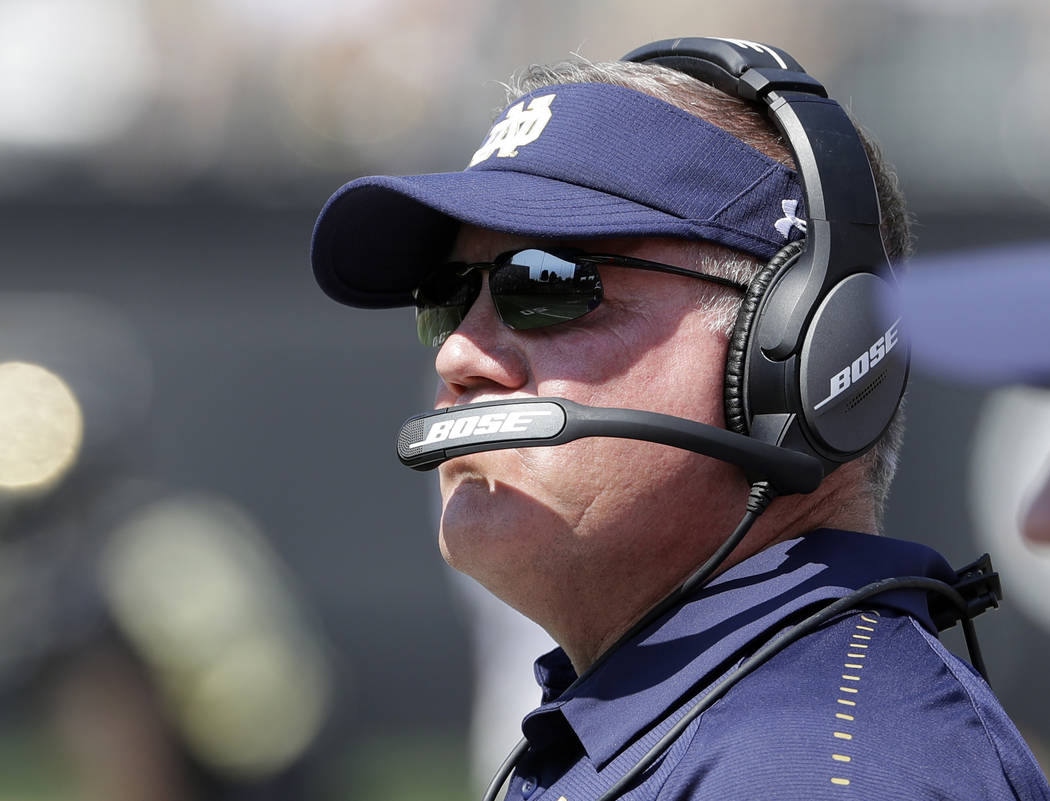 October reigns supreme for sports bettors. Football rages. Baseball flourishes. Hockey and basketball begin. I'll take October for cashing tickets.
Let's do three for Saturday.
Notre Dame -4½ over Stanford
A year ago on The Farm, the Cardinal buried the Irish 38-20. Stanford coach David Shaw has defeated Notre Dame counterpart Brian Kelly six times in their eight meetings. But this time, Notre Dame has the better offense, averaging 31.5 points, and looked sharp last week with Ian Book taking over at quarterback. He carved up Wake Forest for 56 points.
Ohio State -3½ over Penn State
This is the biggest game of the weekend, and Buckeyes coach Urban Meyer will showcase his Heisman Trophy candidate, quarterback Dwayne Haskins, who is 87 of 115 with 1,194 yards, 16 touchdowns and one interception in four games. A strong showing against the Nittany Lions and we'll be talking about Haskins in the same sentence with Alabama's Tua Tagovailoa and West Virginia's Will Grier.
Brigham Young +17 over Washington
The Cougars have demonstrated toughness in their wins at Arizona (28-23) and at Wisconsin (24-21). The Huskies have not been the world beaters we thought they might be, and BYU can trade enough blows with them to cover that big spread. Washington is averaging 27.2 points, but BYU is only two behind, and their schedules are comparable.
NFL Week 4
We can all agree that the Rams were spectacular against the Vikings and right now are the class of the NFC. So let's handicap two Sunday games based on what everyone in the league was watching Thursday night.
We begin with the Super Bowl champions. The Eagles are giving 3½ points at Tennessee. Carson Wentz has been the darling of the 2016 class after being selected No. 2 overall behind Jared Goff, who struggled in his first season with the Rams but is blossoming into a franchise quarterback. Look for Wentz to post big numbers against a surprisingly stout Titans defense. Tennessee is allowing 16.7 points per game, but the Eagles will soar past that number to a cover.
Back to Los Angeles. Another team paying attention to the Rams' fireworks is the team that has fallen way behind in the battle for the heart and soul of that city. But Philip Rivers and the Chargers have to be licking their chops at hosting the wounded 49ers. I seldom recommend laying double digits, but in this instance, the Chargers can easily cover the 10½. No Jimmy Garoppolo? No chance for the Niners. C.J. Beathard will give a respectable effort in the first half, but the Chargers offense will again hit its rhythm. It averages 27.3 points through three games.
Hollywood loves its stars, and Rivers is about to say "don't forget about me."
Brent Musburger's betting column appears Saturday in the Las Vegas Review-Journal. His show on the Vegas Stats & Information Network can be heard on SiriusXM 204 and livestreamed at reviewjournal.com/vegas-stats-information-network.