The wait is almost over — for NBA, NHL and here in Vegas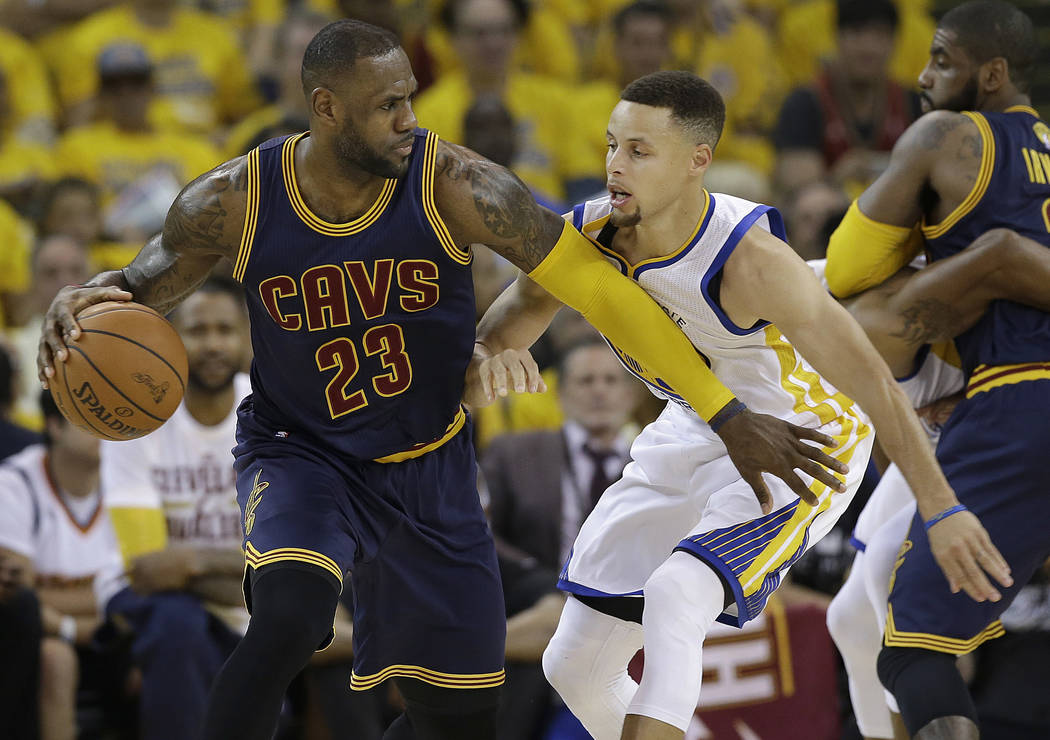 When it comes to being a sports fan, patience is truly a virtue.
We have been waiting nearly a year for the inevitable rematch of the Cleveland Cavaliers and the Golden State Warriors. And so we must wait a few more days to get part three of this trilogy.
The way this postseason has gone in the NBA, our patience has really been tested. The average margin of victory has been 13½ points with 61 percent of them decided by double digits.
While we have been trying to muster some sort of interest on the endless road to Cavaliers vs. Warriors III, it is very easy to forget that the real drama has not been in the NBA but in the NHL, where there has been one great drama after another.
Before and after the Cavs and Celtics went through the motions of their fifth game on Thursday, the Pittsburgh Penguins and Ottawa Senators were putting on an unforgettable Game 7 show that went double overtime. The only patience testing going on there was finding out if we would be able to get through each successive rush up the ice without a dash to the refrigerator or the bathroom.
Here in Las Vegas, sports books found themselves with more money tilted in one direction on Thursday's night's hockey game than there was on the basketball game. Bettors pounded the Penguins, and their patience was certainly rewarded.
But it is not just the casinos. In just 4½ months the NHL opens for business here in Vegas. The Golden Knights will play their first home game Oct. 10, according to team owner Bill Foley. The question now is whether the community will turn Las Vegas a passionate hockey city.
Between betting, showroom entertainment and just plain going out, there are so many things competing for your dollar in Las Vegas. Because of that I hope that the Golden Knights organization realizes it is going to take hard work at the grassroots level to develop the fanbase necessary to make hockey a success here.
The good news is that the best ambassadors for the sport are the players themselves. Hockey has a culture of attracting and even breeding wonderful citizens who are genuinely nice guys. Getting them out in the community should be the easy part. They will be great lures to get thousands of sports fans in Vegas to see their first NHL game in person at the T-Mobile Arena – a sensational facility that I enjoyed during the Pac-12 Basketball Tournament.
What will be slow in coming is victories. The most successful expansion team in NHL history was the Florida Panthers, who got to the Stanley Cup Final in their third year. But even with a sensational goalie in John Vanbiesbrouck, they missed the playoffs by one point in their first season 23 years ago.
It can be worse than that. Much worse. In 1974-75 the Washington Capitals won only eight games all season and were a horrendous 1-39 on the road.
The model for this city should be Nashville. When we tune in to see the Penguins go down there for Games 3 and 4 of the Stanley Cup Final we will see perhaps the most passionate hockey fans we have come across in some time. That passion did not flourish overnight. Amid rumors the Predators might move, it took them seven years to produce a winning record. They did not sell out their entire home schedule until this their 20th season – their first getting to the Stanley Cup Final.
Some things should break in the Golden Knights' favor. The way the expansion draft is set up, they should be able to get a quality goaltender to build around. Who knows? He may be the next John Vanbiesbrouck. And that would go a long way toward a few more home-ice victories to keep a new fanbase from having its patience tested too much.
Another thing is that hockey may not be easy to follow on television – even in HD – but it is 10 times better to see a game in person. It is difficult to appreciate the speed of the game when it is confined to video framed in your living room. All things being equal, there may be no better arena experience than there is for the NHL. And once you have been there, it is that much more fun to then watch games on TV.
So while we wait to get that experience first hand here in Vegas, we will whet our appetites with the drama of the Penguins' attempt to become the first back-to-back NHL champion since the Detroit Red Wings in 1997 and 1998. And we will let that tide us over while we await — patiently await — the debut of the Golden Knights.
Expect Penguins to prevail
It is hard to see the Penguins losing the Stanley Cup Final to the Predators. As a -150 favorite to win the series I think Pittsburgh is the play. They will have to find a way to score on Pekka Rinne, the NHL's hottest playoff goaltender, but they certainly have the firepower. Both teams have suffered significant injuries, but the biggest of them all may be the Predators' loss of their best centerman Ryan Johansen. I don't see a sweep, but I can see the Penguins winning it in six .
In the NBA I will make like the coaches and players and take it one game at a time. With the total set at 225 for next Thursday's opener I do like the under. Only once in last year's championship series did the Cavs and Warriors combine for more than that; that was 230 in a Game 3 victory by the Cavaliers in Cleveland. Three of the four games in Oakland finished under 200. I realize Kevin Durant could make a difference, but that works on both ends of the floor.
If nothing else we should be happy that the NBA and NHL have arranged it so that they are not playing any games of their finals on the same night. It makes a lot of sense, and it makes for a great couple weeks of entertainment. At least we hope so.
Good value in Indy 500
There is a great American tradition being renewed Sunday with the 101st running of the Indianapolis 500. It is always fun to have a few small bets on a handful of drivers led by 6-to-1 favorite Scott Dixon, a former winner who will be on the pole and hopefully not too shaken from being a victim in an armed robbery. Keep an eye out, too, for defending champion Alexander Rossi, a 22-to-1 bargain who is on the front row, and three others who have been to Victory Lane – Tony Kanaan, Ryan Hunter-Reay and three-time winner Hélio Castroneves – all at 9-to-1.
You can follow that with a bob or two on the Coca-Cola 600, where Kevin Harvick (7-to-1) and Las Vegas's own Kyle Busch (11-to-2) will be on the front row. Harvick has won three times before at Charlotte, so he could be the play.
But whether you are watching the races or going to a barbecue, don't forget the true meaning and significance of this holiday that goes back more than a century. A lot of brave Americans paid the ultimate price to make sure we are able to enjoy holidays like this. Do pause to give a moment of thought for the men and women who have fought for this country – and who continue to protect it.
Veteran sports broadcaster Brent Musburger writes a weekly column for his Vegas Stats and Information Network, which simulcasts his show Monday through Friday from 3 to 5 p.m. Follow @BrentMusburger on Twitter.