Alumni match, naming of center culminate Dwaine Knight's UNLV golf journey
November 15, 2017 - 2:29 pm
Updated November 15, 2017 - 3:29 pm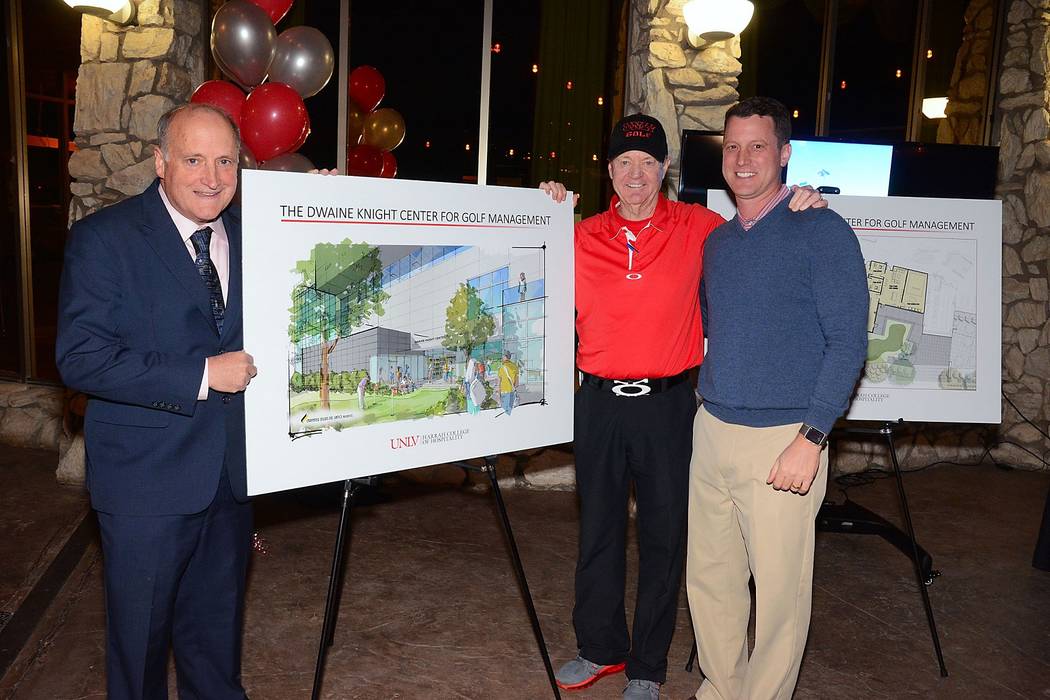 I have been covering UNLV men's golf coach Dwaine Knight and his Rebels since 1994. I have written about a dizzying amount of accomplishments, from the 1998 team NCAA title to Ryan Moore's NCAA individual title in 2004, to Adam Scott's 2013 Masters victory.
And so much more.
During his 30-year career, Knight has led the Rebels to three national titles (one team, two individual), eight NCAA regional championships and 11 of his former student athletes have played on the PGA Tour. Those that didn't make the tour went on to successful careers in a variety of professions and for Knight, graduation rates are as important than any on-course accomplishments.
On Sunday, about two dozen former players plus current team members gathered at Spanish Trail Golf and Country Club for the third annual alumni match, organized by assistant coach Philip Rowe. The younger generation won, but the event was more about camaraderie than competition, even though the older guys would have loved to claim the Knight Cup.
Then on Monday, about 200 men's golf foundation members, alumni and supporters gathered at Las Vegas Country Club for Rebel Golf Day. The event's highlight was when Dr. Stowe Shoemaker, dean of the Harrah College of Hospitality, announced the creation of the Dwaine Knight Center for Golf Management.
The Knight Center will be the new home for the UNLV professional golf management program and located in the 93,500 square-foot Hospitality Hall on campus, scheduled to open spring 2018.
"The key is that we are an academic institution and this is an academic building," Shoemaker said. "It's all about changing lives through education, and when we thought about how to name the golf center, it needed to be somebody who represents education, dedication and commitment. Coach Knight was the perfect choice."
The week's events caused Knight to pause and reflect on his three decades as a Rebel, which began very humbly.
"My first office was a closet at the Thomas Mack Center, but some big dreams were formed in that little space," Knight said. "One of the things I wanted to do was build a tradition. We started slowly, but we had guys invest in what we were trying to do, which was win championships and get degrees. The people here this week are the ones who made this happen.
"During my two visits here to look at becoming the UNLV coach, I met with Steve Wynn and Tom Wiesner. They told me about the history of Las Vegas and what it meant, and how people came from all different corners of the world and built something special. They told me that once I became a member of the community, people would trust me and the support and energy would be here to build a program and establish a legacy. They were absolutely right."
As for the future, Knight and Rowe believe the new center's state-of-the-art swing and putting technology will help recruiting and their players' performances on the course.
Local Lady Rebel
Veronical Joels, a senior at Meadows High who will play on the boy's team in the spring, signed with the UNLV women's golf team last week.
"It's awesome to keep such a local talent in Las Vegas," said Bush-Herzer. "Veronica is a wonderful addition to UNLV and I am excited she gets to continue to represent our great city."
That's the spirit
The Santa Shamble benefiting the Southern Nevada Junior Golf Association is Dec. 11 at Red Rock Country Club.
Stars on, off course
A recent PGA Hope clinic was held at Aliante Golf Club. PGA Hope has helped thousands of military veterans assimilate back into their communities through the social interaction golf provides.
The golf notebook appears each Thursday. Freelance writer Brian Hurlburt is a two-time author who has covered golf in Las Vegas for more than two decades. He can be reached at bhurlburt5@gmail.com or @LVGolfInsider.