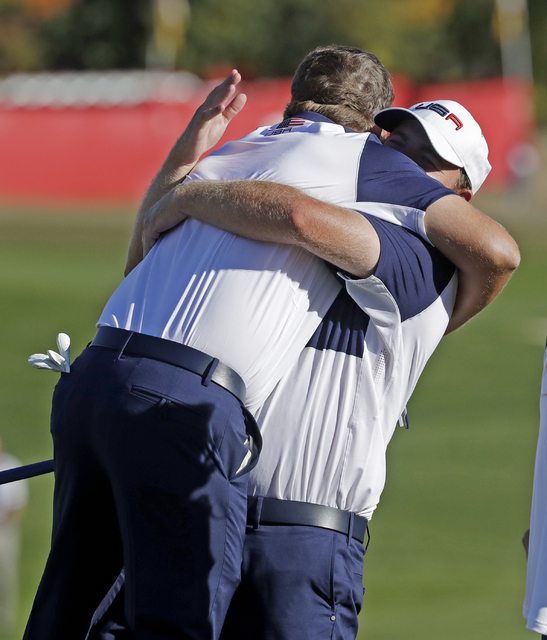 Former UNLV All-American golfer Ryan Moore has won the U.S. Amateur, an NCAA individual title and five PGA Tour events. It's safe to say he has dealt with some of the most intense pressure the sport can create, but according to Moore, those experiences don't compare with the emotion of the Ryder Cup.
In September, Moore played in the international team event for the first time and his victory over Lee Westwood in the Sunday singles matches at Hazeltine in Minnesota clinched the cup for the United States.
"I'd say double, maybe 10 times? I don't know. It's an amazing amount," Moore said about Ryder Cup pressure as compared to other moments he's experienced. "It's hard to hit shots under pressure no matter what, but it's just a different kind of pressure at the Ryder Cup. It's different when you are out there playing for yourself compared to playing for all of those outside factors you are playing for in a Ryder Cup. You don't want to just do it for yourself. It makes you try a little harder just because of that.
"It's an emotionally draining week. It's a week that you are just so amped up and every shot matters so much. You're playing for your captain, your teammates and your country. There are so many things on the line that it's a very different environment to what we are used to. It's very stressful, to be honest."
Moore reminisced about his Ryder Cup experience after playing in the Natalie Gulbis Golf Classic benefiting the Boys and Girls Clubs of Southern Nevada, which was held at Rio Secco on Monday. Gulbis, herself a veteran of international competition having represented the United States in the Solheim Cup, watched nearly every moment of the Ryder Cup and sent Moore congratulatory texts.
During the Gulbis event, Moore made a surprise announcement: Each Ryder Cup competitor is given the opportunity to award $100,000 to the charity of his choice; Moore selected the local organization that is near and dear to Gulbis, which is under the direction of former UNLV assistant golf coach Andy Bischel who serves as the president and CEO.
"One of the coolest things about being a part of the Ryder Cup is being given the opportunity to give back to a charity of our choice," Moore said. "It was a natural for me to donate to Boys and Girls Clubs. I have been part of this community for 15 years or so at this point. My wife was born and raised here. We live here. We're going to raise our kids here. We wanted to give to an organization that is doing great work for kids here. What they are doing is fantastic."
PGA GOES OLD SCHOOL
The older generation soundly defeated the younger generation at the annual Vegas Cup. The event features Southern Nevada Chapter, PGA, members at least 50 years old playing against younger members in a team competition. The old guys won the match 29-10 at the Las Vegas Paiute Golf Resort and have won the cup five times in seven years.
The winning team, captained by Paiute pro Tom Fischer, was made up of longtime Las Vegas club pros Andrew Valainis, Patrick Duty, Kim Dolan, Wes Weston, Tom Storey, Darren Stanek and David Barnhart.
DEAL OF THE WEEK
The new Southern Nevada Golf Association Tee Card offers dozens of golf discounts throughout 2016 and 2017. The card is now on sale at the association's official website at limited-time Black Friday pricing for as low as $25 for SNGA members.
TAME THE WOLF EVENT
Tame the Wolf, a unique team amateur and professional two-person scramble, is set for Dec. 10 at the tantalizing Wolf Creek Golf Club in Mesquite. Competitors will play the back tees on each hole of the course, which is arguably the most difficult in Nevada and features a slope rating of 154 from the tips. A cash purse is up for grabs and spots can be reserved at GolfWolfCreek.com.
The golf notebook appears each Thursday. Freelance writer Brian Hurlburt is a two-time author who has covered golf in Las Vegas for more than two decades. He can be reached at bhurlburt5@gmail.com or @LVGolfInsider.
UPCOMING EVENTS
Dec. 1: SNGA Tour: Championship, Bear's Best LV
Dec. 5-6: Southern Nevada Cup – SNGA vs. PGA
Dec. 10-11: College Coach Convention Combine, Rio Secco
Dec. 10: Tame the Wolf Championship, Wolf Creek
Dec. 17-18: SNGA Championship, Cascata
Jan. 12: MLB Player's Trust Event, Bear's Best Las Vegas
Jan. 14: UNLV Rodeo Tournament, Aliante