Business as usual at Bali Hai after Bill Walters verdict
April 12, 2017 - 12:15 pm
Updated April 12, 2017 - 6:03 pm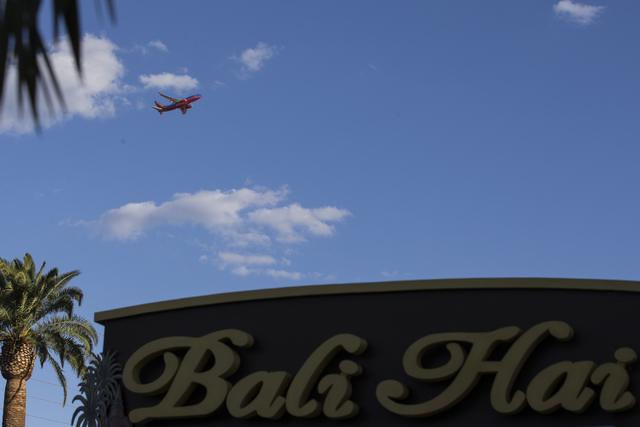 There isn't much Las Vegas golf course owner and gambler Bill Walters can discuss about the recent guilty verdict in his trial for insider stock trading, but he did let his feelings known.
"The verdict was shocking," Walters said. "If the trial was a fight, we won every round."
Walters owns Bali Hai Golf Club on the Las Vegas Strip and recently sold Royal Links and Desert Pines. According to Bali Hai officials, it is business as usual at the course, and they also can't comment about the verdict or the pending appeal.
Walters friend and golfing partner, Phil Mickelson, was on the witness list but was never called. Shortly after winning the British Open at Muirfield Golf Links in 2013, Mickelson celebrated with Walters in San Diego and brought along the Claret Jug.
Laser golf for cash
Billed as the world's first laser golf course, the Golfstream suite that is part of the new Level Up area at the MGM Grand is offering the first skilled-based sports tournament for cash on a Las Vegas casino floor.
"We have created a fun, social atmosphere at Level Up that gives the next generation of gamers the entertainment experience they have come to expect from MGM Grand," said Scott Sibella, president and chief operating officer of MGM Grand. "Our partners at Golfstream have developed a skill-based game using the industry's leading technology, one that is certain to attract golf fans and sports enthusiasts."
The first tournaments took place during the NCAA basketball tournament, and more are scheduled. The Golfstream suite also is available for nontournament play and private groups. Food and beverage is available from Hakkasan.
The revolutionary Golfstream motion green was designed by actual rocket scientists and works with a laser guidance system and augmented reality graphics to simulate real courses. Golfers feel like they are inside a real life video game.
Reaching the Summit
One of Las Vegas' most anticipated golf courses ever, the Tom Fazio-designed Summit being built in the exclusive Discovery Land community with the same name, is ready for play. The final holes were recently completed, and once the infrastructure is finished, scheduled for early May, members will begin playing it.
"Excitement is the first thing that comes to mind about the Summit," Fazio said. "It is the culmination of several years of planning and construction, and I can't wait for golfers to finally have the opportunity to experience a golf course that I think everyone would agree has exceeded even our lofty expectations. The scale of the place is just incredible. Discovery Land Company always places great emphasis on all of the small details that make a place great, but they also have the vision to know that the big picture planning decisions early on with regard to orientation, width and scale are what set the tone for the feel of a place and how it is experienced day to day. The golf course has extremely generous corridors, which only serves to improve the golf experience and set it apart from most courses."
Among the new Summit members and lot owners is Rickie Fowler, who once lived in a condo in Summerlin before moving to Florida. Fowler works on his swing with coach Butch Harmon, a Las Vegas resident.
Deal of the week
Play in the Nothing Bundt Cakes SNGA social series event April 22 at Rio Secco for $50. The nine-hole event features free cakes, food and prizes.
Stars on, off course
* Cheyenne Woods, Tiger's niece, played Shadow Creek in a MGM Resorts private event last week along with fellow LPGA Tour players Alison Lee, Michele Wie and Natalie Gulbis, a Henderson resident. Woods and Gulbis are MGM M Life ambassadors.
* Las Vegas resident and LPGA Tour player Danielle Kang at Downtown Summerlin with Wie.
The golf notebook appears Thursdays. Freelance writer Brian Hurlburt is a two-time author who has covered golf in Las Vegas for more than two decades. Story ideas can be sent to bhurlburt5@gmail.com.
Calendar
Friday: Titleist golf ball fitting day, Chimera
Saturday: Golf Channel March on Concord, Revere
Saturday, Sunday: Future Champions Golf Tour, Primm Valley
April 19: UNLV Football Foundation Tournament, Spanish Trail
April 19: Women's SNGA Black Mountain Invitational, Black Mountain
April 19-22: Derek Jeter Invitational, Shadow Creek
April 20: Nevada Broadcasters Association Tournament, Las Vegas National
April 20: SNJGA Benefit Clinic, Desert Willow
April 22: Nothing Bundt Cakes SNGA Social Series, Rio Secco
April 22: PGA Jr. League Kick-Off, TPC Las Vegas
April 23: Golfweek Amateur Tour, Aliante
April 25: TaylorMade Golf League, TaylorMade Golf Experience
April 26: National Golf Day, various courses
April 28: SNGA Short Game Championship, Desert Willow
April 30: Golf Channel Mountain Classic, Mountain Falls
May 2: SNGA Social Series, Los Prados
May 6, 7: SNGA Nye County Amateur, state qualifier, Mountain Falls
May 6: Henderson Police Charity tournament, Legacy
May 6, 7: Southern Nevada Junior Golf Nye Classic, Mountain Falls
May 7: Golfweek Amateur Tour, Reflection Bay
May 8: U.S. Open Qualifier, TPC Summerlin
May 13: Golf Channel Southwest Open, Rhodes Ranch
May 15: United Way tournament, Red Rock Country Club
May 19: U.S. Golf Classic Qualifier, Royal Links
May 19, 20: Tiger Jam, Shadow Creek
May 20, 21: IMG Junior World Qualifier, Wildhorse
May 20: A Level Playing Field charity tournament, Bear's Best
May 25: SNGA Tour, state qualifier, Chimera
June 13: HELP of Southern Nevada Golfer's Roundup, Cascata
Pro schedules
PGA Tour
What: RBC Heritage.
Where: Hilton Head, South Carolina; Harbour Town Golf Links (7,099 yards, par 71).
When: Thursday, Friday, noon-3 p.m. (Golf Channel); Saturday, Sunday, 10-11:30 a.m. (Golf Channel); noon-3 p.m. (KLAS-8).
Purse: $6.5 million (First place: $1,170,000).
Defending champion: Branden Grace.
Last week: Sergio Garcia won the Masters.
Next week: Valero Texas Open.
LPGA Tour
What: LPGA Lotte Championship.
Where: Kapolei, Hawaii; Ko Olina Golf Club (6,397 yards, par 72).
When: Thursday-Saturday, 4-8 p.m. (Golf Channel).
Purse: $2 million (First place: $300,000).
Defending champion: Minjee Lee.
Last tournament: So Yeon Ryu won the ANA Inspiration.
Next tournament: Volunteers of America Texas Shootout, April 27-30.
PGA Champions Tour
What: Mitsubishi Electric Classic
Where: Duluth, Georgia; TPC Sugarloaf (7,259 yards, par 72).
When: Friday, 9:30-11:30 a.m. (Golf Channel); Saturday, Sunday, noon-3 p.m. (Golf Channel).
Purse: $1.8 million (First prize: $270,000).
Defending champion: Woody Austin.
Last tournament: Miguel Angel Jimenez won the Mississippi Golf Resort Classic.
Next week: Bass Pro Shops Legends of Golf.