Chris Riley brings indelible positive message to UNLV golf team
November 9, 2016 - 11:19 pm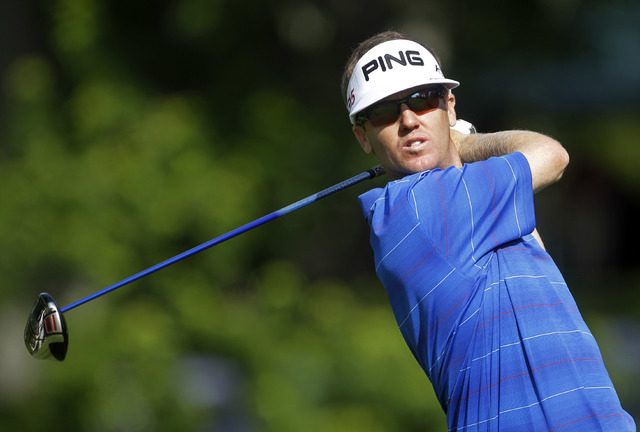 Chris Riley was a four-time All American and one of the best golfers in UNLV history. There's no doubt he was a memorable player, but it was his infectious personality and optimism that left an indelible impression on most who knew him.
After he left UNLV, Riley became a PGA Tour champion and made millions along with representing the United States in the 2004 Ryder Cup. His full-time playing days are over, and now Riley is a volunteer assistant for the Rebels.
Riley, 42, said he thinks the best message he can instill in the players is to keep the right frame of mind, no matter the situation.
"I love it, and I love being around the guys," Riley said Monday at Las Vegas Country Club before a match between the current players and UNLV alumni. "I'm not playing tournament golf anymore, so I come out here with these guys. It's fun that they want to learn about the game and learn from my experiences.
"My biggest message is to stay positive. It's all about attitude on the PGA Tour, and when I was playing, I had the best attitude out there. Nothing bothered me. You can't get too high or too low. There were guys out there who got mad and threw clubs like Steve Flesch and a few others, but for the most part, the players had an even temper, and that's important."
Riley, who aspires to become an official college coach but who will be hard-pressed to move from his native San Diego, said to make an impact on the Rebels, he must understand each player on a personal level.
"I get to know each of them, and I get to know their personalities and see what makes them click," he said. "I think coaching is a lot about relationships. I have different relationships with each of the guys, and I know their different personalities. I just keep it real with them."
UNLV coach Dwaine Knight is thrilled to have his former player involved.
"Chris loves UNLV golf, and to have someone that loyal and that passionate is incredible," Knight said. "He really helps these young guys see the direction they need to go in to have a chance to play the PGA Tour."
BEST YOUNG TEACHERS
Nick Helwig, 38, an instructor at the Butch Harmon School of Golf at Rio Secco, was included on the Golf Digest list of best young teachers for 2016-17. Helwig has worked at the Harmon school for more than 15 years.
Also on the list was former UNLV golfer Troy Denton, 33, the teaching pro for fellow Rebel and Ryder Cup player Ryan Moore. Denton teaches out of Maridoe Golf Club in Carrollton, Texas.
DEAL OF THE WEEK
Play Chimera Golf Club in Henderson starting at $29, plus sign up for the rewards program and earn free golf and other benefits.
REBEL GOLF DAY
Friday is Rebel Golf Day for the UNLV men's golf foundation. Members get to meet the team and play DragonRidge Country Club. Several items, including foursomes at Shadow Creek, Southern Highlands and Cascata, among other courses, are up for auction. Public bids can be made by calling 702-895-1081 or emailing Kathleen.williamson@unlv.edu. New foundation memberships also are being accepted, which include an invitation to the annual Rebel Golf Day.
STARS ON, OFF COURSE
Natalie Gulbis, who holds her annual golf classic Nov. 21 at Rio Secco, played Shadow Creek with LPGA Tour player Cheyenne Woods, the niece of Tiger Woods, and several PGA Tour players. The event featured professionals sponsored by MGM Resorts playing with invited guests.
AMATEUR STARS ON, OFF COURSE
The Legacy Men's Golf Association held its annual member/guest tournament recently, and Jack Chibrowski and Darren Shellady won the title.
The golf notebook appears each Thursday. Freelance writer Brian Hurlburt is a two-time author who has covered golf in Las Vegas for more than two decades. He can be reached at bhurlburt5@gmail.com or @LVGolfInsider.