Former members return to lead junior golf association
February 13, 2018 - 12:14 pm
Updated February 13, 2018 - 1:23 pm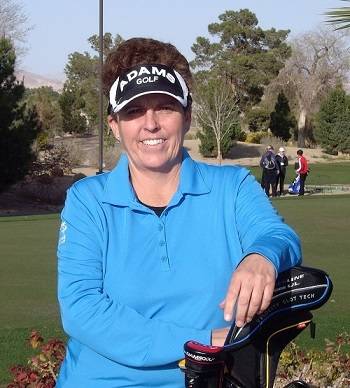 During an interview in July, Las Vegas Golf Hall of Fame inductee Kerri Clark started crying while discussing how proud her late father, Jerry, would have been. He was a past Southern Nevada Golf Association president and junior golf leader.
Jerry would be proud again because his daughter has been selected to lead the Southern Nevada Junior Golf Association, along with teaching professional Nicole Dutt-Roberts. The two played in the association four decades ago.
Clark and Dutt-Roberts will divvy up duties that include fundraising, association management, grant writing, tournament organization, instruction and working with other area instructors to help juniors.
"The first thing that comes to mind about getting back involved is the wonderful history the program and the careers in golf it helped launched," Clark said. "The SNJGA also helped members get college scholarships. Our goals are to get the program back on track after being off the grid as the premier junior program that it once was. Plus, we want to expose golf to kids in the Vegas valley, no matter their socio or economic backgrounds. Golf can be attainable."
Clark starred at Rancho, winning a state title in 1980, before enjoying an All-America career at Weber State. She played on the LPGA Tour in 1987 and 1988 and has been an instructor in Las Vegas for two decades.
Dutt-Roberts starred at Valley, also winning an individual state title, and played at Weber State. She has been teaching golf for almost three decades and once served as executive director of the Southern Nevada Golf Association.
"I feel a sense of loyalty and bonding to the SNJGA, which gives me a passion to work hard to help make it great again," Dutt-Roberts said. "I am excited to give back to an association that was a big part of my childhood in junior golf."
Stars tee off
Two celebrity events are coming to Las Vegas in April.
— The Academy of Country Music Topgolf Teeoff is April 14 at Topgolf Las Vegas and MGM Grand. The event is an update to the ACM Lifting Lives Golf Classic and will be hosted by Lady Antebellum and Darius Rucker.
— Derek Jeter, former New York Yankees shortstop and current Miami Marlins owner, hosts his celebrity invitational April 18 to 21 at Shadow Creek and Aria. Previous attendees include Michael Jordan, Wayne Gretzky, Ken Griffey Jr., Cal Ripken Jr., Russell Wilson, Mike Piazza, Brandi Chastain and Jerome Bettis.
Rebels add top amateur
Garrick Higgo, the top-ranked amateur in South Africa, has joined the UNLV men's golf team and is eligible for the spring season. Higgo, a freshman, will be in the lineup for the John Burns Intercollegiate in Hawaii that starts Thursday.
Weekly deal
Revere offers a rate of $17 after 2 p.m. this month.
Stars on, off course
— UNLV senior Shintaro Ban has been named to the Arnold Palmer Cup watch list.
— Guitar legend and House of Blues resident act Carlos Santana played the Las Vegas National Golf Club.
The golf notebook appears Wednesdays. Freelance writer Brian Hurlburt is a two-time author who has covered golf in Las Vegas for more than two decades. He can be reached at bhurlburt5@gmail.com or @LVGolfInsider.
Calendar
Thursday: SNGA Championship/AJGA qualifier, Stallion Mountain
Thursday-Sunday: UNLV men's golf, John Burns Collegiate, Hawaii
Saturday, Sunday: SNGA Henderson Amateur, Revere
Sunday: Golf Channel Call of the Wolf, Las Vegas Paiute
Feb. 25: Golf Channel March on Concord, Revere
Feb. 25, 26: UNLV men's golf, N.I.T. Tucson, Ariz.
Feb. 26: SNGA Tour, Wildhorse
Feb. 26, 27: UNLV women's golf, The Rebel Beach, Spanish Trail
March 5, 6: UNLV women's golf, Wildcat Invitational, Tucson, Ariz.
March 5-7: UNLV men's golf, Southern Highlands Collegiate, Southern Highlands
March 9, 10: UNLV men's golf, Jackrabbit Invitational, Boulder Creek
March 10, 11: SNGA Summerlin Amateur, Highland Falls, Palm Valley
March 11: Golf Channel Southwest Open, Rhodes Ranch
March 12, 13: UNLV women's golf, Jackrabbit Invitational, Boulder Creek
March 19: SNGA Tour, Desert Pines
Pro schedules
PGA Tour
What: Genesis Open
When: Thursday, 11 a.m.-3 p.m. (Golf Channel); Friday, 1-5 p.m. (Golf Channel); Saturday, 11 a.m.-12:30 p.m. (Golf Channel), 1-4 p.m. (KLAS-8); Sunday, 10-11:45 a.m. (Golf Channel), noon-3:30 p.m. (KLAS-8).
Where: Los Angeles; Riviera Country Club (7,322 yards, par 71).
Purse: $7.2 million. Winner's share: $1,296,000.
Defending champion: Dustin Johnson.
Last week: Ted Potter Jr. won the AT&T Pebble Beach Pro-Am.
FedEx Cup leader: Patton Kizzire.
LPGA Tour
What: ISPS Handa Women's Australian Open
When: Wednesday-Saturday, 6-11 p.m. (Golf Channel).
Where: Adelaide, Australia; Kooyanga Golf Club (6,599 yards, par 72).
Purse: $1.3 million. Winner's share: $195,000.
Defending champion: Ha Na Jang.
Last tournament: Brittany Lincicome won the Pure Silk-Bahamas LPGA Classic.
Race to CME Globe leader: Lincicome.
PGA Tour Champions
What: Chubb Classic
When: Friday, 9-11:30 a.m. (Golf Channel); Saturday, 12:30-2:30 p.m. (Golf Channel); Sunday, noon-2 p.m. (Golf Channel).
Where: Naples, Fla.; TwinEagles Golf Club (Talon Course) (7,193 yards, par 72).
Purse: $1.6 million. Winner's share: $240,000.
Defending champion: Fred Couples.
Last week: Mark Calcavecchia won the Boca Raton Championship.
Charles Schwab Cup leader: Jerry Kelly.
— The Associated Press