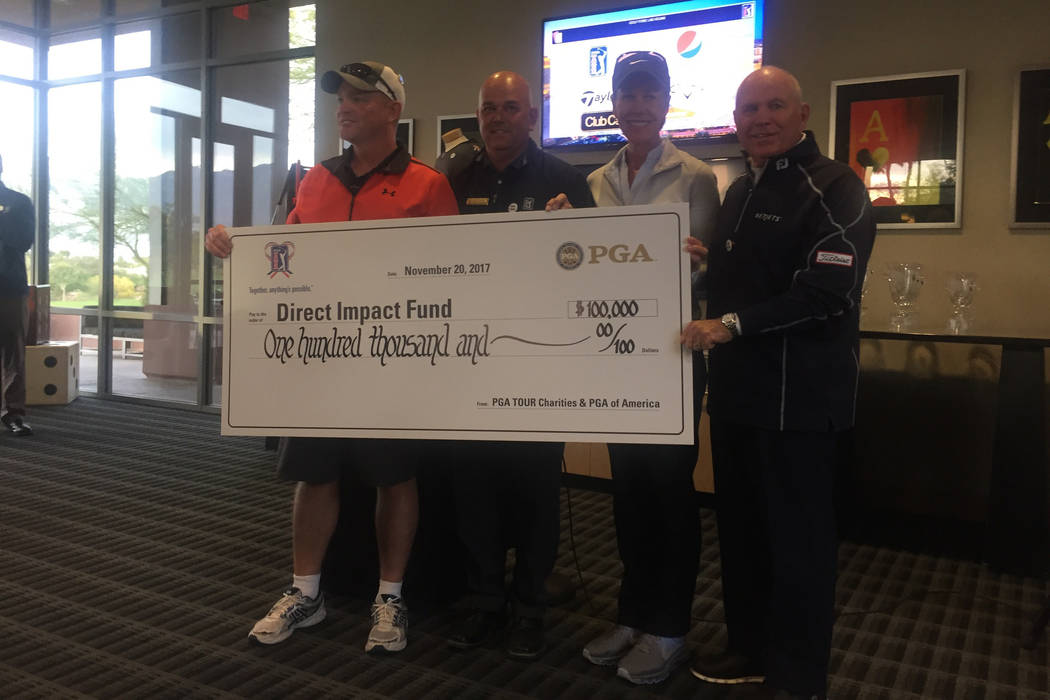 When Clark County Fire Chief Greg Cassell got the call at 10:15 p.m. Oct. 1, his heart sank.
It was early on during the Route 91 Harvest festival shooting on the Strip, but he immediately knew the situation was dire. Cassell and many others jumped into action.
On Monday, Cassell's heart was uplifted during the Golf Fore Las Vegas benefit tournament at TPC Las Vegas, where more than 120 first responders enjoyed a day on the course compliments of the PGA Tour and PGA of America.
"We are honored and humbled to be a part of this," Cassell said of the event, at which $100,000 was raised for the victims' fund.
Tour pros, PGA of America professionals and celebrities who gathered would respectfully disagree with the chief. They said they were the ones who were honored and humbled to be in the presence of so many local heroes.
"All the first responders, they are the true heroes," former major league pitcher and Las Vegan Mike Maddux said. "They are the ones that flew under the radar when everybody needed help. The city all came together, and they were the reason we all came together. These are the people you want on your side."
The tournament was held to honor those heroic actions by police, firefighters, EMT, doctors, nurses and the coroner's office. Renowned teaching professional Butch Harmon and LPGA Tour player Natalie Gulbis kicked off the day with a clinic.
Along with Harmon and Gulbis, pros and celebrities greeting and thanking each foursome included PGA Tour players Alex Kang, Jeff Gallagher, Bob May, A.J. McInerney, Craig Barlow, Bob Byman, local baseball legends Greg and Mike Maddux, and PGA of America vice president Suzy Whaley.
"It's heartwarming to all of us that so many came out today, and we are humbled by the support," Cassell said. "It's awesome to see Butch Harmon and shake his hand. To have the pros out on the course interacting with us was a special touch.
"I am very honored and proud of all the work that took place that night from the fire, police, EMS, paramedics, the hospitals and the coroner's office, they all did a tremendous job. Everybody was overloaded and above their max, but they all did what they needed to do."
Whaley said it was important for the PGA of America and PGA Tour to show support to Las Vegas as they do in other parts of the world when tragedy strikes.
"We are thankful and grateful, and we think it is really important for us to honor those in our community that protect us," Whaley said. "For us to have the opportunity to give a day back to them when perhaps they don't have to think about what happened and have some fun is meaningful. It's a neat day when golf can bring people together."
TPC Las Vegas general manager Dan Hammell said the event had a different feel than others at the course.
"This is a home-grown event, and to honor what these men and women do, not only on Oct. 1 but on a daily basis, makes everyone here at the club feel special," Hammell said.
Weekly deal
Local residents can play Bali Hai for $79 for a limited time. Out-of-town guests with a resident are $99.
Stars on, off course
Former UNLV golfers Charley Hoffman and Chris Riley, former Las Vegas resident Dean Wilson and PGA Tour player Xander Schauffele are playing in the Wishbone Brawl on Saturday at Goat Park Golf Club in San Diego. San Diego State golf coach Ryan Donovan's daughter, Reagan, was diagnosed with Rett syndrome in 2016, and the team match featuring Hoffman and Riley against Schauffele and Wilson will raise funds for her medical care. The players will use persimmon woods during play. Tickets are available, and online donations are welcome.
The golf notebook appears Thursdays. Freelance writer Brian Hurlburt is a two-time author who has covered golf in Las Vegas for more than two decades. He can be reached at bhurlburt5@gmail.com or @LVGolfInsider.
Calendar
Nov. 30: SNGA Tour Championship, Bear's Best
Dec. 2: Golf Channel Arroyo Open, Arroyo at Red Rock
Dec. 9, 10: SNGA Championship, Las Vegas National
Dec. 11: SNJGA Santa Shamble, Red Rock Country Club
Pro schedule
Australasian Tour
What: Emirates Australian Open.
When: First round was played Wednesday. Thursday-Saturday, 5-10 p.m. (Golf Channel).
Where: The Australian Golf Club, Sydney.
Purse: AUD $1.25 million.
Defending champion: Jordan Spieth.
Last week: Jason Scrivener won the New South Wales Open Championship.
PGA Tour
This week: No tournament.
Last week: Austin Cook won the RSM Classic.
Next week: Hero World Challenge.
LPGA Tour
This week: No tournament.
Last week: Ariya Jutanugarn won the CME Group Tour Championship.
Next tournament: Pure Silk Bahamas LPGA Classic, Jan. 25-28.