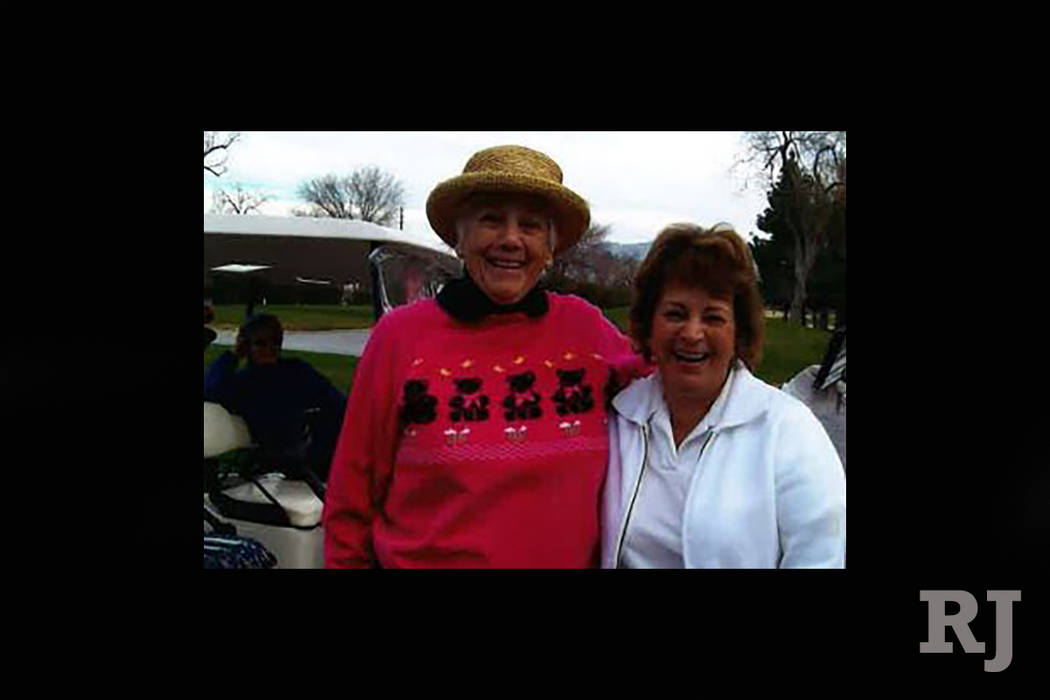 It was a cold, windy day on Tuesday at Las Vegas Golf Club and Rea Tritle would have been proud of the ladies who braved the elements. The late Tritle was the first president of the Las Vegas Women's Golf Association that was founded at the course in 1947.
Some 70 years have passed since Tritle, Edyth Hoban, Gladys Meyers and a few others created the club, which is still going strong decades later because of an active membership plus the leadership of tournament director Connie Patterson and president Debra Koch.
"It's an honor to help maintain our history and tradition and oversee the oldest women's golf association in Southern Nevada," Koch said. "We have a great group of ladies who are very loyal. We have events 52 weeks per year and love the game."
Back in early days, the late Helen C. Cannon, a member and notable Las Vegan, won most every women's golf title in the area. In 1976, the Helen C. Cannon junior high school was named in her honor and she was inducted into the Las Vegas Golf Hall of Fame in 2004.
Rosita Grisnik, 77, is the longest standing active member and was around when Cannon was still active. Grisnik joined in 1976 as a 29 handicap, but took lessons from the late Jerry Belt. She improved to an 11 and won a club match play championship.
"The good players like Helen Cannon, Mary Shaw and others encouraged me to get better," Grisnik said. "We have had some impressive players over the years and still do. I couldn't play for a year recently because of cancer. What I missed most was playing golf at Las Vegas Golf Club with my friends."
Another longtime member, Linda MacDonald, is one of the most decorated champions in the club's history. She won club championships from 1986-89 and in 1991 and 1993, and won again this year.
Other top champions in club history include My Paulsen, Sally Allen, Rita Revello and Barb Christensen, who have combined to win more than 20 titles. Christensen joined Cannon as a hall of fame inductee in 2015.
Honorary lifetime club members are Cannon, Meyers, Hoban, Christensen, Ruth Allison and Dottie Pitzer. Koch said the club welcomes new members and interested ladies can email dskoch53@gmail.com for information.
Local tour qualifiers
Locals Keith Clearwater and Jeff Gallagher earned associate membership status on the PGA Tour Champions at the tour's qualifying school, which concluded Friday at TPC Scottsdale in Arizona. Clearwater finished tied for 15th and Gallagher tied for 20th.
Jennifer Hahn finished tied for 32nd at LPGA qualifying school at LPGA International in Daytona Beach, Florida, and earned conditional status. Hahn was touched by the events of 1 October and made ribbons for her competitors.
"This year at Q School, I felt I was not only playing for myself, but also to make my city proud," Hahn said.
College club champs
On Sunday, Arizona State and University of Minnesota were declared the co-champions of the National Collegiate Club Golf Association at Las Vegas Paiute Golf Resort. High winds canceled the final round so the tie remained. Clemson took home the inaugural national invitational team title. Michael Hodgins, from University of Florida, shot 5-under to win the individual title. The event featured 340 players and 65 teams.
SNGA Tour champs
Edward Fryatt won the championship division of the SNGA Tour Championship last Thursday at Bear's Best. Other winners were Frank Acker, senior; Frank Abbott, silver; Eduardo Ramirez, net; Charlie Roy, senior net; Neil Driscoll, silver net.
Weekly deal
Play both Boulder City and Boulder Creek golf courses for $70, now through January.
Stars on, off course
Chip Beck, who shot 59 in the 1991 Las Vegas Invitational, is at Las Vegas Golf Club Friday for a clinic, tournament and luncheon. The event is $49. Call 646-3003 for reservations.
The golf notebook appears each Thursday. Freelance writer Brian Hurlburt is a two-time author who has covered golf in Las Vegas for more than two decades. He can be reached at bhurlburt5@gmail.com or @LVGolfInsider.
Upcoming events
Friday: George Strait Tough Enough to Wear Pink Classic, Reflection Bay
Friday: Chip Beck Clinic and Scramble, Las Vegas Golf Club
Friday – Sunday: AJGA Evian International and Senior Showcase, Angel Park
Saturday, Sunday: SNGA Championship, Las Vegas National
Monday: SNJGA Santa Shamble, Red Rock CC
Dec. 16, 17: SNJGA Holiday Junior Classic, Las Vegas National
Pro schedules
PGA Tour
What: QBE Shootout
Where: Naples, Florida; Tiburon GC (7,382 yards, par 72).
When: Friday-Saturday, 10:30 a.m.-1:30 p.m. (Golf Channel); Sunday, 10-11 a.m. (Golf Channel); 11 a.m.-1 p.m. (KSNV-3).
Purse: $3.3 million (Winners share: $410,000 for each player)
Defending champion: Matt Kuchar and Harris English.
Last week: Rickie Fowler won the Hero World Challenge.
European Tour, Sunshine Tour, Asian tour
What: Joburg Open.
Where: Johannesburg, South Africa; Randpark GC (Firethorn) (6,982 yards, par 72).
When: Thursday, 7-11 a.m. (Golf Channel-tape delay); Friday-Saturday, 6:30-10 a.m. (Golf Channel-tape delay); Sunday, 1:30-6 a.m. (Golf Channel).
Purse: ZAR $16.5 million.
Defending champion: Darren Fichardt.
Last week: Dylan Frittelli won the Mauritius Open and Camerson Smith won the Australian PGA Championship.
Race to Dubai leader: Wade Ormsby.
— The Associated Press