Las Vegas nonprofit group uses golf to inspire veterans
Updated May 4, 2018 - 11:59 am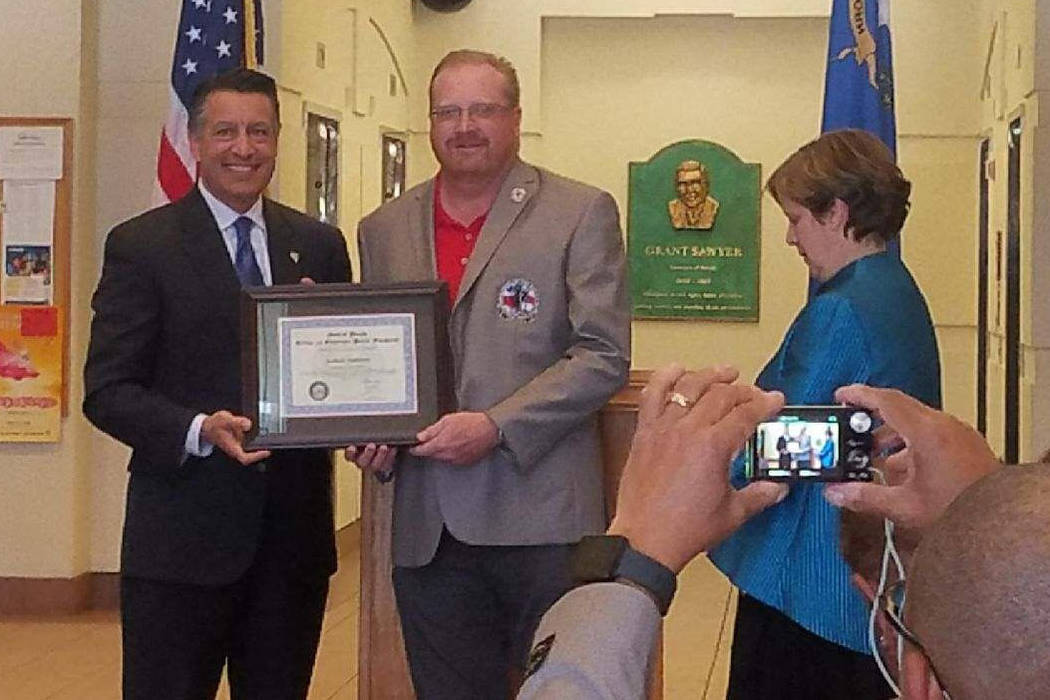 The statistics are alarming and overwhelming.
According to Heroesintherough.org, 22 veterans commit suicide each day. Many who take their own lives have been seriously injured and succumb to the intense pain and pressure of daily living.
Rob Jackson is president of Heroes in the Rough, a local nonprofit that uses golf to inspire veterans to get back to living by playing the game. Most of the golfers in the program are more than 50 percent disabled.
Jackson is a veteran of the U.S. Marine Corps and served in Desert Storm. He suffers from post-traumatic stress disorder and is inspired by the veterans he and other volunteers help through golf.
"Heroes in the Rough provides many opportunities for a disabled veteran who feels left out to feel wanted again," Jackson said. "These are the forgotten ones whose life is extremely difficult because of the seriousness of their situations. Many would never venture out without a reason or some help. Golf gives them a reason, and we have changed and saved lives by giving them an opportunity to play the wonderful game of golf."
The organization offers clinics, lessons from PGA of America professionals, golf attire, golf-associated equipment, tournament entries, golf outings, access to paramobile cart technology on the course, all at no charge to the veteran. No salaries are paid to the president or any volunteers.
In April, Jackson received the Nevada State Veteran of the Month Award from Gov. Brian Sandoval. He also earned separate Veteran of the Month recognition from the office of Sen. Dean Heller.
Jackson, who was nominated by his golfing veterans, said he accepted the awards on behalf of the other volunteers in the organization. He was a unanimous selection for the governor's award.
"Anything that helps bring awareness to our brave and determined veterans is very meaningful," Jackson said.
Heroes in the Rough has several charity events annually. The next event is June 1 at Stallion Mountain. Visit Heroesintherough.org to register.
Jay Z-inspired PGA Tour victory
Bonanza High product Scott Piercy teamed with Billy Horschel to win the Zurich Classic on Sunday at New Orleans. It was the fourth PGA Tour victory for Piercy and the first since he won the 2015 Barbasol Championship.
Each two-player team chose a walk-up song to be played during first tee introductions. Piercy and Horschel selected "Forever Young" by Jay Z and featuring Mrs. Hudson.
Wanted: Shriners volunteers
Shriners Hospitals for Children Open organizers are welcoming new volunteers for the Oct. 29 to Nov. 4 tournament at TPC Summerlin. A variety of committee assignments are available. Email dmillwood@shrinershospitalsopen.com to register.
Weekly deal
Resident rates start as low as $29 at Angel Park, and weekly Tuesday night patio parties with appetizers and half-price drinks start at 6 p.m.
Future stars on, off course
High school seniors Annick Hackiewicz (Palo Verde) and Sydney Smith (Faith Lutheran) won low medalist at the U.S. Golf Association Women's Four-Ball team event Sunday at El Caballero Country Club in Tarzana, California. The former Southern Nevada Junior Golf Association players were the top seeds in match play but lost in the round of 32.
The golf notebook appears Wednesdays. Freelance writer Brian Hurlburt is a two-time author who has covered golf in Las Vegas for more than two decades. He can be reached at bhurlburt5@gmail.com or @LVGolfInsider.
Local calendar
Saturday: Reflection Bay AJGA qualifier, Reflection Bay
Saturday, Sunday: SNGA Boulder City 4-Ball, Boulder City Golf Club
Monday: U.S. Open qualifier, Canyon Gate
Monday-Wednesday: UNLV women, NCAA Regionals, Tallahassee. Fla.
May 10: SNGA Tour, state amateur qualifier No. 2, Chimera
May 10: Southern Nevada Sports Hall of Fame, Siena
May 14, 15: Women's SNGA Senior Amateur, Chimera
May 14-16: UNLV men, NCAA Regionals, TBD
May 18, 19: Tiger Jam, MGM, Shadow Creek, Topgolf
May 19, 20: Championship-Girls/Boys Junior America's Cup qualifier, Legacy
May 25: AJGA Junior-Amateur Fundraiser, Reflection Bay
May 26-28: AJGA Las Vegas Championship, Reflection Bay
May 28-31: Mesquite Amateur, CasaBlanca
June 5, 6: Big I Junior qualifier, Boulder Creek
June 10: SNGA Tour, Father/Son, Las Vegas National
June 11: United Way Benefit, Spanish Trail
Pro schedules
PGA Tour
What: Wells Fargo Championship.
When: Thursday, Friday, 11 a.m.-3 p.m. (Golf Channel). Saturday, Sunday, 10-11:45 a.m. (Golf Channel), noon-3 p.m. (KLAS-8).
Where: Quail Hollow Club, Charlotte, N.C.
Defending champion: Brian Harman.
LPGA Tour
What: Volunteers of America Texas Classic.
When: Thursday, Friday, 7:30-10:30 a.m. (Golf Channel). Saturday, Sunday, 2:30-5 p.m. (Golf Channel).
Where: Old American Golf Course, The Colony, Texas.
Defending champion: Haru Nomura.
PGA Tour Champions
What: Insperity Invitational.
When: Friday, 3-5 p.m. (Golf Channel). Saturday, Sunday, noon-2:30 p.m. (Golf Channel).
Where: TPC Woodlands, The Woodlands, Texas.
Defending champion: John Daly.
The Associated Press