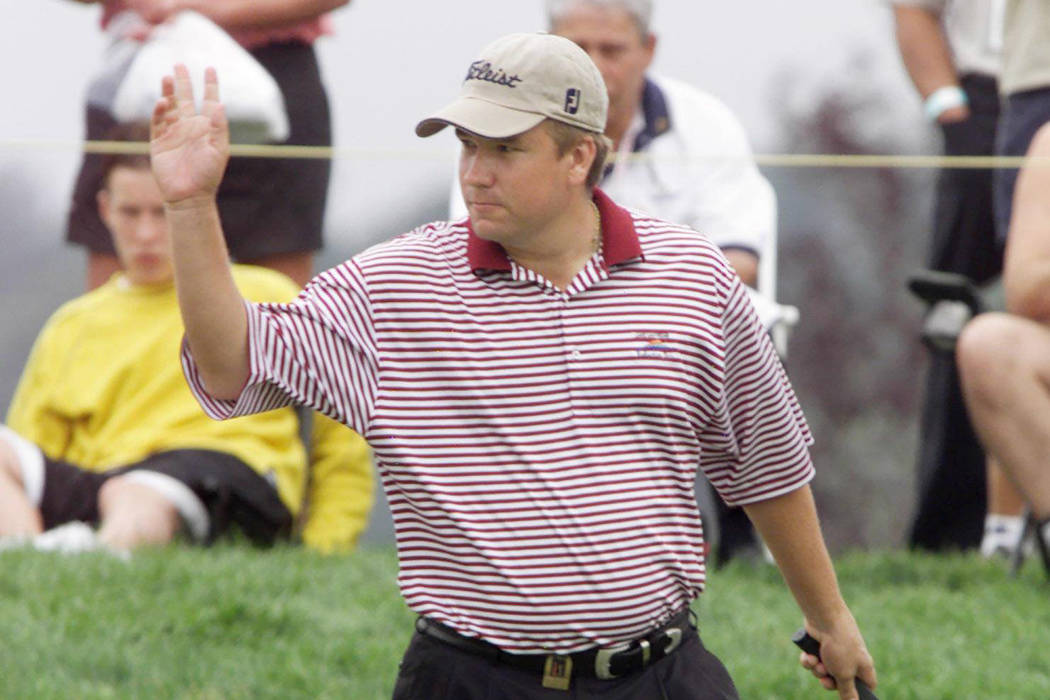 PGA Tour veteran Craig Barlow has played in eight major championships, made 167 cuts on the PGA Tour and 37 on the Web.com Tour, but his victory at the 1994 Nevada State Amateur played at Legacy Golf Club still stands out.
"Winning the Nevada State Amateur was a highlight of my career, including my professional career," Barlow said. "I can close my eyes and think about how I felt being the champion. I can't say that I've felt too much better golf wise.
"I didn't get to win a tour event and I've won some mini-tour stuff. I have had some good finishes on the PGA Tour, which made me feel good, but nothing replaces winning. I was born in Nevada and to win my state's amateur; it can't get any higher as far as I am concerned."
The U.S. Open begins Thursday and the Nevada State Amateur is July 9-11 at TPC Summerlin, the host course of the Shriners Hospitals for Children Open. The U.S. Open and state am will forever be linked to Barlow's career.
Just a few weeks prior to his state victory, Barlow made the U.S. Open field through sectional qualifying at Legacy and then played in the Open at Oakmont Country Club in Pennsylvania.
"When I qualified for the U.S. Open, it was a complete shock," Barlow said. "I was a good player, but I definitely wasn't considered the best player in the area. Qualifying for the U.S. Open gave me more confidence than I could have ever dreamed.
"I remember thinking, 'this a joke.' I didn't mean any offense to my fellow (Nevada) amateur players, but I had just played against Jack Nicklaus, Greg Norman and defending champion Lee Janzen in the biggest tournament in the world. It gave me such peace of mind because these local guys weren't at that U.S. Open, I was. It took my game to the next level."
At the time, Barlow didn't have a career plan, but had met LeeAnn, his future wife, in December of 1993. Her influence combined with his on-course success made the path clear.
"Even though we hadn't been together long, she really pushed me to pursue golf," Barlow said. "Then qualifying for the U.S. Open made me realize, 'you know what, I am going after professional golf as a career.'"
Barlow is no longer exempt on the PGA Tour, but as a veteran member he still qualifies for the occasional tournament. His main passion now is teaching the game. As of July 1, Barlow is moving from Anthem Country Club to Lake Las Vegas, where he will unite with golf operations director Eric Dutt, a fellow Las Vegas Golf Hall of Famer. Dutt won the 1976 Nevada State Amateur.
The state am is at TPC Summerlin for the second time and will be set up in Shriners Open conditions. Former champions playing include 2017 winner Daren Johnson, Edward Fryatt, Brady Exber and Greg Horodesky. Barlow can be reached at craigabarlow@mac.com for lessons.
Weekly deal
Through June 30, locals can get lunch and golf for $79 at Bali Hai.
Stars on, off course
Danielle Kang attended Stanley Cup game five at T-Mobile Arena.
The golf notebook appears Wednesdays. Freelance writer Brian Hurlburt is a two-time author who has covered golf in Las Vegas for more than two decades. He can be reached at bhurlburt5@gmail.com or @LVGolfInsider.
Local schedule
June 18: Discovery Children's Museum Classic, Red Rock
June 18-20: Summerlin Junior Championship, TPC LV, Cascata
June 20: USGA Junior Qualifier, Las Vegas National
June 23, 24: Southern Nevada Amateur, Legacy
June 26, 27: Anthem Junior Championship, Anthem CC
June 29-July 1: Cobb-Whalen Cup, Las Vegas National
July 9-11: Nevada State Amateur, TPC Summerlin
July 13: SNGA Tour, Siena
July 15-19: World Stars of Junior Golf, Paiute/Angel Park
July 24, 25: Royal Links Junior Championship, Royal Links
July 28, 29: TPC LV Summerlin Championship, TPC Las Vegas
Pro schedule
U.S. Golf Association
What: U.S. Open
When: Thursday-Friday, 8 a.m.-3 p.m. (FS1), 3-6 p.m. (KVVU-5); Saturday, 8 a.m.-5 p.m. (KVVU-5; Sunday, 8 a.m.-5:30 p.m. (KVVU-5).
Where: Southampton, New York.; Shinnecock Hills GC. (7,445 yards, par 70).
Defending champion: Brooks Koepka.
LPGA Tour
What: Meijer LPGA Classic
When: Thursday-Sunday, 10:30 a.m.-1:30 p.m. (Golf Channel).
Where: Grand Rapids, Michigan; Blythefield CC. (6,451 yards, par 71).
Defending champion: Brooke Henderson.