Variations of golf good for promoting the sport
Updated June 5, 2018 - 5:49 pm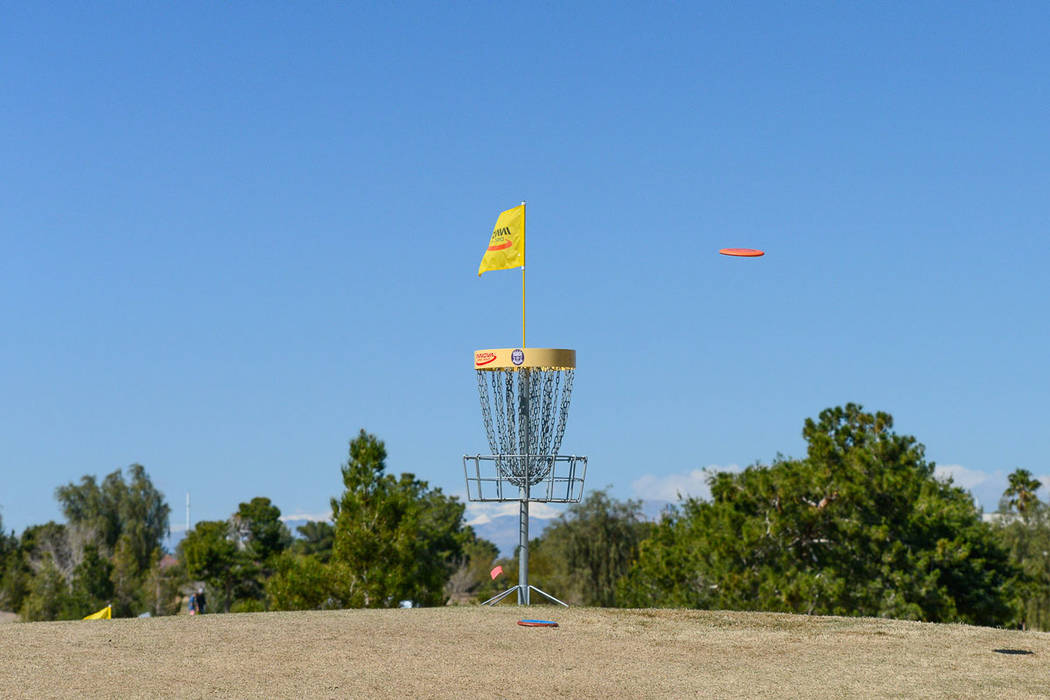 It's getting more and more difficult to define exactly what golf is.
To the purist, golf is defined as a game played by hitting a little white ball into a hole on a course while swinging irons, fairway metals and a putter.
But questions arise when pondering the sport's variations.
Is hitting balls and playing the target game at a Topgolf driving range real golf? What about Frisbee golf, which is officially known as disc golf, or foot golf, an offshoot played by kicking a soccer-type ball around the course?
And what about archery golf, which is being played at rural courses with bows and arrows? This variation places even more importance on taking cover when "Fore!" is yelled.
To me, golf is golf, and anything that gets more people out experiencing the beauty of a golf layout while helping to increase course revenues is a positive.
Wildhorse Golf Club has embraced disc golf and annually hosts several tournaments, including a large professional event featuring some of the world's best competitors. The course features an 18-hole disc layout that is open daily.
"Wildhorse partnered with the disc golf community about four years ago as an alternative revenue stream," Wildhorse general manager Jon Waddington said. "Over that time, the disc golf community and the Las Vegas Disc Golf Club have held numerous charity events at Wildhorse in addition to many other events. We feel that this charitable involvement and being a strong partner with more than just the traditional golf community is important to the long-term success of Wildhorse."
Siena Golf Club was the first course in America to offer FootGolf regularly, according to general manager Thom Blinkinsop. Foot golfers can "kick" in the late afternoons Sunday through Thursday and based on availability on weekends.
PGA club pros win titles
Anthem Country Club pro Troy Helseth won the recent Las Vegas City Professional Championship at Las Vegas Golf Club. Tim Peterson of Anthem and Jason Edmiston of Las Vegas Country Club were second. Wolf Creek's Darren Stanek won the senior division, and Las Vegas Paiute's Tom Fischer and Tom Storey were second.
More players move to Las Vegas
— LPGA Tour player Jenny Shin, who finished 27th on Sunday in the U.S. Women's Open, is now living in Las Vegas. She turned professional in 2010 and won the 2016 Volunteers of America Texas Shootout.
— Norman Xiong is following in the footsteps of his former Oregon teammate Aaron Wise in moving to Las Vegas. Xiong, the 2018 Jack Nicklaus Award winner for the top college golfer, turned pro after the NCAA Golf Championships and works with TPC Summerlin pro Jeff Smith.
Weekly deal
Play disc golf at Wildhorse for $10 per player including cart.
Stars on, off course
Former UNLV golfer A.J. McInerney shot 66 on Monday to qualify for this week's FedEx St. Jude Classic at TPC Southwind in Memphis, Tennessee.
The golf notebook appears Wednesdays. Freelance writer Brian Hurlburt is a two-time author who has covered golf in Las Vegas for more than two decades. He can be reached at bhurlburt5@gmail.com or @LVGolfInsider.
Local schedule
Sunday: SNGA Tour, Father/Son, Las Vegas National
Monday: United Way Benefit, Spanish Trail
Tuesday: HELP of Southern Nevada Round-Up, Cascata
June 18: Discovery Children's Museum Classic, Red Rock
June 18-20: Summerlin Junior Championship, TPC Las Vegas, Cascata
June 20: USGA Junior qualifier, Las Vegas National
June 23, 24: Southern Nevada Amateur, Legacy
June 26, 27: Anthem Junior Championship, Anthem Country Club
June 29-July 1: Cobb-Whalen Cup, Las Vegas National
Pro schedule
PGA Tour
What: FedEx St. Jude Classic.
When: Thursday, Friday, 1-4 p.m. (Golf Channel). Saturday, Sunday, 10-11:45 a.m. (Golf Channel); noon-3 p.m. (KLAS-8).
Where: TPC Southwind, Memphis, Tenn.
Defending champion: Daniel Berger.
LPGA Tour
What: ShopRite LPGA Classic.
When: Friday, 10:30 a.m.-12:30 p.m. (Golf Channel). Saturday, Sunday, noon-2 p.m. (Golf Channel).
Where: Stockton Seaview Hotel and Golf Club (Bay Course), Galloway, N.J.
Defending champion: I.K. Kim.
PGA Tour Champions
What: Principal Charity Classic.
When: Friday-Sunday, 4-6 p.m. (Golf Channel, tape delay).
Where: Wakonda Club, Des Moines, Iowa.
Defending champion: Brandt Jobe.