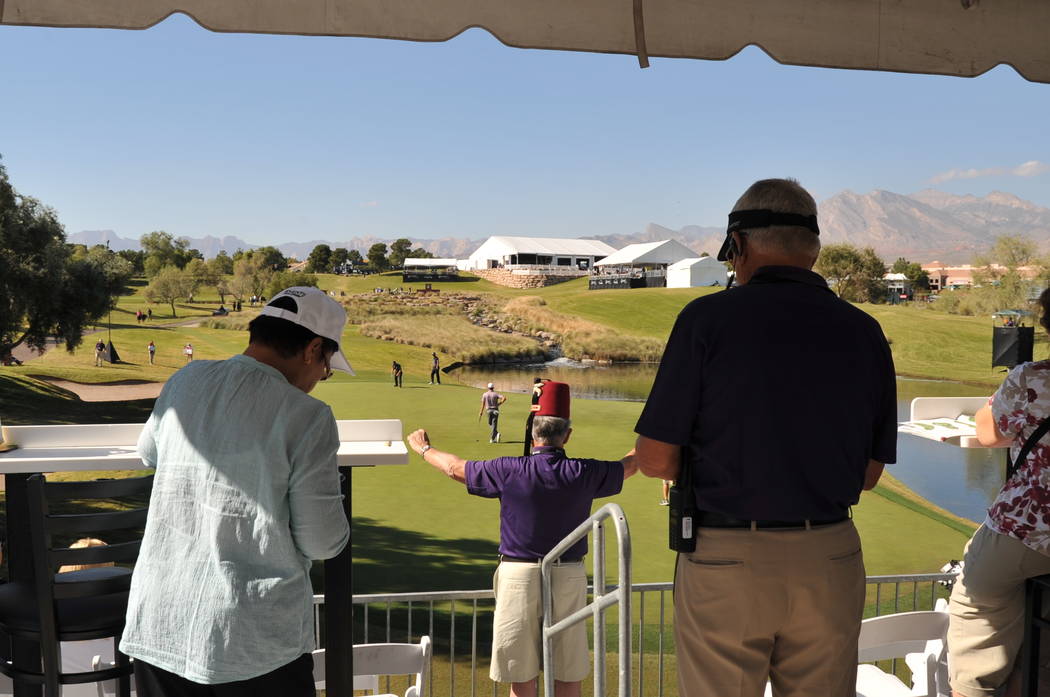 They don't do it for the recognition or to be thanked.
They volunteer because they enjoy giving back to the game.
More than 100,000 volunteers are behind the scenes, helping the PGA Tour organize more than 120 Web.com, PGA Tour and PGA Tour Champions tournaments. They have helped raise more than $2.4 billion for charities over the years.
The Shriners Hospitals for Children Open has a volunteer force of about 1,000 that assists tournament director Patrick Lindsey and the tour pros. Volunteer committees include ShotLink reporters, practice range monitors, admissions, walking scorers and ambassadors.
"Our volunteers are the absolute best," Lindsey said. "They are incredibly dedicated to not only the mission of Shriners children's hospitals but also to the positive impact our event has on the community."
Thousands of volunteers also gather annually to help the U.S. Golf Association operate local, regional and national championships for men, women and juniors. The men's and women's U.S. Open tournaments need about 7,000 volunteers to operate.
The local allied USGA association is the Southern Nevada Golf Association, which enlists volunteers as course rules officials, board members, junior golf helpers and other positions.
Edward Fryatt, a three-time reigning SNGA player of the year and former PGA Tour player, has experienced volunteerism at every level.
"Events don't happen without volunteers being so kind to give of their time and are willing to be away from their families to help pros and amateurs," Fryatt said after his victory at the SNGA's Reflection Bay Amateur last weekend. "We know it's not an easy gig, and when I was out on tour, sometimes it was a lifesaver when a volunteer spotted your ball or helped in other ways. They do so much for the players."
Volunteer information is available at shrinershospitalsopen.com or SNGA.org.
National scene
— Gabriell DeNunzio, McKenzi Hall, Riana Mission and Kyndall Newman are representing Southern Nevada in the Girls Junior America's Cup at Hiwan Golf Club in Evergreen, Colorado.
— Fryatt, Josh Goldstein and Daren Johnson are representing the SNGA in the Pacific Coast Amateur at Olympic Club in San Francisco.
Women's state champs
Veronica Joels, an incoming UNLV women's golf freshman, won the championship division of the Women's Nevada State Golf Association state stroke play at DragonRidge. My Paulsen (gross) and Nancy Dunn (net) won Silver division titles. In May, Joels won the boys Nevada state high school Class 2A championship for The Meadows.
Weekly deal
Summer rates at Wolf Creek, a top-100 course in Mesquite, start at $65 through Sept. 3.
Stars on, off course
LPGA Tour players Danielle Kang and Lizette Salas played at Absinthe last week.
The golf notebook appears Wednesdays. Freelance writer Brian Hurlburt has covered golf in Las Vegas for more than two decades. He can be reached at bhurlburt5@gmail.com or @LVGolfInsider.
Local schedule
Wednesday: Recruit Look Junior Championship, Royal Links
Aug. 1: U.S. Senior amateur qualifier, Legacy
Aug. 3: Golf Channel Best of the Bear, Bear's Best
Aug. 6: SNGA Social Series, Las Vegas Country Club
Aug. 6, 7: SNJGA Tour, TPC Summerlin
Aug. 17: SNGA Tour, Arroyo
Aug. 18, 19: Golf Channel Tour Championship, Bali Hai
Aug. 20: Men, Women-USGA Mid-Am qualifier, Red Rock
Aug. 24, 25: Westgate Superbook Classic, Las Vegas Country Club
Pro schedule
PGA Tour
What: RBC Canadian Open.
When: Thursday, Friday, noon-3 p.m. (Golf Channel); Saturday, Sunday, 10-11:45 a.m. (Golf Channel), noon-3 p.m. (KLAS-8).
Where: Glen Abbey Golf Club, Oakville, Ontario.
Defending champion: Jhonattan Vegas.
PGA Tour Champions
What: Senior British Open.
When: Thursday, Friday, 4-6:30 a.m., 8:30-11 a.m. (Golf Channel). Saturday, Sunday, 6:30-9 a.m. (Golf Channel), 9-11 a.m. (KSNV-3).
Where: St. Andrews Golf Club, St. Andrews, Scotland.
Defending champion: Bernhard Langer.
LPGA Tour and Ladies European Tour
What: Ladies Scottish Open.
When: Thursday, Friday, 6:30-8:30 a.m. (Golf Channel). Saturday, Sunday, noon-3 p.m. (Golf Channel, tape delay).
Where: Gullane Golf Club, Gullane, Scotland.
Defending champion: Mi Hyang Lee.