2-way contract could decide Theodore's fate in making Golden Knights
September 20, 2017 - 10:17 am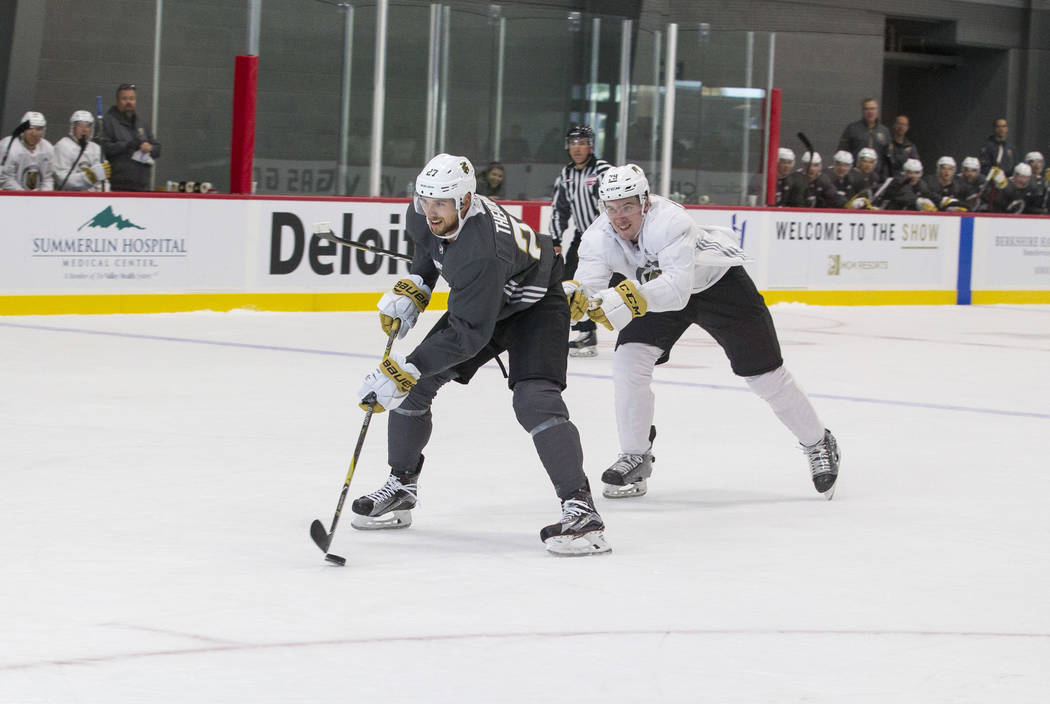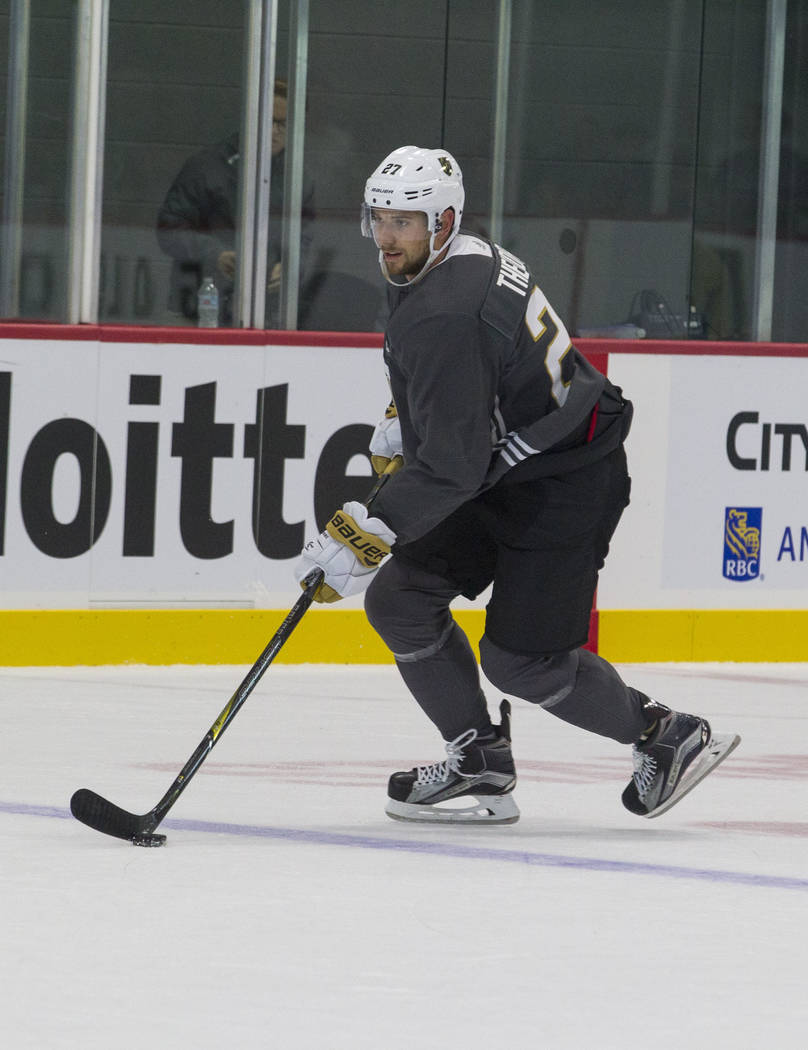 It was just a wrist shot from the point of an NHL preseason game in which most of the participants will be playing at lower levels within the next few weeks, one barely distinguishable nuance over three periods.
It was really nothing in terms of Shea Theodore's immediate place on the Golden Knights.
It was also everything.
If all was fair in love and hockey, Theodore would be secure in his place among the team's top defensemen, certain to be helping man the blue line for the Knights when they open the season at Dallas on Oct. 6.
But a team's fondness for a player is often impeded by the business side of things, and such could prove the case with Theodore as he tries to make a roster on which his skill suggests he very much belongs.
Traded to the Knights from Anaheim during the expansion draft, Theodore arrives still bound to an entry level contract, meaning he is waiver exempt and the team could send the 22-year old Canadian to Chicago of the American Hockey League to begin the season while not risk losing him to another franchise.
It's a great deal for the Knights.
It can stink for a player who has proven himself NHL-worthy.
"I'm here to play the best hockey I can and make the team," Theodore said. "In the back of my head, I know about the waiver exempt option, but you have to come in with a glass half-full mindset. I'm here to make the team and do what I can to stick on the blue line. That's all I can do.
"I'm not shy to the business side of it. I dealt with that for two years in Anaheim going between (the Ducks and AHL). But when I'm playing well, I know can play against anyone."
Which brings us to that wrist shot.
Theodore logged a team-high 23:12 among skaters for the Knights on Sunday, quarterbacking the team's first power play unit in a 9-4 win at Vancouver, much as he did for the Ducks at times during last year's playoffs.
But more than a standard wind-up-and-let-it-fly slap shot, Theodore constantly flicked wrist shots at the net, where goalies Richard Bachman and Thatcher Demko struggled all evening allowing rebounds.
On one such offering from Theodore, teammate Alex Tuch redirected the puck for a goal.
More than anything, Knights general manager George McPhee and head coach Gerard Gallant have championed the idea of a roster dominated by supreme skaters, a trait Theodore proved to own when playing 14 playoff games for Anaheim last season and 20 over the last two years.
He had eight playoff points while averaging 17:25 of ice time for a team that made the Western Conference Finals in May, displaying an offensive upside and ability to get pucks through on the power play often, not easy in today's game.
Developing chemistry is no different in hockey than it is football or basketball, a point man on the power play very much like the NFL quarterback learning exactly where his wide receivers come out of breaks or a lead guard in basketball knowing at what spot his post payers like the ball fed.
It takes time, definitely more than a few weeks of training camp.
And yet while such ice rapport is maturing, Theodore plans on showcasing other strengths to make it overly difficult for the team to think about sending him down.
The only time he wants to spend in Chicago is when the Knights engage the Blackhawks.
"I can skate and move the puck and am dynamic on the back end," he said. "I'm comfortable jumping into the rush but not to the degree I get caught and make bad reads. Apparently, I was a guy they wanted, so that puts me a little more at ease.
"When I'm good in my D zone and stripping guys with a good, hard stick, I think that will be noticed. I'm not going to take guys one-on-one. That's for Juniors and American League stuff. You can't get away with that here.
"I'm going to use my skating and show how fast I can move the puck. I feel like that's where my offensive flair can come in and my puck-moving skills and my skating skills. I feel like that's where I'll be able to make the difference."
It all should be enough for a trip to Dallas on Oct. 6, because if ability trumps business when deciding which eight NHL defensemen of the 11 who began camp make the cut, Theodore appears very much within the margin.
I suppose you never know until you know.
Or at least until you're on a plane headed to Texas and not the Windy City.
Contact columnist Ed Graney at egraney@reviewjournal.com or 702-383-4618. He can be heard on "The Press Box," ESPN Radio 100.9 FM and 1100 AM from 11 a.m. to 2 p.m. Monday through Friday. Follow @edgraney on Twitter.