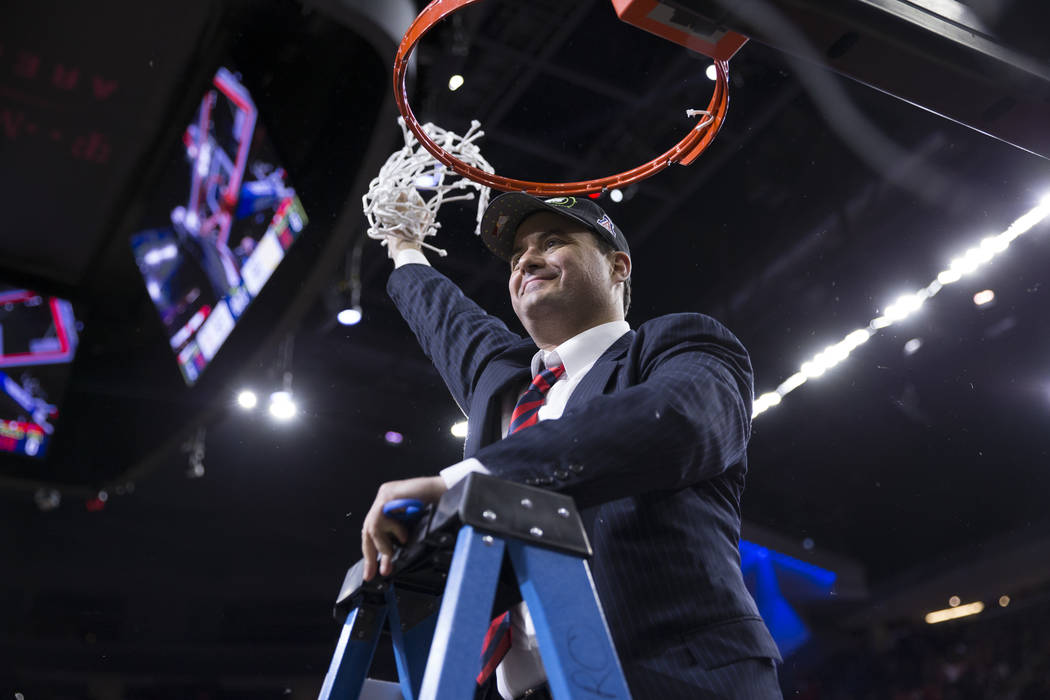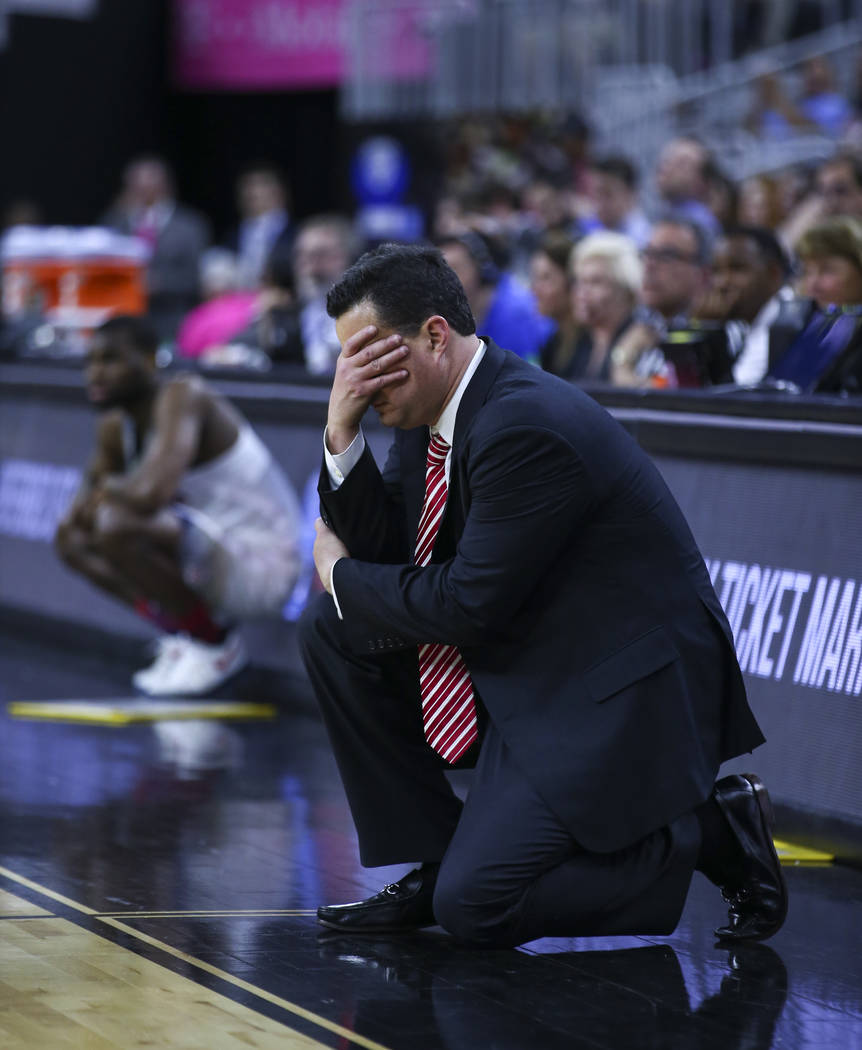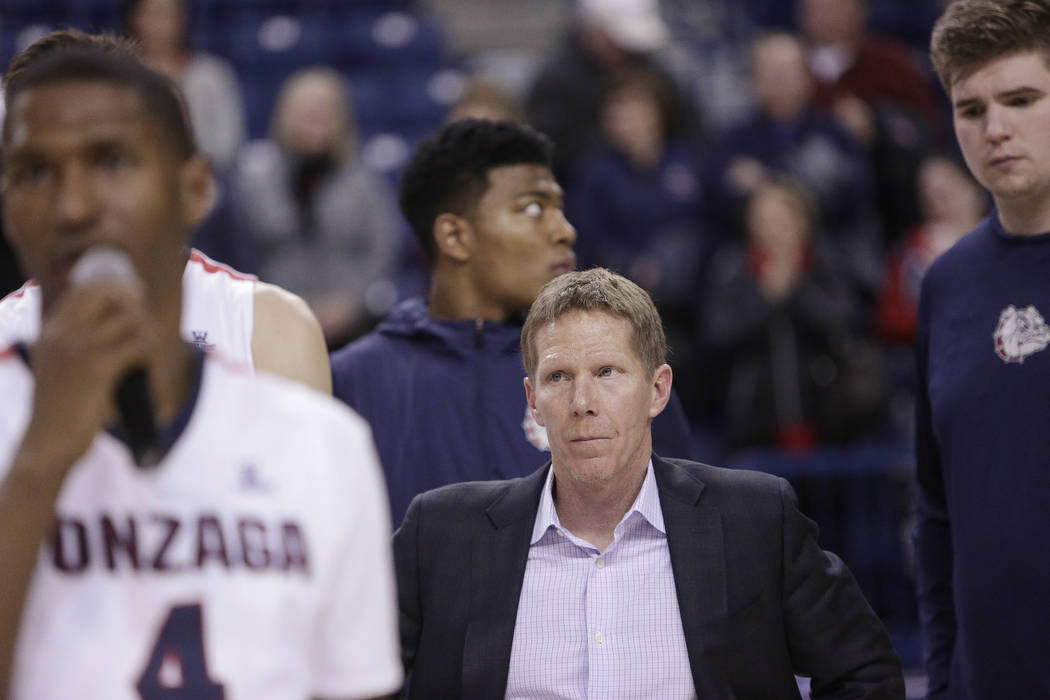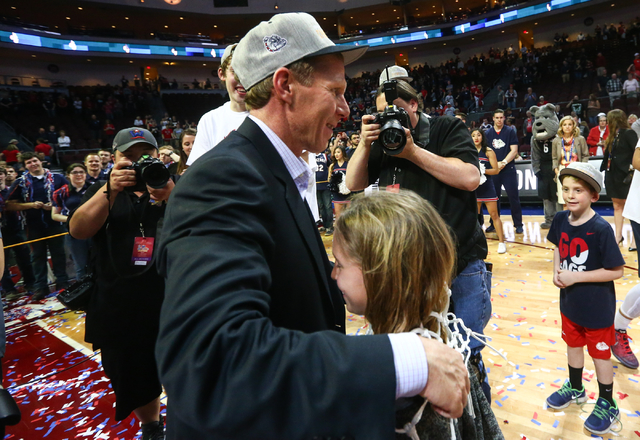 Do you remember how they messed up his hair, how his jacket was all wrinkled, how his was anything but the perfect appearance so long associated with Lute Olson?
Do you remember how he smiled through every misplaced strand of those chalky-white locks?
Time doesn't stroll. It sprints like Usain Bolt down a wind-aided straightaway.
Twenty years ago this month, Arizona's basketball team won its only national championship by beating Kentucky at the RCA Dome in Indianapolis, a moment that caused many to believe a geographical shift of sorts had taken afoot in the college game.
Two decades later, that movement never occurred.
We're still waiting for the next champion from the west.
March Madness has again arrived, and within the 68-team bracket exists a handful of western programs among those favored to be cutting down nets in Glendale, Arizona, on April 3.
Two — Arizona and Gonzaga — won their conference tournaments in Las Vegas last week. In a distance separated by a few stoplights and one incredibly profitable In-N-Out Burger, the Zags again reigned supreme over their West Coast counterparts at Orleans Arena, while the Wildcats stood taller than anyone else at the Pac-12 event at T-Mobile Arena.
But each won't have an opportunity to reach the Final Four, given the Zags are a No. 1 seed atop the West Region and Arizona is the No. 2. Should each open with three wins, an Elite Eight game between the schools would take place March 25 in San Jose, California.
"At the end of the day, it's about us being the most ready," said Arizona coach Sean Miller, whose team opens against North Dakota on Thursday in Salt Lake City. "We as a team have to play great and build on what we did (in Las Vegas). Our role and objective is to be ready. It's a matter of us taking a (No. 2) seed and advancing. You lose, it's over. Nobody talks about you. It's deafening. We have a special group of guys. We have a lot of energy. We have a will to win."
It's not as if Arizona or Gonzaga or UCLA or Oregon winning a national title this season would signify that balance of power transference so many believed would happen after Olson's team beat three No. 1 seeds en route to the 1997 championship.
But it certainly would help the West save a little face, or at least remind folks who can't stay up and watch those ungodly TV tipoff times and probably think LaVar Ball is some cartoon character instead of a real person that players in this part of the country can actually dribble and shoot.
The last team west of Lon Kruger's home in Norman, Oklahoma, to make a Final Four was UCLA in 2008, which ended three straight trips for the Bruins to college basketball's grandest party each March.
Stanford was really good under Mike Montgomery for a while. So was Utah under the late Rick Majerus. Oregon has carved itself out a nationally recognized program lately. UCLA is threatening again.
Teams from the West have been close, but none since Olson's group of giant slayers — the Wildcats took out No. 1s in Kansas, North Carolina and Kentucky along the way — has ascended that ladder with a pair of scissors to the tune of One Shining Moment.
Arizona has become a trendy pick of many to do so this time. The fact the Final Four will be in its state offers even more weight to the idea that if the Wildcats can escape a region that includes Gonzaga and Notre Dame and West Virginia and Florida State, such an advantage could push them up that ladder.
Then there is Mark Few's team, all 32-1 of itself, a Gonzaga program that has never reached a Final Four, that made the Elite Eight in 1999 and 2015, that has for some time now fought the perception that once the madness commences, the West Coast Conference power will eventually wilt before it can reach the grandest party.
Here we go again, then, with Gonzaga as a No. 1 seed and opening against South Dakota State in Salt Lake City.
"It's a reflection of the excellent season we had," Few said. "You have to scratch and claw and, at Gonzaga, you have to do it all year. We have to be really, really good all year. Then you throw out the seeds and you start playing. We have to be ready to play Thursday."
Will the West rise again?
If so, for old times' sake, someone find Lute Olson and mess with his hair.
Follow all of our NCAA Tournament coverage online at reviewjournal.com/MarchMadness and @RJ_Sports on Twitter.
Contact columnist Ed Graney at egraney@reviewjournal.com or 702-383-4618. He can be heard on "Seat and Ed" on Fox Sports 1340 from 2 to 4 p.m. Monday through Friday. Follow @edgraney on Twitter.
LAST 5 NCAA CHAMPIONS FROM THE WEST
Arizona, 1997
UCLA, 1995
UNLV, 1990
UCLA, 1975
UCLA, 1973
— The Bruins won 10 titles from 1964 to 1975.