51s waiting for fans to catch playoff fever
September 2, 2015 - 10:20 pm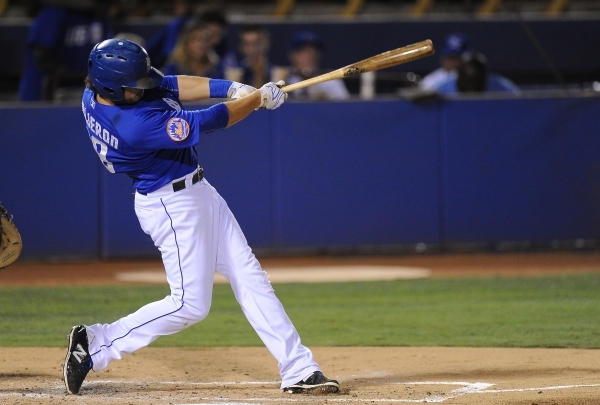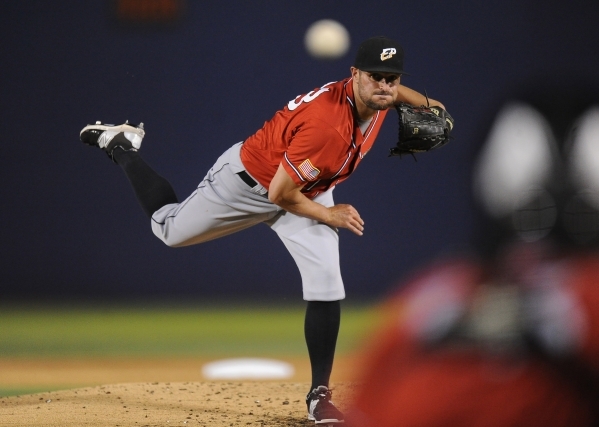 The line was three people deep outside the Cashman Field box office, and two were typically intelligent Dodgers fans from Oxnard, Calif., searching for a way to make their money last longer than a few hands at the tables.
The other person was my Review-Journal colleague, Ron Kantowski.
It was Monday, and playoff tickets for the 51s were about to go on sale, but those from Oxnard hadn't heard about the team's quest for a third straight postseason berth.
They were just hoping that night's game wouldn't be sold out.
At this point, if you know Kantowski, five mental one-liners were collected to be used in a column-to-be-named-later.
Where did the fine folks from Oxnard think they were, El Paso?
No one was camping out in anticipation of securing tickets for the playoffs or otherwise.
There were no tents erected at Backmanville.
The 51s on Wednesday night lost to El Paso 2-1 in 11 innings, but you wouldn't have caught much of a playoff fever by searching the stands, where a gathering of 2,651 watched with tepid interest of Las Vegas possibly clinching the Pacific Southern Division title.
Possibly isn't nearly as sure a bet anymore.
El Paso now trails Las Vegas by one-half game but is even in the loss column and has clinched the season series and first tiebreaker to decide the division winner should the teams finish the regular-season deadlocked.
The four-game series concludes at 7:05 p.m. today, when for the last time during the regular season, beer will be sold for $1.
Which means there will be far more folks outside the box office than two Dodgers fans and Kantowski.
Playoff baseball at the minor league level is different when it comes to how most who are interested in attending secure seats. Season-ticket packages don't include options for the postseason, meaning sales go back to zero across the board, meaning there is no built-in cushion and most end up making purchases in a very 2015 manner.
"That component (for the playoffs) is more online than it has ever been," 51s president Don Logan said. "Our ticket system makes it easy to access. You get the word out the best you can on Twitter and Facebook and Instagram and in the newspaper and on radio and television. Our core group of 700 to 800 people will be here no matter what and have already jumped in to buy (playoff tickets). It's not like the last few years, when we've had a (berth) secured by now. We don't have the same window this season if it happens for us."
I don't know how well the 51s will draw for the playoffs should they advance. Crowds for the first three games of what is a fairly enormous series were hardly inspiring. I do know how well El Paso would draw, given the Chihuahuas have sold out 51 home games this season.
(Enter the What Else Is There To Do in El Paso? joke here).
I know Phyllis Flaherty will be in her front-row seat down the first-base line at Cashman Field if given the opportunity. She has held 51s season tickets for 32 years, which might be a better argument than any for canonization while still living.
Phyllis is 85 and already has her playoff tickets, having a friend who lives close to the ballpark purchase them at the box office.
Old-school, is right.
"It saved us the $10 on the processing fee had we bought them (online)," Phyllis said. "I've made a lot of friends over the years. I liked the Padres the most of any (major league affiliation) that was here. I never liked the Dodgers very much."
Forget what I wrote about Phyllis and sainthood.
Should the 51s advance to meet Pacific Northern champion Fresno, Games 3, 4 and 5 would be played in Las Vegas. That would include one on Sept. 12, the same day UNLV football has its first home game under first-year coach Tony Sanchez against UCLA. Logan has already decided the baseball game would start at noon so as not to interfere with a 7:30 p.m. kickoff at Sam Boyd Stadium.
"To me, you have to be smart," Logan said. "This is the biggest-named opponent UNLV has had at home probably since Wisconsin was here last. We want people to support UNLV football, and we can't be an impediment to that. At the same time, we want people to come out here and watch good baseball and give our guys an extra boost."
Russ Langer is one who believes they should, the play-by-play radio voice of the 51s who reminds you that the team has been in first place every day except one since April 28, that the roster during this season has featured big-time names and now New York Mets such as Noah Syndergaard and Steven Matz, that most Pacific Coast League players are booking fishing trips right now instead of fighting for a championship.
"It's always better to be in it this late in a season," Langer said. "It would be nice to have things on ice, but there is a lot to be said to be in this position, too. And another good thing we have is a charismatic manager in (Wally Backman). He's great with the media. He's not a company guy. He's going to say what's on his mind."
All true, but he still hasn't reached Krzyzewskiville status when it comes to tents being erected before a big game.
By losing Wednesday, when the 51s managed just three hits over 11 innings, the odds of postseason games occurring took a bit of a hit.
Phyllis just might have to settle for watching the Dodgers in the playoffs.
Ed Graney can be reached at egraney@reviewjournal.com or 702-383-4618. He can be heard on "Seat and Ed" on Fox Sports 1340 from 2 p.m. to 4 p.m. Monday through Friday. On Twitter: @edgraney.