8 days later, Rebels get survival rematch against UNR
Updated March 7, 2018 - 7:52 pm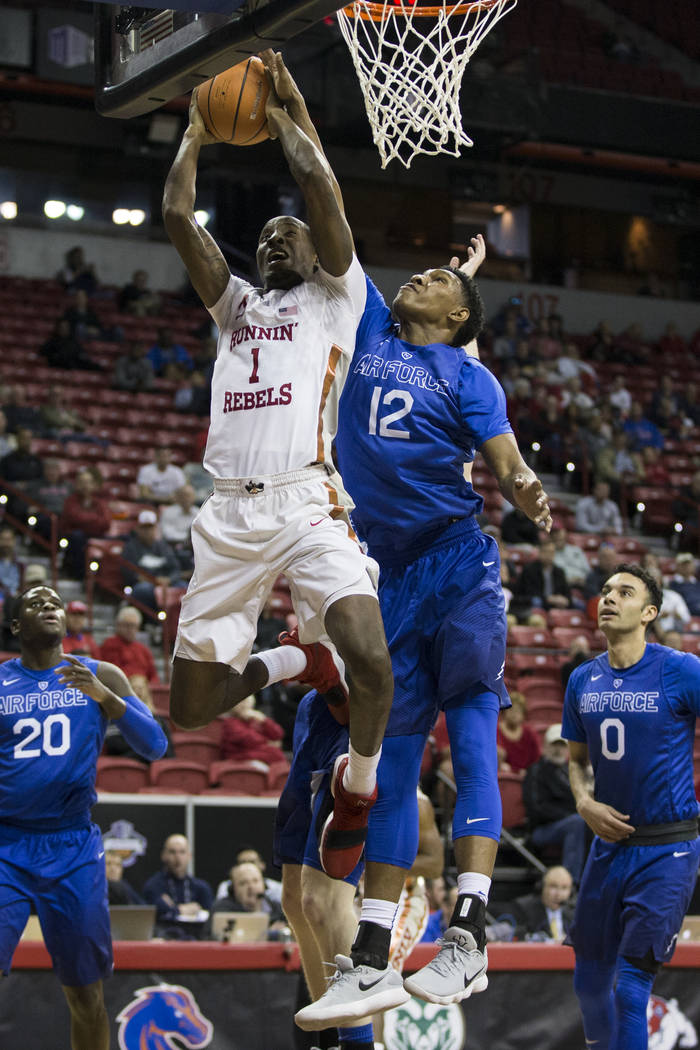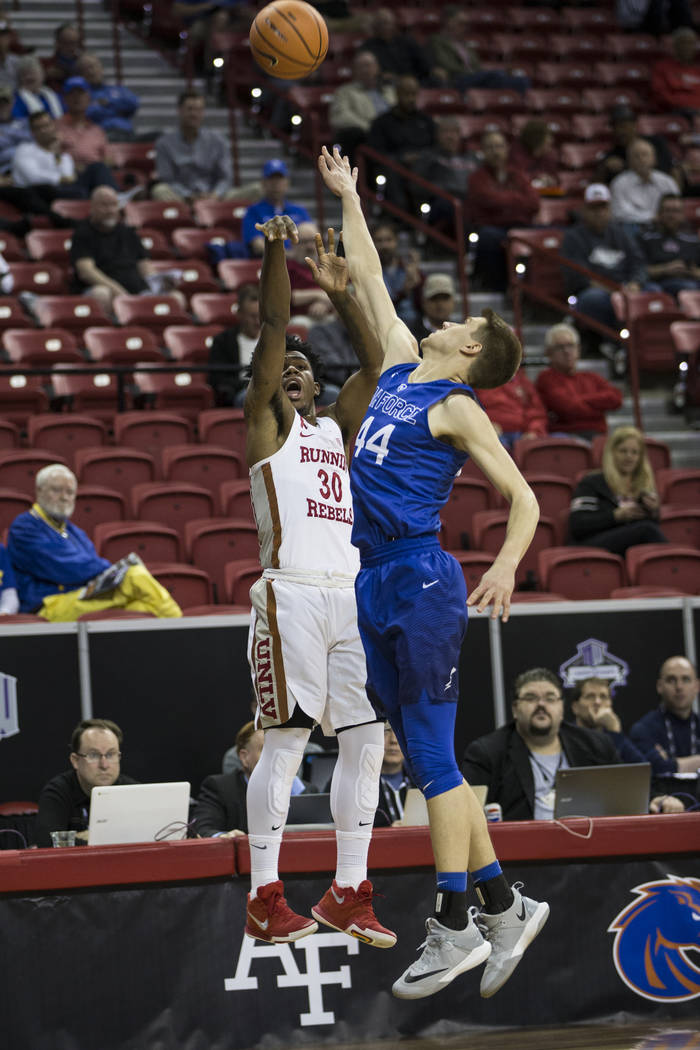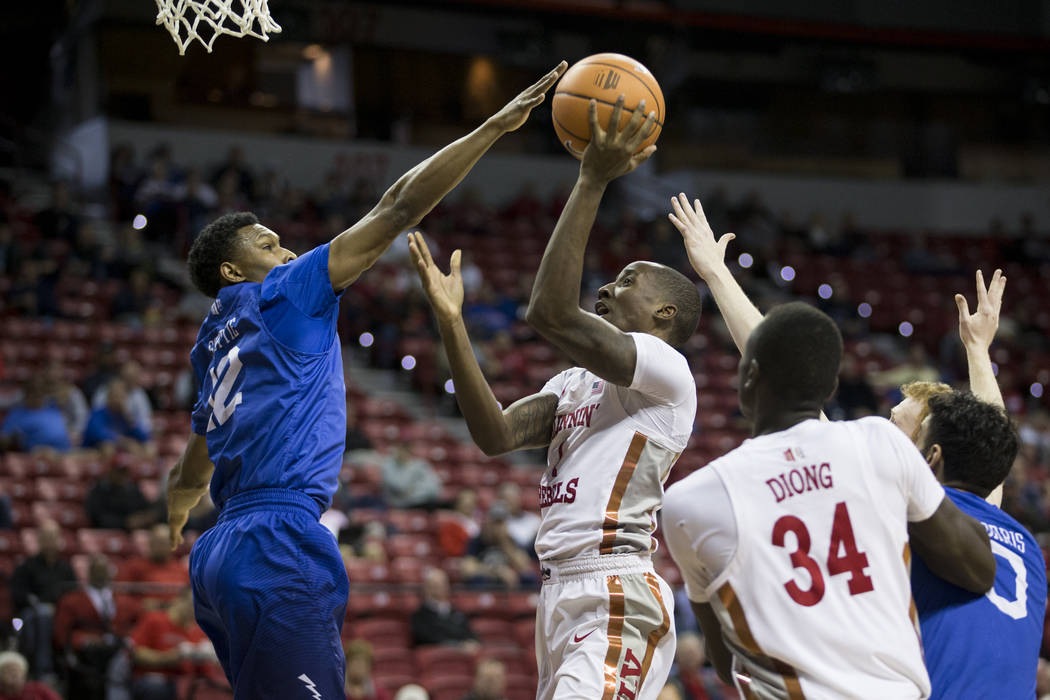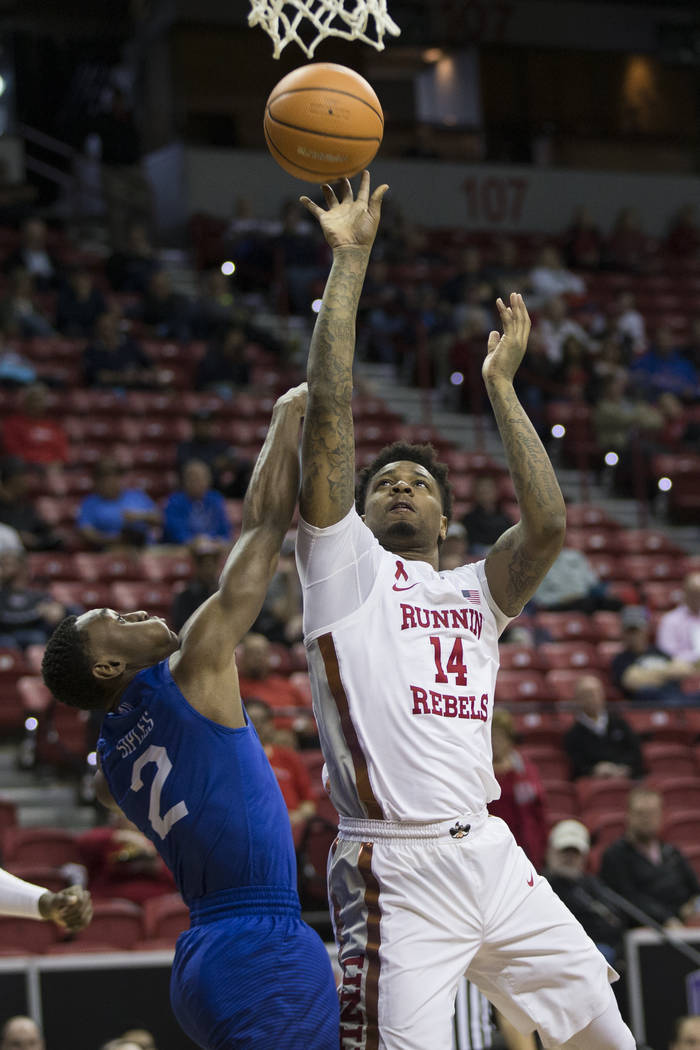 If motivation was an issue eight days ago — and, amazingly, for whatever bizarre reason, that was the case in the first half — it shouldn't be now.
Survival might be about talent, but it's also about a whole bunch of effort, and nothing seems to bring out the latter in college basketball teams like March.
UNLV lives for another day in the Mountain West men's basketball tournament, having outlasted Air Force 97-90 in overtime Wednesday in a first-round game at the Thomas & Mack Center.
The prize for the winner: A matchup against No. 1 seed UNR at noon Thursday.
The Rebels and Wolf Pack met last week at the T&M, and it was rout city. UNR left with a 101-75 win, the fourth of what would be a five-game losing streak for UNLV to end its regular season.
How bad was it?
The heavy dose of salt had been poured into UNLV's prideful wounds far earlier than when UNR inserted two football players who joined a team thin on bodies late in the season.
One of them actually scored the basket that put the Wolf Pack into triple digits.
Lots of salt. Lots of wounds.
Eight days later, UNLV gets another shot at its rival and the league's best team.
Eight days later, the Rebels are afforded a chance to erase from their memories what was a staggering lack of spirit and focus.
Not to mention defense.
"It's good for us in the sense that we're on a schedule now that's very consistent," Rebels coach Marvin Menzies said. "The (players) won't have the opportunity to be distracted. Typically, you approach all (tournament) games like it's your rival because you want your guys playing at their top, maximum level. These (games) are weighted a bit more based on the circumstances."
UNLV can beat UNR. It already has, an 86-78 decision Feb. 7 in Reno, and while it's true a then-injured and Mountain West Player of the Year Caleb Martin didn't play for the Wolf Pack, road wins against Top 25 teams are never to be shortchanged. The Rebels were just better.
UNLV is one of those teams that, when playing well, often rises to a level where it becomes possible to win a game few believe it can. But it's not a group that can beat anyone good when effort and execution wane.
The former was there against Air Force, and while the latter again disappeared defensively for stretches, UNLV had too much Brandon McCoy and Shakur Juiston (a combined 44 points, 16 rebound and four blocks) for the Falcons to handle.
"As of (Thursday) morning," Air Force coach Dave Pilipovich said, "I'm going to start campaigning for (McCoy) to go to the NBA."
The Rebels might have played five extra minutes in an event at which they need to win four games in four days to earn the league's automatic NCAA Tournament berth, but teams who are deep enough usually can get through at least two matchups before tired legs and serious fatigue really emerge.
Hence, UNR, whose NCAA Tournament seed could depend on how they play this week, opened as just a 5-point favorite against UNLV.
"It's going to have to be a team win," Menzies said. "We're not going to beat Reno if we come in and rely on the bigs or rely on the guards. (UNR) is too good. They're one of the top teams in the United States, and we're building a foundation trying to figure out what bricks need to be in what place.
"It's going to be a challenge. They're really good. I don't think it's going to be a game where you can just rely on a particular position."
Eight days ago, in the midst of losing its final five regular-season games, UNLV didn't put up a fight and UNR laughed its way to a blowout.
The Rebels earned an opportunity to avenge that embarrassing loss and live for another day.
Having enough talent won't be a problem.
And yet for UNLV to have any chance, effort and focus better not be.
More Rebels: Follow all of our UNLV coverage online at reviewjournal.com/Rebels and @RJRebels on Twitter.
Contact columnist Ed Graney at egraney@reviewjournal.com or 702-383-4618. He can be heard on "The Press Box," ESPN Radio 100.9 FM and 1100 AM, from 11 a.m. to 2 p.m. Monday through Friday. Follow @edgraney on Twitter.