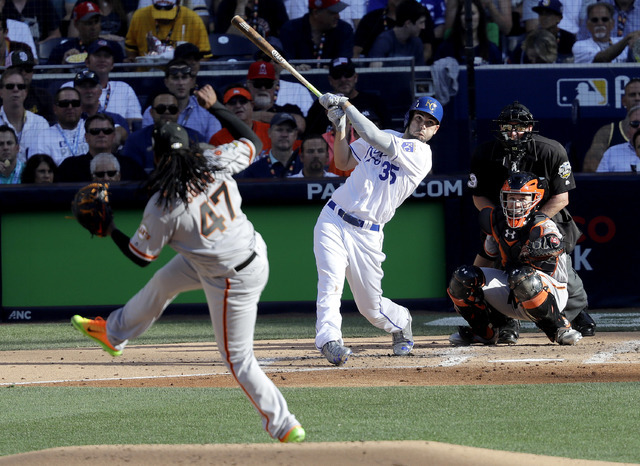 SAN DIEGO — In most ways, there is no comparison: Major League Baseball does the All-Star experience better than any other sport.
Most ways.
It's not like the NBA in that participants actually try to make defensive plays, not like the NHL in that it doesn't need gimmicks and payouts to generate interest, not like the NFL in that it doesn't go soft for fear of guys getting hurt.
Does the Flag Pro Bowl still exist?
We saw it again Tuesday night at Petco Park when the 87th edition of the All-Star Game was contested, when a pristine field suggested that if the Padres had the sort of talent in their lineup that obviously exists within their grounds crew, San Diego would win a heck of a lot more games.
The American League won its fourth straight All-Star Game, 4-2, before 42,386, which is potentially really good news for teams such as the Rangers and Orioles and Indians and not so much for sides such as the Giants and Cubs and Nationals.
I say this because of the one major strike that continues to overshadow what is often an entertaining enough game on its own merits, the fact that home-field advantage in the World Series is still bestowed on the league whose All-Stars prevail in what, in most every other way, remains an exhibition.
Those who matter, which means the players, hate the rule, a direct result of that tie game in 2002, after which then-commissioner Bud Selig overreacted and pushed for higher stakes to the result than how many autographs and memorabilia players collect from teammates over a few days.
"It's the All-Star Game," said Cubs third baseman and Bonanza High alumnus Kris Bryant. "It's a fun event. The fact (home-field advantage) for the World Series is at stake, it makes it a little tough to see the game for what it is. The team with the best record during the season should always get (home-field advantage).
"I don't have a vote. I get to go out and play, which is an honor, and I will certainly always do my best to try to have an impact on the game and help us win."
He had a short-term but immediate one Tuesday, homering off Chris Sale of the White Sox in the first inning, the same Sale whom Bryant was 0-for-6 with six strikeouts against coming in.
Mike Bryant is Kris' father and was said to have gone, well, a whole lot of crazy when his son's laser crashed into the left-field scoreboard. But it was also Mike who showed off his scouting skills when telling Kris beforehand that Sale would throw him a first-pitch fastball.
"Sometimes I have to calm him down, but I wouldn't change a thing about my dad for the world," Bryant said. "The home run was really special. I guess it doesn't count for career stats, so I'm still 0-for-6 with six strikeouts against Chris Sale."
The game was a wonderful spectacle, and that's beyond the immaculate playing surface and the fact Mother Nature long ago decided it sacrilegious to impose any of her bad days on this city.
Baseball honored Hall of Famers in Rod Carew (American) and the late Tony Gwynn (National) — two of the greatest to stand in the batter's box — by naming each league's annual batting championship award for them. You haven't seen eternal love for an athlete until you witness how San Diegans react to any mention of Gwynn.
Trevor Hoffman delivered the game ball to home plate by strolling in from the bullpen to the blaring of "Hells Bells," causing the hometown crowd to erupt in an emotional salute to one of the most popular Padres in franchise history and its all-time saves leader. There was a delay to begin the sixth inning in which fans stood up to cancer by holding placards with names of those they know have battled the disease as Rachel Platten sang her top 10 single "Fight Song."
Bryce Harper told Bryant all he wanted to do was get a hit, and the Las Vegas native and Nationals outfielder did so with a third-inning double. David Ortiz was lifted in the third inning of his final All-Star Game, and the Red Sox great was greeted with countless hugs and handshakes. The Royals' Eric Hosmer, whose two hits included a homer, was named the game's MVP.
"It's a huge advantage to have home field in the World Series," said Hosmer, who saw firsthand its importance last year as Kansas City won both its games at Kauffman Stadium to take a 2-0 lead on the Mets en route to winning the title in five games. "We don't know what (American League) team will be in it this year, but they will start at home."
Because of a stupid rule.
I'm all for every team being represented in the game. I get that part. Every fan base wants to see at least one of its own, and this is still a game for the fans, right?
But if you're going to keep that tradition and, because of it, some of the best players in both leagues are annually left out, then bury this home-field advantage in the World Series nonsense once and for all.
Nobody likes it.
At least not the guys who matter most.
Ed Graney can be reached at egraney@reviewjournal.com or 702-383-4618. He can be a heard on "Seat and Ed" on Fox Sports 1340 from 2 p.m. to 4 p.m. Monday through Friday. On Twitter: @edgraney