Amir Khan, not Pacquiao, Mayweather's deserving foe
December 14, 2014 - 11:26 am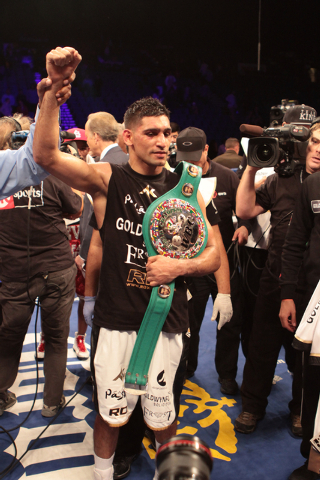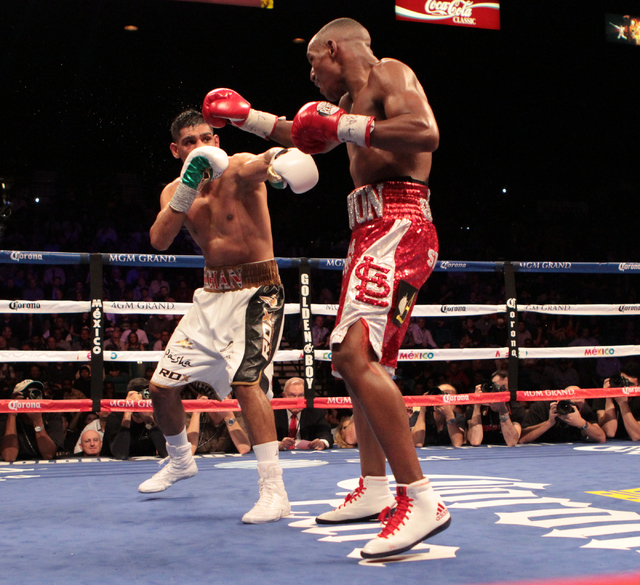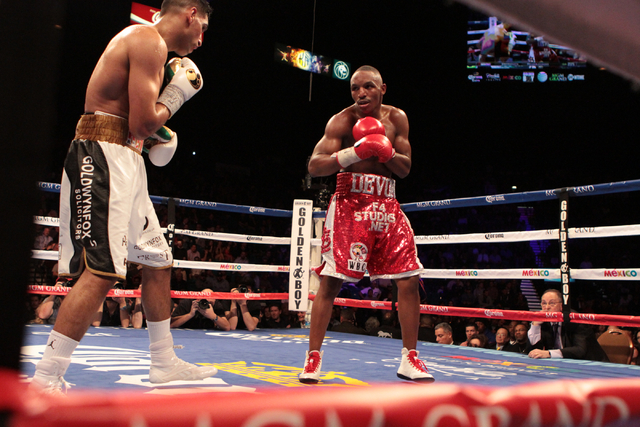 Last year, no one really pushed for it. No one really wanted to see it.
No one really batted an eye when it didn't occur.
Floyd Mayweather Jr. obviously didn't feel it a big enough fight to warrant his attention.
He was correct back then.
I'm not so sure now.
This is always the tough part: Predicting how a fighter who looked as dominating as Amir Khan on Saturday night might translate in the ring against Mayweather.
Khan was more impressive than at any point over 33 professional fights, rolling to a unanimous decision welterweight victory against Devon Alexander before 7,768 at the MGM Grand Garden.
The judges scored it 120-108, 119-109 and 118-110.
It was that terrific a performance and then some.
But how would this Khan (30-3), so sharp, so fast, so balanced, so good, fare against Mayweather?
How would all the skill that overmatched Alexander from the first round combat the world's greatest?
"This is the best Amir Khan we have ever seen," said Golden Boy Promotions president Oscar De La Hoya. "I know now why Mayweather wouldn't want to fight him. I wouldn't want to fight him. He is hitting his peak. He looked incredible. I have a feeling Mayweather will think twice about it now.
"Khan almost fought a perfect fight against a southpaw, which is very difficult. His speed and angles would give (Mayweather) trouble. You can see the determination in Khan's eyes. He wants Mayweather. You can see it in his work ethic and now this fight. He's only getting better."
You could normally chalk the above comments up to your average promotional rhetoric.
But not with this Khan. Not with the guy who fought Saturday.
I'm tired of the Mayweather-Manny Pacquiao soap opera.
Tired of the lies from everyone. Tired of Mayweather calling out the other side one day and Top Rank chairman Bob Arum doing the same the next. Tired of the same old excuses. Tired of both camps claiming to care one iota about the fans, which is the biggest joke of all. Tired of old talk about drug tests and new talk about TV rights. Tired of the tweets. Tired of the taunts. Tired of the chatter about how much money each guy deserves.
Get over it. Both sides long ago became boring.
Tired of making bets on whether Pacquiao actually could be a worse basketball player as he is a singer.
OK, so I'm not tired with that.
Khan thought he was going to get a fight with Mayweather last year, but the champion didn't call the correct lottery ticket numbers for it to happen. If he does now, Mayweather just might find himself in a tougher tussle than ever imagined.
That last part isn't certain, of course. Khan's career low points have been defined by a glass jaw, and yet Alexander could never throw anything hard enough to either hit it or hurt him.
This was about an elite guy (Khan) pummeling a professional guy (Alexander).
Elite almost always wins.
"We worked hard for this fight," Khan said. "I have the quickest hands in the world and the best jab in the business. I have proved myself a force. I deserve to fight Floyd Mayweather next year. I'm getting better with age. I'm better now at 28 than I was at 26. I made a statement in the welterweight division with this fight. I have proven I should get Mayweather."
It's almost impossible to argue now and, given the continued childish back-and-forth between the Mayweather and Pacquiao camps, seems by far the most interesting fight for next summer.
Alexander said all week that speed would make the difference against Khan. He was right, but not in the way he forecast.
Khan's hand speed was electric, and it would be intriguing to see if it could penetrate Mayweather's historically great defense.
Last year, no one cared to wonder.
They should now.
"His performance was great," said Virgil Hunter, Khan's trainer. "It was a 9.9 out of 10. He would venture from the game plan a bit, but then come right back to it. He proved he can step up to the next level of competition."
That would be a fight against Mayweather, if the undefeated champion sees fit to offer one.
Or, as one veteran boxing scribe offered late Saturday: "Maybe this decision will drive Floyd to fighting Manny instead. It might be an easier fight."
Last year, no one would have believed that for a second.
But no one had ever seen this Amir Khan.
Las Vegas Review-Journal sports columnist Ed Graney can be reached at egraney@reviewjournal.com or 702-383-4618. He can be heard from 11 a.m. to 2 p.m. Monday through Friday on "Gridlock," ESPN 1100 and 100.9 FM. Follow him on Twitter: @edgraney.