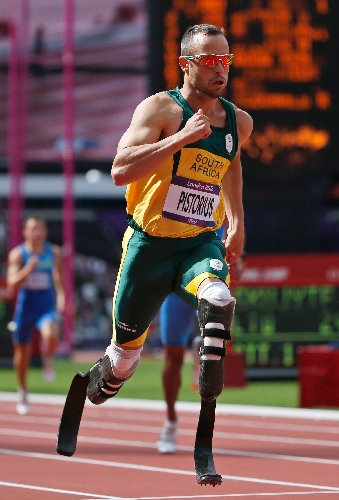 LONDON — This is a debate between the head and the heart, and the heart will win out every time you watch Oscar Pistorius run.
There is no easy answer, no textbook to consult, no precedent from which to point when the question of his belonging arises.
There also is no way to stand in a mixed zone among hundreds of reporters and not feel every bit of what defines the Olympic and human spirit as Pistorius so emotionally chronicles his journey.
It oozes from the South African.
It engulfs you.
Damn the head, anyway.
They rose and cheered to a deafening decibel Saturday morning at Olympic Stadium, 80,000 strong to witness the first double amputee to compete in the games. Pistorius was born without a fibula in both legs, and doctors amputated them when he was 11 months old. He runs on carbon fiber blades called Flex-Foot Cheetahs and has sprung into a sea of controversy for years that has swelled to staggering heights.
The Blade Runner is a four-time gold medal winner in the Paralympics but has lived and dreamt and fought for this moment: He advanced to today's semifinals in the 400 meters with a season-best effort of 45.44 seconds, a range that might get him to Monday's final and might not.
He won't likely medal if there.
The question is that of advantage and if he owns one over able-bodied runners he competes against and, well, those he beat in his heat Saturday.
Simply, is it fair?
Simply, I couldn't care less.
I view his story much like that of Lance Armstrong, whom I always have believed propelled himself to seven wins at the Tour de France through the use of performance-enhancing drugs. I believe Armstrong doped.
But if it took such ways to stand atop a podium so many times after beating cancer and cause those tens of millions of yellow LIVESTRONG bracelets to empower those affected with the dreaded disease, the greater good outweighed the potentially tainted results.
Pistorius also inspires, hopefully awakening those amputees who might believe they can't possibly live life to the fullest if their bodies aren't whole.
"I didn't know whether to cry or not," he said. "I had a mixture of emotions. … It's really mind-blowing. It was very difficult to separate the occasion from the race.
"I thought about my mom today. She was bit of a hard-core person. She always said a loser is not person who gets involved and comes in last, but it's the person who doesn't get involved at all."
She passed when he was 15, but his 89-year-old grandmother was among those family members present Saturday. He saw her before settling into the blocks. She was waving a small South African flag. He smiled.
It has been a long road.
Technology is a wonderful and at times frightening thing, and you can be sure that if it advanced to the point where prosthetics gave athletes like Pistorius a decided and obvious edge over able-bodied runners, the governing bodies that oversee the Olympics would make like they did with neoprene swimsuits and remove them from competition.
For now, he runs, glides, springs into the hearts of those watching.
"He has created history," 400 meters world champion Kirani James of Granada said. "I have a lot of respect for the guy. He's a great person, most important. If he wants to compete with us, it is what it is. He has a love for track and field and adds another element to our sport that will generate a lot of interest in our sport.
"It's a good thing that he's out here competing."
The Court of Arbitration in 2008 overturned a ruling that barred Pistorius from competing in the Olympics, and 80,000 strong and a worldwide audience and the games themselves all were better for it Saturday.
As he settled into the blocks in Lane 6, bright sunlight swept away a light rain, and all eyes rested on the 25-year-old runner with carbon fiber blades for legs.
He was strongest the final 50 or so meters, realizing as he crossed the finish line that his was a time good enough to qualify for the semifinals.
He saw a "Q" next to his name, and the emotions began to spill out.
"If I have to listen to the 5 percent of negativity, I wouldn't be here," he said. "I have to rely on the 95 percent of the support I get. It is a mixture that you want to believe you have the self-confidence to do well, but human nature wants to make you doubt yourself a bit.
"My mother said to us one morning, 'Carl (his brother), you put on your shoes, and Oscar, you put on your prosthetic legs,' and that was the last we heard of it. I didn't grow up thinking I had a disability. I grew up thinking I had different shoes."
Oh, yeah. The heart wins out every time.
Las Vegas Review-Journal sports columnist Ed Graney can be reached at egraney@reviewjournal.com or 702-383-4618. He can be heard from 11 a.m. to 2 p.m. Monday through Friday on "Gridlock," ESPN 1100 and 98.9 FM. Follow him on Twitter: @edgraney.