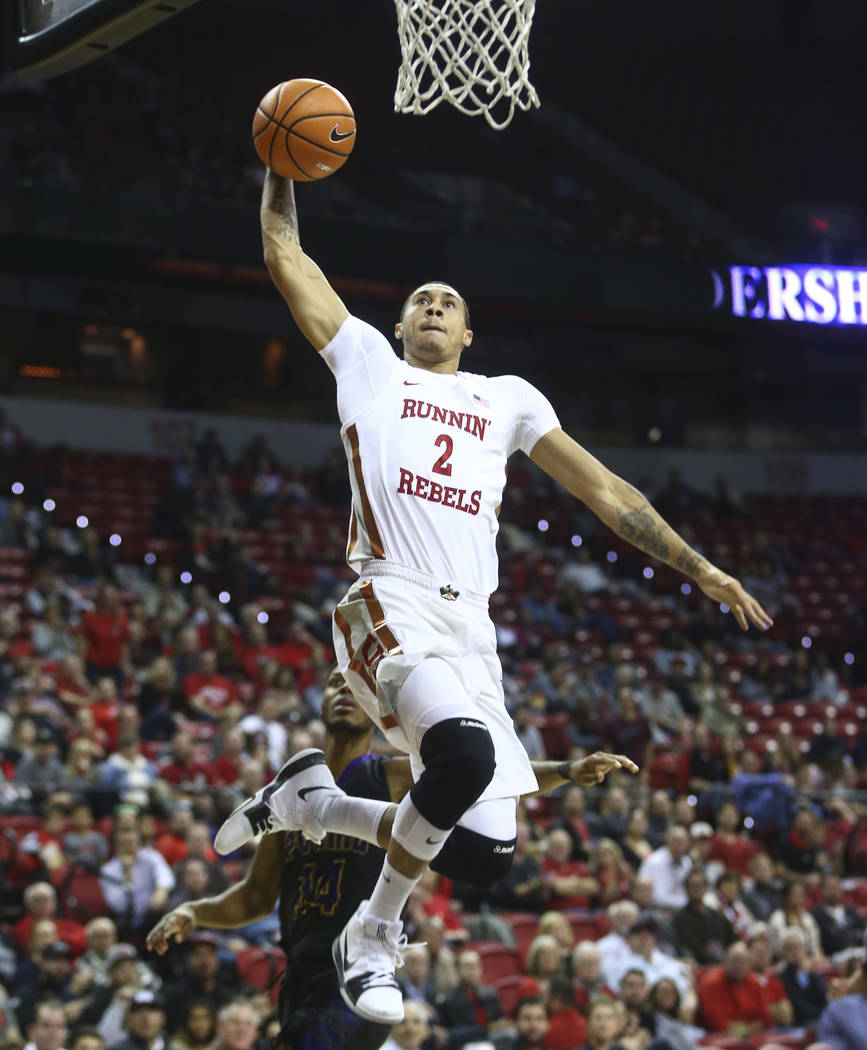 He wasn't a guy who made headlines. He might have eaten at McDonald's, but never wore an All-American jersey with a patch of the golden arches on it.
He was all-Golden Valley Conference pick, and don't feel bad if you have no idea what that means.
He never played a second of varsity ball in high school.
Anthony Smith, though, is the kind of basketball player UNLV needs more of, now and in the future.
"Never in a million years could I have imagined this," he said.
The hype that surrounded a first full recruiting class of second-year coach Marvin Menzies mostly pointed at freshman Brandon McCoy and junior Shakur Juiston, at one of the nation's elite prep talents and the national junior college Player of the Year.
Amauri Hardy, a freshman guard who de-committed from a Big 12 program in Oklahoma State, also received far more exposure than Smith.
It was all deserved for those above, all warranted in a time when social media has made college recruiting a tempest of interest across the country.
Fans just eat that stuff up.
But in concluding its A&M blowout portion of the slate — UNLV routed Prairie View A&M 98-63 on Wednesday night after earlier throttling Florida A&M and likely not yet quite ready for Texas A&M — Smith in just the season's second game offered more than a glimpse of skill that can absolutely translate to team strengths this year.
He finished with 17 points on 8-of-10 shooting and seven rebounds in just 21 minutes, immediately setting a tone off the bench. He's raw, sometimes follows an electric play with a foolish one, a highlight dunk with a silly foul, but his effort is unquestioned.
More than the four consecutive trips in which he scored — layup, tip-in, jumper, 3-pointer, all during an early two-minute stretch — it might have been the dive for a loose ball that said the most.
Two games in, the 6-foot-4 Smith has twice sent his body flying out of bounds.
That, more than anything, is how you remain on the floor when games tighten as they invariably will.
He just seems to play as if on a mission that reaches beyond the game.
UNLV didn't have many options last season. It didn't own an abundance of quality reserves when starters couldn't execute. Its depth was that of an empty kiddie pool.
That's not the case now, and players like Smith, a transfer from Feather River (California) College, is a major example.
"I've had a long journey coming out of Sacramento, California," said Smith, who averaged 20.5 points and 8.8 rebounds as a JUCO sophomore. "I was back-and-forth to a few high schools, figuring out what I was going to do in life … Didn't play high school past junior varsity, went to community college, did my two years and received my (associate degree), in the process I had three beautiful girls — actually twins and a 1-year old — and got a scholarship to come here. Now, I'm on a new journey.
"This is going to be a great journey."
UNLV is better in most every way this season and while not yet challenged athletically or in any other other manner, there's no question it's more active defensively.
The mighty Panthers of Prairie View A&M had 21 turnovers and yet not all were a result of them passing to the wrong jersey, although they were pretty efficient at that.
But before it turned those 21 miscues into 32 points, UNLV did its part to force many of them.
That takes energy, and Smith has plenty to offer.
When names began to surface of those committing to the Rebels for this season, two early ones were freshman Jay Green and Smith. At that point, UNLV was hardly mentioned among those landing one of the nation's top classes.
But then the headlines really screamed when the likes of Hardy and McCoy and Juiston also announced their intentions to become Rebels.
Fans ate it up, all right, and deservedly so.
Smith, however, seems intent on making them realize he too will play a major role in the journey.
Both his and that of UNLV.
"(Wednesday) was a small sample size of the energy he plays with," Menzies said. "A little undisciplined at times, but he's going through the process. He's a good player. We just have to keep him where he's at right now — engaged in his own development and locked in."
Hey, he's 2-for-2 diving out of bounds for a loose ball.
Every program needs more of that.
Contact columnist Ed Graney at egraney@reviewjournal.com or 702-383-4618. He can be heard on "The Press Box," ESPN Radio 100.9 FM and 1100 AM, from 11 a.m. to 2 p.m. Monday through Friday. Follow @edgraney on Twitter.
Anthony Smith
UNLV Basketball
Hometown: Sacramento, California.
Year: Junior.
Height: 6-4.
Position: Forward.
Averages after two games: 20 minutes, 11.5 points, 7.0 rebounds.