Arden could be the Key to aiding Raiders pass rush minus Mack
Updated September 4, 2018 - 5:41 pm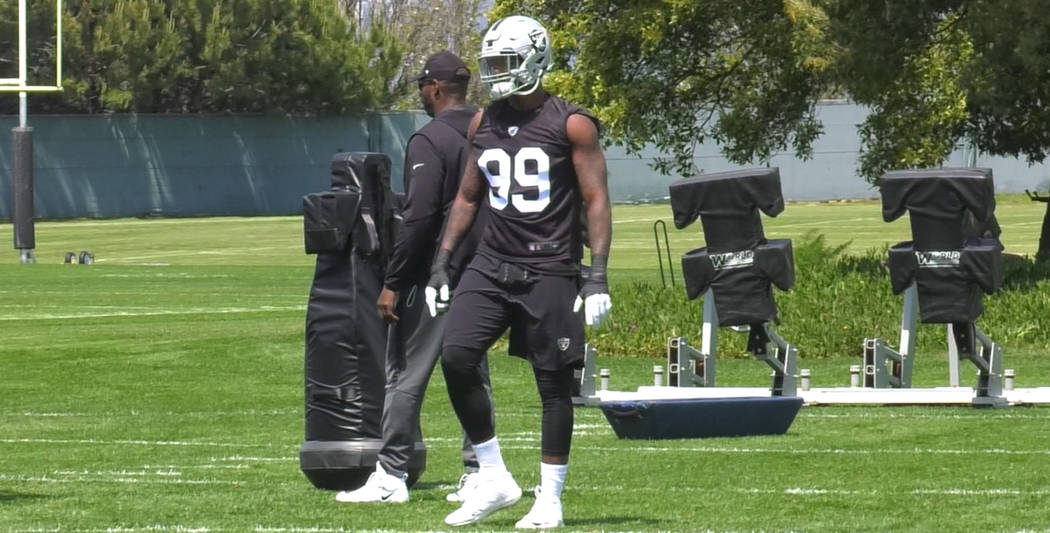 ALAMEDA, Calif. — Maybe this shouldn't surprise anyone — you know, other than the part about the Raiders trading their best player a week before the regular season begins — because Arden Key was always thought much better than the spot in which he was drafted.
Talent wasn't the problem.
Everyone believed he could play.
But that the NFL will get this quick a look at whether Key's potential really is supported by skill is another story, a fact accelerated when star pass rusher Khalil Mack was shipped to Chicago and a rookie from Louisiana State suddenly understood his was a much greater responsibility.
"When I heard (about Mack), I was like, 'Damn, I wanted to play and gain knowledge from one of the best pass rushers in the league,' " Key said. "But there is a time and place for everything, and now I have a big opportunity.
"I would love to have been around Khalil, learned from him, try to take what he does and put it in my tool box. But these are things decided much higher than me."
He was a third-round pick in April's draft with first-round talent, but Key had injuries on the field at LSU and issues off it, when prior to the 2017 season he voluntarily entered a rehabilitation program for marijuana use.
The Raiders would trade up to select him 87th overall and, with Mack at one end and veteran Bruce Irvin moving to the other on a permanent basis under new defensive coordinator Paul Guenther, the idea was for Key to watch and learn and grow without the pressure of instantly producing.
The Raiders open their season by hosting the Rams on Monday night.
Key needs to produce now.
As it goes when an All-Pro player departs a certain position such as defensive line, it's not sensible to believe one person will totally account for his output.
There might be strength in numbers, but it's foolish — not to mention dead-flat wrong — to suggest the Raiders are a better defense without Mack.
And they weren't a very good one with him.
So it will take a group effort to make up for all that is lost with No. 52 now wearing a Bears uniform, a collaborative level of exertion to pressure opposing quarterbacks and collect its share of sacks and not leave the back end in peril too often.
"Khalil was a great guy, a great football player, a great friend, a great mentor, but our defense wasn't only Khalil Mack," said third-year defensive end Shilique Calhoun. "We have other veteran players who can step forward and help coach up a guy like Arden. He's young and physical and fast. Has a great bend, a great motor.
"We also have a lot of film of Khalil Mack. Obviously, it's better to be around a person like that every day, but Arden could certainly watch those tendencies and learn from them. Film doesn't lie. It shows everything."
Confidence is high
Irvin is in his seventh NFL season and owns a Super Bowl ring with Seattle. Tank Carradine is in his sixth season. They are ends who can play the role Calhoun speaks of when it comes to tutoring a player like Key.
But results are what separate those who can play and those who can't, those who stick for the long term and those who don't, meaning the rookie needs to not only embrace his chance, but make the most of it.
He sure won't fail for a lack of confidence.
Key watched as his college team, ranked 25th to open the season, impressively thrashed No. 8 Miami 33-17 on Sunday night.
Which, of course, he tied directly to the fact he played in the Southeastern Conference and won't be the least nervous when things kick off against the Rams.
"Not one bit," Key said. "Coming from LSU and the SEC? Not at all. But that's the best LSU offense I've ever seen. But they're not as good as we were defensively. We were a lot better.
"I'm ready to go. I thought for sure a deal would get done with Khalil. It was sort of quiet around here when we found out about (the trade). But now everyone has moved on. He's gone, so I'm up next."
He's gone, which means it's time for Arden Key to begin filling that tool box with the help of others.
Even those from the SEC need assistance sometimes.
More Raiders: Follow all of our Raiders coverage online at reviewjournal.com/Raiders and @NFLinVegas on Twitter.
Contact columnist Ed Graney at egraney@reviewjournal.com or 702-383-4618. He can be heard on "The Press Box," ESPN Radio 100.9 FM and 1100 AM, from 11 a.m. to 2 p.m. Monday through Friday. Follow @edgraney on Twitter.