Arizona basketball trying to find itself amid cloud of FBI probe
December 1, 2017 - 2:31 pm
Updated December 1, 2017 - 10:30 pm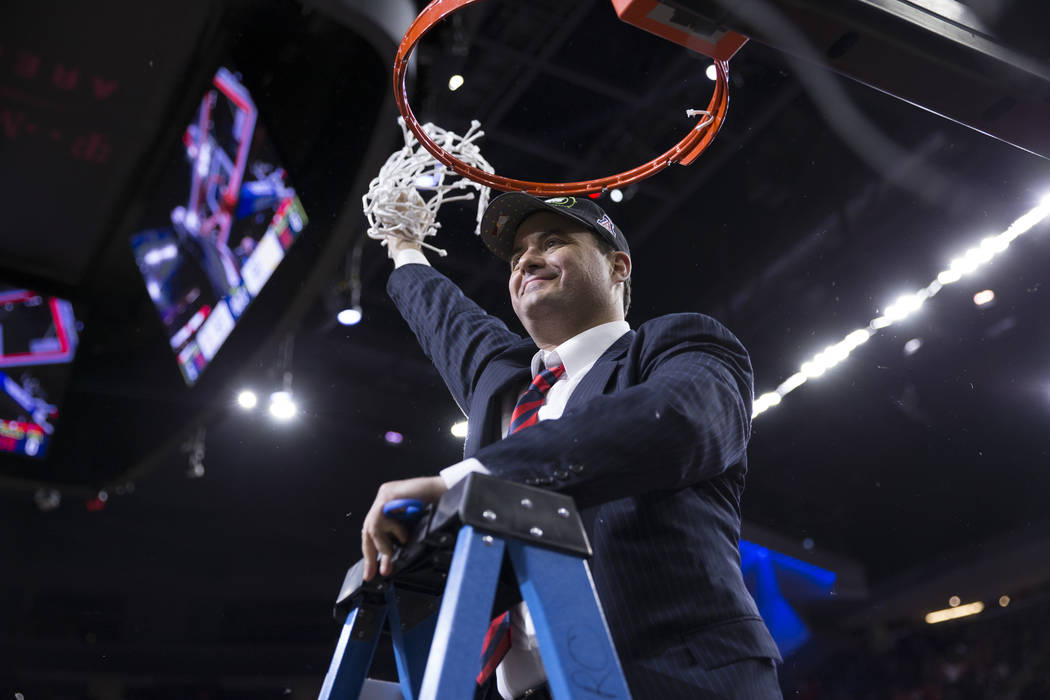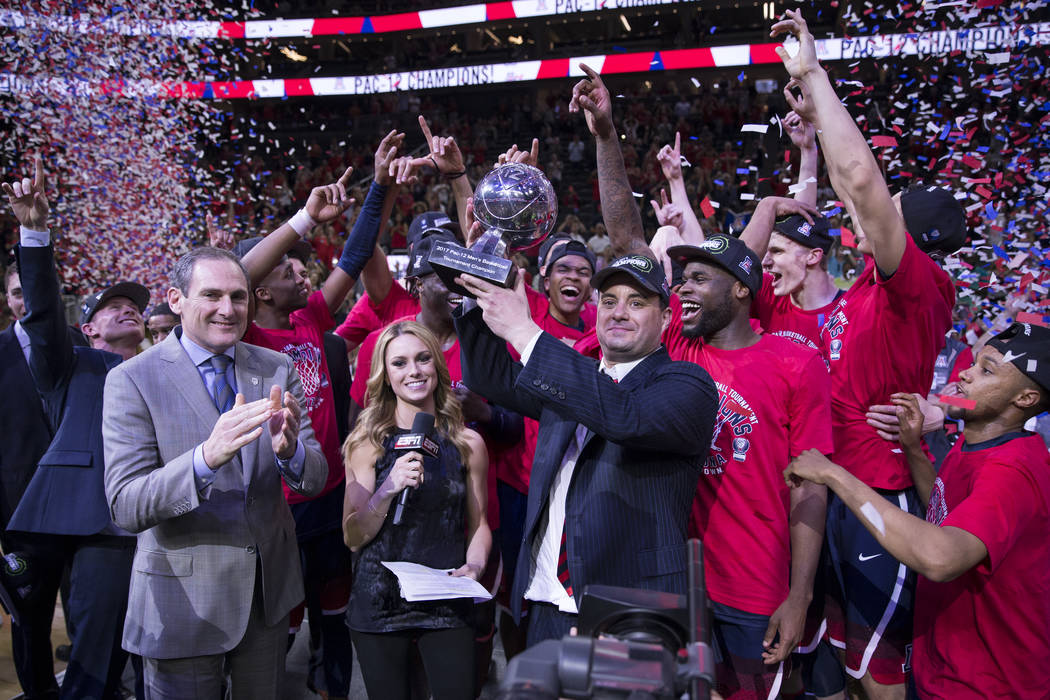 It went on for nearly 25 minutes, and to hear those who cover Arizona basketball on a daily basis, it was as unforeseen as it was bizarre.
Sean Miller, the coach usually more tight-lipped around local media than a member of the Queen's Guard standing attention outside a royal residence, rambled on a bit Wednesday night.
"I think our effort was terrible," Miller told reporters in Tucson. "We're a lifeless group a lot of times. I don't know if I've seen a group that just can't bring it, can't work, can't really fight defensively.
"When I was watching the Bahamas games, I can only watch the TV copy, and I kept seeing the No. 3 recruiting class in the country pop up on the screen like 75 times. I find myself saying, 'Where'd you go?' …
"The reality for us is we're not that talented. We have to play really, really hard … We judge ourselves on the standards of our program. Everybody in here knows what those standards are."
This was, by the way, after Arizona beat Long Beach State by 35.
Miller has played this hand before, as most coaches do, searching for ways to motivate and change what he judges subpar play. It's an expected tactic around an elite program that has been anything but conventional since late September.
That's when assistant coach Emanuel "Book" Richardson was one of 10 arrested on federal corruption charges in regard to taking bribes as part of an FBI investigation into the seedy and unethical world of college basketball.
And while it's impossible to connect Arizona being linked to arguably one of the biggest scandals in NCAA history with what has been surprisingly inconsistent results, no one really believes Arizona would be 4-3 had it not been caught up in the FBI probe.
Richardson was the Good Cop to what can be Miller's demanding one, the guy who put an arm around a shoulder or had encouraging words on the bench when a kid was pulled for not performing. No one really believes all that isn't incredibly missed, or that there isn't a fear at Arizona (and a whole lot of other schools across the country) that the FBI isn't close to being done with its investigation.
The Wildcats who meet UNLV on Saturday night at Thomas &Mack Center are not part of either Top 25 poll this week, the first time in more than 100 such rankings Arizona has been absent. It's a result of three straight losses at the Battle 4 Atlantis in the Bahamas, of not having its usual full cast of five-star talent, of not defending near well enough to beat teams with similar ability.
But it's Arizona, Miller remains one of the country's best coaches, and oddsmakers opened Saturday's game with the Wildcats as a 3-point favorite against the Rebels, meaning even when things haven't gone as planned for the team some believed the nation's best entering this season, it still takes a supreme effort to defeat it.
Miller took a week following Richardson's arrest to publicly address the situation, referring back to his words so often during Pac-12 media day in October, you half expected someone to produce a T-shirt with a picture of this face and the slogan: "I'm going to stand by the statement I gave."
"Every season presents its set of challenges," Miller said at those meetings. "It's never a smooth ride from start to finish. How you handle it is everything. When you're a young person as part of our program as you ago through this right now, it will do nothing but strengthen you for life after college."
They will be much better when sophomore Rawle Alkins returns from a broken foot, more able to generate defensive stops when the 6-foot-5-inch guard is healthy and playing again.
UNLV, which leads the nation in rebounding, absolutely can play with Arizona on the boards. Whether or not the Rebels can defend well enough and make enough shots against a level of skill and athleticism they have yet to encounter this season is another question.
It's still Arizona, after all, struggling as it might be.
Which, of course, is all relative to the guy in charge.
"I'm not scared to lose," Miller said in his postgame critique Wednesday. "We could lose every game. That's just part of athletics. We could lose the next two games for sure. We can lose six in a row.
"But it's really not (about the score as much as) where we're at as a group. It's about establishing a way of doing things every day. How hard are you working? How hard are you working in practice? How does it carry into a game? We have talent. We're not just not overwhelming."
They also haven't been the same since late September.
The presence of FBI suits will do that to a program.
Mar. 11: Defeated Oregon 83-80 in Pac-12 Tournament final at T-Mobile Arena.
Mar. 16: Lost to Xavier 73-71 in Sweet 16 of NCAA Tournament in San Jose.
Mar. 30: Star center Lauri Markkanen announced he was leaving program to enter NBA Draft.
April 19: Among those committing to Arizona for 2018 class is Shareef O'Neal, son of Hall of Famer Shaquille O'Neal.
Aug. 11-19: Team in Spain for summer tour of games.
Sept. 26: FBI announces charges of fraud and corruption against 10 people involved in college basketball, including Arizona assistant coach Emmanuel "Book" Richardson.
Sept. 27: Announced sophomore Rawle Alkins will miss 8-12 weeks with a broken right foot.
Sept. 27: Arizona Daily Star reports FBI documents said Richardson took a total of $20,000 in bribes and gave most of it to a "top point guard," who committed "around three days" before Aug. 11. Five-star point guard Jahvon Quinerly announced on ESPNU on Aug. 8 that he would play for Arizona.
Oct. 19: Quinerly decommits from Arizona.
Nov. 1: Ranked No. 3 in preseason Associated Press Top 25.
Nov. 22-24: Lost three straight games (North Carolina State, SMU and Purdue) at Battle 4 Atlantis.
Nov. 27: Dropped out of AP Top 25 poll, snapping a streak of 100 straight appearances. Also fell out of USA Today Coach's Top 25, where it had been ranked 105 straight times.
Contact columnist Ed Graney at egraney@reviewjournal.com or 702-383-4618. He can be heard on "The Press Box," ESPN Radio 100.9 FM and 1100 AM, from 11 a.m. to 2 p.m. Monday through Friday. Follow @edgraney on Twitter.